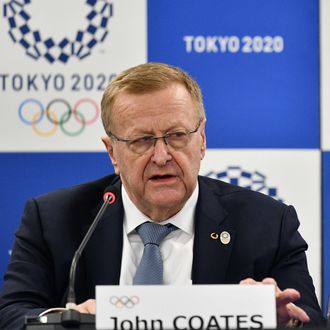 The IOC and Japan agreed to postpone the Olympics until summer 2021.
Photo: Kazuhiro Nogi/AFP via Getty Images
The 2020 Olympics will now become the 2021 Olympics, the latest in a long line of events — including movie launches, TV premieres, concerts, festivals, and all sorts of conferences — to be rescheduled or canceled because of the coronavirus. It's a development execs at NBC were dismissing as nearly unthinkable just a few weeks ago but which quickly became unavoidable as nations around the world began putting their countries on lockdown in an effort to slow the spread of the virus. The ripple effects for NBC and owner Comcast will be significant, though probably not disastrous.
First, let's state the obvious: The impact of a delay is likely going to be far less severe than an outright cancellation would have been. While the Olympics have been called off before, it's only happened in 1916, 1940, and 1944, all because of world wars. And given how much more money is involved with the Games now due to corporate sponsorships, things would have to be really bad for the IOC to have scrapped the Summer Olympics completely.
Also obvious: NBC parent company Comcast is still going to lose a lot of money in 2020 because of today's decision. NBC Sports recently said it had booked $1.25 billion in national ad time for this summer's Games; it had already spent millions more on infrastructure and talent deals related to its broadcast plans. The good news, of course, is that NBC should be able to roll some — maybe even most — of those ad contracts over to the 2021 Games. After all, Coca-Cola is still going to be selling soda a year from now, and a delayed Olympics will still make for an excellent marketing platform. There's even the chance that, assuming global governments are able to dramatically curb the coronavirus and halt the pandemic, the 2021 Summer Games could become a worldwide celebration of humanity's triumph over disease.
Still, even under that most rosy of scenarios, NBC could still face challenges. Some advertisers will have different marketing needs a year from now and might not think the Olympics match their needs. Others may bail altogether because the global economy is quickly headed toward a recession or because losses caused by the pandemic reduce their ability to spend millions on Olympics advertising. Maybe the ad market will be red-hot by the time the Games finally air, but it's also possible the country will be experiencing severe economic pain at that time, reducing demand for advertising time and cutting into NBC's profits.
While the ad situation is uncertain, NBC and corporate owner Comcast have previously said they're covered financially in terms of other losses related to a delay. "Should there be some disruption, we anticipate these kinds of things in big-contract language," Comcast CEO Brian Roberts said this month at the Morgan Stanley Investor Conference. "We also have insurance for any expenses we make, so there should be no losses should there not be an Olympics." Yet Roberts conceded a cancellation would mean there "wouldn't be a profit this year," likely referring to the aforementioned loss of income from the advertising time the company has sold against the Games.
The one big loser of a delayed Olympics appears to be Peacock, the new streaming platform from NBCU that still has a soft launch in a few cities planned for April. It has long been scheduled to go national in July, just as the Olympics were supposed to begin. Today's delay blows up months of marketing plans designed to use the Olympics to build awareness and drive subscriptions to the hatchling streaming service.
During a January meeting with investors, NBCU and Comcast executives said Peacock would be the home to some exclusive Olympics coverage, including the ability for audiences to stream the opening and closing ceremonies before they aired in primetime on NBC. What's more, there's no doubt the company was planning to heavily promote Peacock during its live coverage, taking advantage of the big audiences that are so rare in linear TV today. That platform has disappeared, which means NBCU will have to find new ways to recruit subscribers for Peacock during its first year, even as it deals with having one less selling point for the service.
It's important to note that any analysis of what this all means for NBC, Comcast, and Peacock is limited by the reality that events are changing so quickly as a result of the coronavirus. The International Olympic Committee and Japan are both saying they plan on having the Games by next summer, but it is not unthinkable that if enough progress against slowing and treating the virus isn't made, holding the Olympics next year might still be impossible. For now, however, NBC Sports is sounding a hopeful note about today's news and what comes next. "Given the unprecedented obligation we all face to contain COVID-19 globally, we fully understand the decision made by the IOC, Japanese government, and the health organizations they are working with to postpone the Tokyo Olympics and Paralympics until 2021," the company said in a statement released Tuesday. "We have no doubt that the IOC and Tokyo Organizing Committee will put on an exceptional Games next year, and that the Olympic flame will once again unite the world and provide a light at the end of this tunnel."
This story has been updated throughout.