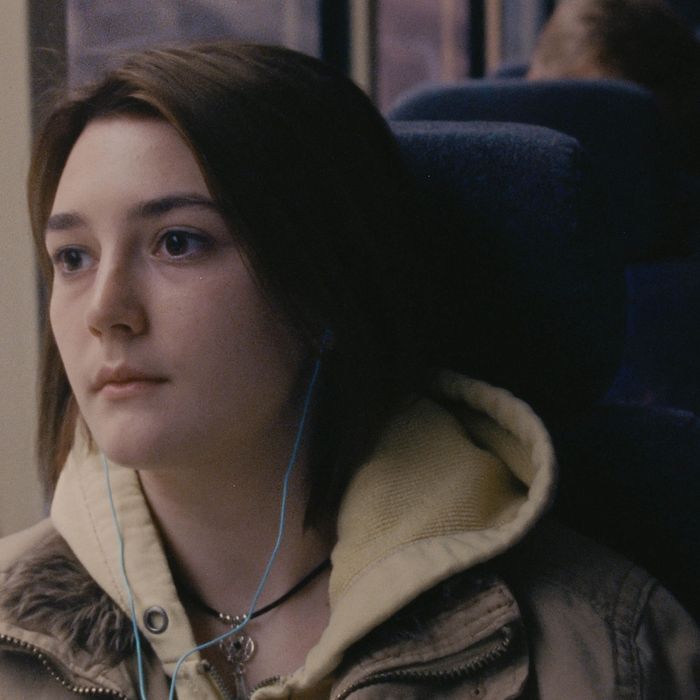 In Eliza Hittman's new movie, state restrictions turn a teenager's attempt to end an unwanted pregnancy into a perilous journey.
Photo: Courtesy of Sundance Institute
This review originally published during the 2020 Sundance Film Festival. We are republishing it on the occasion of the film's U.S. release.
The title of Never Rarely Sometimes Always comes from a set of responses one of the characters is asked to choose from during a pre-abortion interview at Planned Parenthood. Her name is Autumn, and she's played by first-timer Sidney Flanigan with a defensively flat affect that only sometimes slips to show the distress underneath. But over the course of an intensely personal series of questions gently posed to her by a counselor, that shield cracks and falls away completely. What's left is a 17-year-old girl so inured to enduring in silence that she's almost resentful that someone is actually taking an interest in her well-being, no matter how clinical that interest may be. Your partner has refused to wear a condom — never, rarely, sometimes, always. Your partner has made you have sex when you didn't want to — never, rarely, sometimes, always. The camera holds on Flanigan's face for a long, unbearable stretch in which she's broken open by the act of being asked about herself and not just the pregnancy she traveled across state lines to terminate.
Never Rarely Sometimes Always is about the lengths Autumn has to go to in order to obtain an abortion. The "women's health clinic" in her rural Pennsylvania town only offers inaccurate sonograms and screenings of pro-life videos. The state requires minors to get the consent of their parents — and while the film justly treats the details of how Autumn got pregnant as incidental and unclear, it also implies that the abusive figure in her life is her mother's flinty husband (Ryan Eggold), who's either Autumn's father or stepfather. New York requires money — money Autumn doesn't have until her cousin Skyler (Talia Ryder), a high-school classmate, steals some from the grocery store at which they both work. Never Rarely Sometimes Always isn't agitprop for an era of increasingly restricted abortion access, though it'd be entirely justified and effective in being so. It is, simply, a depiction of a reality of our present, and the fact that it often feels like a thriller is a damning reflection of how much peril those restrictions have created, especially for the already vulnerable.
Never Rarely Sometimes Always is the third feature from writer-director Eliza Hittman. Her last two films, It Felt Like Love and Beach Rats, were coming-of-age movies in which sex and danger were inextricably intertwined for young characters exploring their own budding desires out in the sometimes hostile kingdoms of adulthood. Never Rarely Sometimes Always is a kind of grim extension of that idea, its protagonist contending with an unwanted outcome of sex and little recourse to do anything about it. The film thrums with the low-level claustrophobic panic of being trapped in a biological process, especially when Autumn starts trying to induce a miscarriage by gagging down handfuls of Vitamin C pills and, when that fails, punching herself in the abdomen again and again. When Skyler steers her cousin toward bus tickets and throws clothes into an over-large suitcase they'll struggle to haul around the city, it's a relief and the start of a whole other sort of dread. They have nowhere to stay and not much money, and getting the procedure done will turn out to take longer than an afternoon.
Hittman's film is a spiritual sibling to 4 Months, 3 Weeks and 2 Days, Cristian Mungiu's incredible and incredibly bleak film about university students trying to arrange for an abortion in Nicolae Ceaușescu's Romania. The contemporary United States in which Never Rarely Sometimes Always takes place isn't presented as quite so hostile territory — the brutality it inflicts on its characters is instead done through glancing indifference or abuse so institutionalized that it's hardly recognized as such. It's brutality that Hittman sometimes leans into more heavily than necessary, making it seem like the world has nothing but groping hands and transactional demands for these two teenage girls. But its most bruising sequences are quieter ones — like the chipper way the attendant at the Pennsylvania clinic describes Autumn's "beautiful baby" without acknowledging the despair on her face, or when they're shooed out of Port Authority at one in the morning. These moments don't need to be underscored to be felt and noticed.
And the relationship at the heart of the movie doesn't need to be sentimentalized to be heartbreaking. Autumn is not a talker, but Skyler doesn't need her to be — the decision to venture to New York together is made with no prolonged discussion, an act of loyalty and love that slips by with no fanfare. It's bookended by an act of sacrifice that Autumn acknowledges without saying a word. In a movie that's all about having no sanctuary, whether it's in your rural hometown or the streets of Manhattan, a small gesture that feels enormous — an acceptance of not being alone.