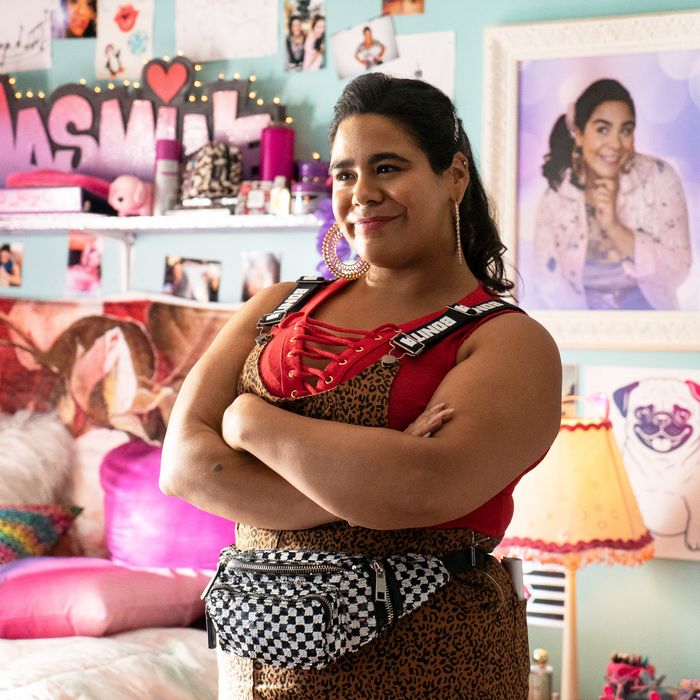 Photo: Kevin Estrada/Netflix
Jessica Marie Garcia had an instinct about her On My Block character, the loud and hilarious Jasmine Flores, from the moment she auditioned. Even then, Garcia sensed there was pain behind Jasmine's crude jokes, and loneliness underneath her overt sexuality.
That hunch paid off: Last season, Garcia was promoted to series regular, and in the new season — released last Wednesday on Netflix — Jasmine's confidence and wisdom propel her to leader of the pack (sorry, Jamal). The season also delves deeper into what makes Jasmine tick and the vulnerability she hides from her friends.
"Jasmine's very close to my heart because I see so much of myself in her," Garcia told Vulture. "It's very easy to be self-deprecating in order for people not to see you hurt. So often, she's like, 'If I'm self-deprecating, or if I'm making fun of you, or if I lead with my sexuality, then maybe you won't see through me.' I knew that something more was going on with Jasmine."
Garcia, who is half-Cuban and half-Mexican, moved to Los Angeles in 2006 from Orlando after a cross-country trip with her mother, grandmother ("who had full-blown dementia at that point"), and their 120-pound German shepherd. Her first steady role was on Disney's Liv and Maddie, and she also stars on the Disney+ show Diary of a Future President, but On My Block is the series that propelled her career to a new level. Vulture spoke with Garcia about the evolution of Jasmine on On My Block, the need for more Latinx representation in Hollywood, and whether that distressing finale time jump means the series could be over.
In season three, we're finally getting to know Jasmine on a deeper level. Can you talk about how she has evolved?
The creators allowed me to bring that to her. They could've easily decided that they didn't want to go that deep with her. They're very open to me bringing anything I'm feeling with her. It got to the point where they were like, "Just put a camera on her and let her go." 150 countries saw me dance and gyrate like an insane human being. The DMs that I get are mind-blowing, from kids that see themselves in Jasmine.
We see a softer, more sensitive side this season. In spite of her hilarious fantasy sex sequences, we also learn she isn't experienced sexually.
She's talking out of her ass and watches a lot of porn! [Laughs.] She has no idea! This is what I found so endearing. I never bought that this 15-year-old Latina who is taking care of her dad was bringing guys into her house all the time. Come on.
But Ruby's sex fantasies starring Jasmine are the best.
When I read it on the page, I was like, Oh my god. What are we about to do? They were like, "If you think this is too much, let us know." I was like, "No, this is everything." It was so funny because editors would message me and be like, "Oh my God, all I've heard was your coo for hours and hours." 'Cause it's all I did. I'm just so interested in seeing how the fans react to it. I hope they're not weirded out. I need to know!
Was it hard to do with a straight face?
Oh my gosh, yes! Also, there was a guy with a giant fan right in front of me. He's trying so hard to be respectful, so he's not looking at me. It's the most awkward! And then you have a director that's like, "Yes, coo. Put the inhaler lower. Yes, and now you put it to your lips." It was so hysterical.
Jamal is in one fantasy, too.
We would take things too far just for the fun of it. We had way too much fun with that! Brett [Gray] and that do-rag, he channeled Sisqó circa 2000. He became a completely different character. He called me "Ma" that whole day.
This season, Jasmine and Ruby's relationship eventually becomes romantic, but not before she sets boundaries and demands he respect her. It's very mature and unexpected.
Our writers are so good at understanding relationships, especially with teenagers. Today, you might be in love with somebody, and then tomorrow you guys don't want to look at each other. Jasmine is taking care of her father. She doesn't need to mother anyone else. She was like, "If you need me to be there for you as a friend, I get that, but if you want more than that, this has to be a two-way street." And I was just so proud that they let Jasmine have that moment because I'm out here shaking every girl: Listen to this! Do not allow someone not to be 100 percent for you at all times.
On My Block likes to end on big cliff-hangers, but that time jump hurt! Jasmine and Ruby are together, but the gang is not. They're all doing their own thing, and some of it is not good.
They didn't give us that script till a few days before we started filming it. We always do a cold read together — it's so important for us as a squad to have that sense of unity — and this year, it was at my house. We all just looked at each other like, What? No, no, no. Some people were excited about it. Some people really liked it. I'm terrified, but I just hope we get a season four, 'cause I don't want it to end that way.
It's risky.
At the same time, tell me that that's not the truest thing that could ever happen. That is realism to the umpteenth degree, especially in high school. It's sad, but it's a sad reality.
Jasmine and Ruby are together in the future. Did that make you happy?
Yeah, but at the same time, I don't want Jasmine's end-all to be that she has a man. She's so much more than that.
Cesar's future story line is heartbreaking. He's all-in on the gangster life.
That was the hardest thing to read. It was so upsetting. It can't be the end! We are crossing every finger.
We now have a few Latinx-led shows, but really not that many yet. Are more doors opening for you because of On My Block?
That's the thing. People are like, "Oh, so you guys are good, right? You're covered. You got On My Block and Gentefied. Y'all are done, right?" And it's like, no. I think the only way we will have more Latinx representation is if we show more support for our shows, and we watch them, and we put our money where our mouth is. We critique the fact that there's not enough, but then when it's out, we don't support it. So it's important for us to do that.
I've seen a slow change. You're holding an entire community on your back, representing a show, then you have a lot of people that don't feel represented because this isn't their Latinx story. I think it's important that we explore different ideas of what that is. There's still so much colorism in our industry when it comes to Latinx stories. I would like to see way more Afro-Latino stories, and more stories of Latino countries that we haven't explored. We don't all live in East L.A. Not that we shouldn't still make stories about East L.A., but we have to broaden our minds.
You're also playing Camila on Diary of a Future President, which is the kind of show I wish I had when I was a little girl.
Oh my God, a Latino Lizzie McGuire! I would have died, too.
Why did you want to be a part of that show?
I'm so lucky that On My Block has opened up a lot of this industry to me. Gina Rodriguez and Ilana Peña, who created [Diary of a Future President], saw me on it and thought of me for this role. But I'm playing an adult, which is new to me. Just a little bit more appropriate! [Laughs.]
Before we end, what are your favorite Jasmine lines?
They're so raunchy. This season specifically, being dressed like a sloppy joe and saying "I masturbate a lot" is something I will never ever get over. I'm dressed like a sloppy joe — I had to say that in front of all these people to be dubbed in I don't know how many languages for 150 countries. That is my career, ladies and gentlemen. Also: "I'm a whole life's love, not just part of someone's one-eighth-life crisis." There's wisdom with that raunch.