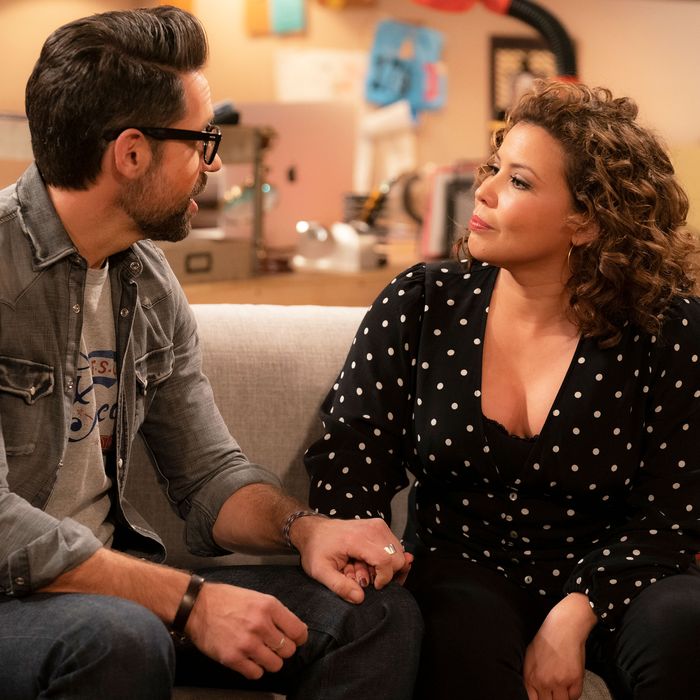 Photo: Nicole Wilder/POP TV
One Day at a Time could not be a better representation of the human spirit right now.
Around this time last year, despite heaps of critical acclaim, the remake of the classic Norman Lear sitcom was unceremoniously canceled by Netflix after three seasons. But famous fans, non-famous fans, co-showrunners Gloria Calderón Kellett and Mike Royce, and Sony Pictures Television refused to take no for an answer, embarking on a vigorous campaign that concluded with Pop TV picking up ODAAT for a fourth season.
The show's entire existence has been an uphill climb: First, ODAAT fought a losing battle against Netflix's unpredictable algorithm, followed by a three-month-long search for a post-streaming home. Now, just as ODAAT makes its triumphant return to television, it's threatened by something much worse than data: COVID-19. Six episodes have been shot (two without a live audience), but like everything else we once had on our calendars, the rest of the new season remains a question mark. Kellett and Royce moved their writers' room to a work-from-home system over a week ago, with an initial plan to resume taping the seventh episode at the end of March. However, the series shoots in California, and on March 19, Governor Gavin Newsom ordered all residents to stay at home for the foreseeable future.
But if there is one TV show that knows how to beat the odds, it's One Day at a Time. With our daily reality having morphed into a bizarre fright cocktail chased with a double shot of anxiety, we don't have much to be happy about anymore. Yet the return of this delightful comedy about a Cuban-American family and their privileged, white hangers-on ('Sup, Schneider, Dr. B!) is one of them. We're all genuinely terrified about what tomorrow will bring, but there is something immensely uplifting about watching a familiar version of life that we will get back to eventually if we adopt some of the Alvarez family's resilience and sense of humor.
Of course, just like our new normal, there will be a period of adjustment as ODAAT settles into its new basic-cable home: The episodes are shorter to account for commercials, and the show's peppy, Gloria Estefan-ified theme song has been whittled down to four seconds. (The full version thankfully exists on YouTube.) But probably the most striking thing about the ODAAT universe of March 2020 is how a healthy Penelope (the still-flawless Justina Machado) can casually walk into a hospital emergency room where the nurses not only aren't pushed to the brink of exhaustion, but create hunky EMT calendars in their spare time.
Other than that unintentional lapse in realism (if you want to see how the ODAAT characters are handling the coronavirus, check out this charming video the cast and crew threw together a few days ago), our reunion with the Alvarez family in "Checking Boxes" provides a wealth of laughter and joy that is, understandably, very hard to find at the moment. The clever cold open for the episode, written by Kellett and Royce, manages to both deliver a sick burn to ODAAT's former home Netflix and organically introduce the characters to the Pop TV audience without either of these objectives appearing forced.
Under the conceit of being interviewed by guest star Ray Romano's befuddled census taker (remember when the Census was supposed to be our biggest priority this month?), we learn that, phew!, not much has changed: Overprotective Penelope is wary of "a guy wanting a list of Latinos in her house"; Elena (Isabella Gomez) hasn't slowed down her LGBTQ activism and is still in love with her nonbinary partner, Syd (Sheridan Pierce); Lydia (88-year-old Rita Moreno, whom I'm praying has been put in a protective bubble at this point) is maintaining hilariously weird relationships with both her dead husband and her 15-year-old grandson, Alex (Marcel Ruiz); Dr. Berkowitz (Stephen Tobolowsky) remains relegated to "Lydia's exclusive, nonsexual platonic companion"; and Schneider (Todd Grinnell), now accompanied by Fonzie-esque levels of applause upon his entrance, spends more time at Casa Alvarez than his own tricked-out apartment.
Penelope's Census experience ends up triggering her in a way that sets up her major story arc for the season: She's upset that she had to check off the "single" box, regardless of her achievements as a newly minted nurse practitioner, Army vet, and mother of two — and, to ODAAT's credit, it's not presented as a pathetic yearning. Penelope is unquestionably content with her family and career, but it's also completely natural for her to want sexual companionship, and she shouldn't have to make excuses for those kinds of desires. Not helping matters, as usual, is Lydia, who, while Penelope sips wine in bed watching a Lifetime movie ("I just love watching rich people in trouble"), delivers a misguided tale about her favorite, unmarried, childless tía: "She didn't give, como se dice? AF." After the story concludes with the maiden aunt drinking herself to death, Penelope hightails it to group therapy.
The obvious advice here is for Penelope to start dating again, but a couple of mental roadblocks stand in her way. First, she's so over first-date awkwardness, and wishes there was an app "where you can bypass all the getting-to-know-you small talk and move straight to watching The Great British Bake Off." (It exists, Pen — it's called Love Is Blind. Enter at your own risk.) And secondly, she's still in love with Max (Ed Quinn), the emergency medical technician she dumped at the end of season two. He wanted kids; she didn't.
Cut to Penelope and her great-hair-day curls on a date with a decent-looking guy — who keeps transforming into Max. A Max who got a sleek new haircut between seasons three and four (owing to Quinn's latest TV gig as the president of the United States). A Max who progressively loses articles of clothing until he winds up naked in Penelope's salad. Well, not totally naked. A strategically placed lettuce leaf completes Max's Pop TV–approved fantasy look.
Clearly, Penelope needs to reconnect with her ex, whatever the outcome, which leads to the aforementioned emergency room drop-in. In the bummer of all bummers, a non-PPE-covered nurse informs Pen that Max moved to Indonesia with Doctors Without Borders. "Lucky cholera victims," she cracks, another sobering reminder of the days when medical professionals still had a joke or two in them. So Penelope takes comfort in loved ones like Elena, who validates her "feminist badass" mother's longing for a boyfriend by telling her, "I am so happy and I want that for you."
Even Alex offers some pearls of relationship wisdom. To wit, by burying the lede that he's speaking from experience: He has a girlfriend.
Buckle up, Lydia. And get some sturdier curtains while you're at it.
This Is the Rest!
• The B plot about Elena and Syd debating whether to break up when they go off to college is sweet, but a bit weak. It may signal an overall need to cut B plots given ODAAT's truncated run time.
• No word yet on what happened between Lydia and Dr. Berkowitz during their impromptu trip to Cuba in last season's finale.
• Avery and Schneider are moving in together!