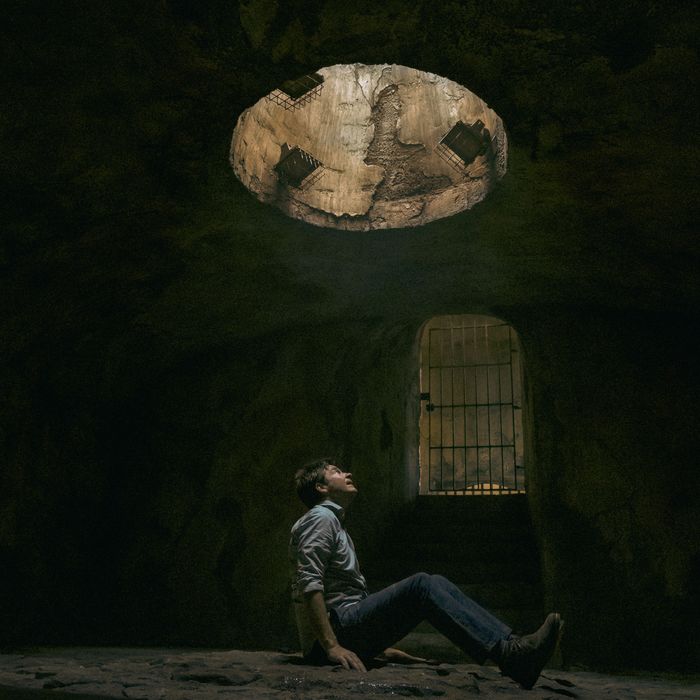 Photo: Steve Dietl/Netflix
How can Wendy Byrde and Helen Pierce keep Marty Byrde alive and keep their money-laundering operation going at the same time? Is it possible? After all, if the Missouri Belle succeeds while Marty is being held prisoner by Omar Navarro, then he's no longer required to live, right? And he's always been a dangerous proposition for Navarro.
"Boss Fight" picks up right where the last episode ended, with the kidnapping of Marty Byrde. The immediate aftermath means that Ben Davis has to be brought in on everything going on with the family. Ruth stops him from calling the cops, and Wendy fills him in bluntly: "I work for a Mexican drug cartel."
And then there's a whole lot of panicked waiting. Ruth cries; Helen makes some calls; Wendy tries to reach Navarro. And Marty is in a cell. (Is he all the way in Mexico? Probably.) He's being tortured with hot, bright lights and loud music. And occasionally questioned by Navarro as to what he wants. It's a good question. Marty always says he wants stability, but what does that mean to Navarro and his operation?
Everyone in the Ozarks has to cover for Marty as he goes through life-changing trauma south of the border. Ruth tells Agent Miller that her boss is out of town on business, and she goes about the job of running the Missouri Belle in a way that has to be delicately balanced. How can she ensure Marty's seen as necessary by Navarro and Helen? And maybe even Wendy? And this could be a binary situation. Succeed and Marty is redundant; fail and Helen/Wendy are. After all, Navarro really only needs one side of this turf war.
Flashbacks to a young Marty Byrde being stuck at a hospital as his father fades from life are cut through the episode. They're a little on the nose by the standards of this season's so-far excellent writing, especially as they keep cutting to young Marty playing a game called Beast Slayer, trying to encourage the idea that our hero will slay this beast too, even as death lingers in the other room.
Navarro tells Marty, "She wants it all. So what do you want?" Again, it's a good question that Marty may not have asked himself. He gets emotional, saying he wants to see his wife and kids. That response only earns him a beating and being called a liar. Marty wants more than that, and Navarro needs honesty or he will likely kill Marty.
Meanwhile, Ruth gets the operation going back at the Belle. Maya notices the spike in money being laundered and decides to walk the floor. She sits next to Ben, fishing for a break in the story by asking if Marty is still sick. Ben doesn't bite. Ben is going to be an interesting player this season. At first, it felt like he might be a dangerous wild card. However, he's increasingly seeming like he could be a hero, someone who saves the day for Wendy, Ruth, or even both. Let's just hope he makes it out alive.
Back in Mexico, Marty gets intense and tells Navarro that he hopes they chop his head off. "That's a start," his captor says. And then Agent Miller drops something interesting in Wendy Byrde's lap. She suspects that Marty is in trouble and tells Wendy that if a cartel kidnaps an American citizen, they can go after Navarro. She is giving Wendy an out. Just as Walter White was given several outs and kept going as he built an empire, Wendy Byrde doesn't seem even remotely interested in the "safe option." She could report the kidnapping and the U.S. government would come down on Navarro and his cartel. She doesn't take it. She doesn't even appear to think about it.
Finally, Marty Byrde proves his worth to Omar Navarro, and is able to verbalize exactly what he wants. After showing off by moving the laundered money around in a way that releases it from a locked account, he yells at Navarro, getting in his face. He reveals two things. One, what he really wants is only to launder the cartel money when HE thinks it's safe enough to do so. Two, he's going to compromise an FBI agent. He's going to find a way to turn Agent Miller. And after he does that, everyone is safe.
Dirty Laundry
• How is Marty planning to compromise Maya Miller? It's an interesting plan in that Marty has always been fixated on safety, and what's safer than having someone on the inside of the force trying to bring you down?
• We're getting an interesting parallel between Charlotte Byrde and Erin Pierce. The former knows a lot, but it's clear that this isn't an option for Erin. Helen tells Charlotte, "There will be consequences for anyone who speaks truth to my daughter." That sounds like foreshadowing to me.
• The new players this year have been excellent without stealing too much focus with stunt casting or familiar faces. Shows like Ozark often bring in high-priced names after winning Emmys, but relatively less familiar faces like Tom Pelphrey (Ben) and Felix Solis (Navarro) are making the most impact this season.
• What now? Marty proved his worth, and it feels like maybe the threat of being a widow could end the turf war from Wendy's side. Will they work together to turn Miller? To get Zeke back? The show has been pulling them apart since well into last season, but maybe this is the point in which the rubber band snaps them back together.
• One thing to consider there: Ben's involvement. It seems like Wendy is worried about him being a part of the operation in a way that could make her value Marty's stability principles more.