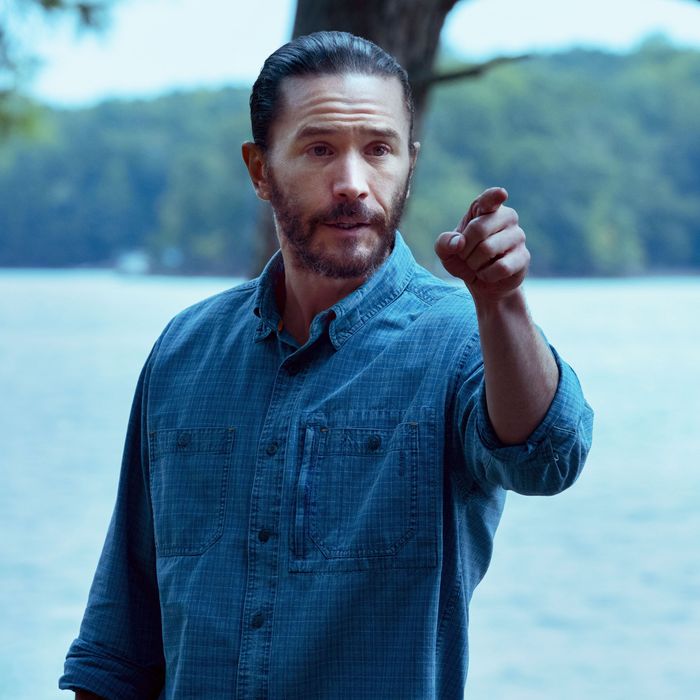 Photo: Steve Deitl/Netflix
The third season of Ozark seems to be building to a showdown not between Wendy and Marty Byrde, but with Helen Pierce. It could actually be what brings the fractured Byrde couple back together — a common enemy. What happens in the final scene of "BFF" will alter the landscape of the show forever. You can see it in Janet McTeer's eyes. She's not going to let Ben Davis live. He'll likely be dead by morning. And what will that mean for his sister Wendy Byrde? She knows how much trouble Ben can be, but she won't turn the other way if Helen has him killed like she did Sue.
Speaking of Sue. The chasm between Helen/Omar and the Byrdes has been widening for a few episodes now, and it doesn't help when Marty learns that the kindly but greedy therapist Sue has likely been murdered. Marty passes the info along to Wendy, who pretty much yells at Helen. These two former BFFs are not seeing eye to eye anymore. Everyone seems to be getting exhausted with one another on Ozark, and it's going to lead to the death of someone. Probably more than one someone.
Most of "BFF" is built around a fundraising event at the Belle for the senator that Wendy has been wooing, Andrew Wade. While Ruth is still deep in her recovery and trauma, she's asked to help clean dirty champagne flutes by Marty and set up for the event. Marty is really bad at reading people's needs. He's vastly underestimating her condition and taking her for granted in a dozen ways. That could be a problem.
Even more of a problem is the simmering rage of Ben Davis. He wants vengeance for the beating of his girlfriend, but he can't take on a dozen guys in a KC truckyard by himself. He gets hammered at a bar, soaking in his own inability to protect his girlfriend and his general rage issues. Ben, a Budweiser guy, picks a fight with a suit pretty much just because he had the nerve to ask for a whiskey list, and he gets his dumb ass arrested. And then Ben makes a "Top 5 Dumb Moves on Ozark" decision and tells the arresting officers that Helen Pierce is his family lawyer. Helen Pierce is a high-powered person in one of the biggest drug cartels in the world, she is not a "family lawyer" for a guy who gets into a bar fight. Sue underestimated what Helen would do to her, and Ben clearly is too. Long before the final scene, the episode is setting up Ben as the loose end that Helen is going to want to cut.
Let's step back for a minute and consider a possible scenario: Helen ends up killing Ben, and the Byrdes don't do enough about it because they're scared of Navarro and need to keep their empire growing. Imagine how that would play to Ruth. Frank Junior, who assaulted her, gets to live, and her boyfriend has to die. And the Byrdes do nothing. It feels like Ruth is very loyal to the Byrdes, but she might not make it through that kind of hypocrisy. If this season ends that way, it could easily set up a fourth year in which Ruth plans vengeance against Marty and his family, as much as that seemed unlikely just a few episodes ago.
However, Ruth is front and center for Ben's decline, so maybe she'll be more understanding. She sees that he's deep in an emotional breakdown, and then she sees the real drama at the fundraiser. While it looks like Wyatt and Darlene are going to be the variables that crash the party, it's really Ben Davis' big night. In front of dozens of power players, Ben ends the episode by punching his brother-in-law. It leads to Ben being committed to a state hospital and a truly sad scene between him and Ruth. The tragedy is, he's not wrong about any of his conclusions about his sister. He's figured everything out and it's broken him. But whose fault is it?
In the crucial final scenes, Helen tells Navarro that the Byrdes are an increasingly big problem. She's been their defender for some time now. How will Navarro respond when she's not? Is it possible that he'd side with Wendy over Helen? Don't rule that out.
Finally, Ruth asks Wyatt for help with Ben. Her cousin goes to Darlene, who has enough corrupt connections to get Ben out of the state hospital. His first stop? Helen Pierce's house, where he drops all of the truth on Helen's daughter, Erin. She's said before she'd kill anyone who told Erin the truth about her secret life. There's no way both Ben and Helen walk out of this season alive.
Dirty Laundry
• Erin kissed Jonah! It's a cute beat, but was anyone else kinda sad when Charlotte advised her brother to try and remember the kiss instead of his uncle punching his dad? Every family memory in the Byrde clan has a dark underside.
• Anyone else a little uncertain about how this show is handling mental illness? It's felt a bit like a narrative crutch, and I'm not fully convinced that Ben needed to be bipolar. He could have just had anger issues, been someone thrust into this insane situation who then responded to it in aggro ways. I'm always a little hesitant when real mental health issues are turned into plot devices, but it hasn't felt too exploitative … yet.
• The pause Ben takes before entering the casino and the ominous music that accompanies it was beautiful. It looked like a slasher movie.
• Two episodes left! There are so many different scenarios that could play out, even just depending on who Navarro chooses to side with in the end. What draws people to Ozark is the unpredictability of it all. It may be what Marty Byrde hates most, but it's what makes the show about him work.