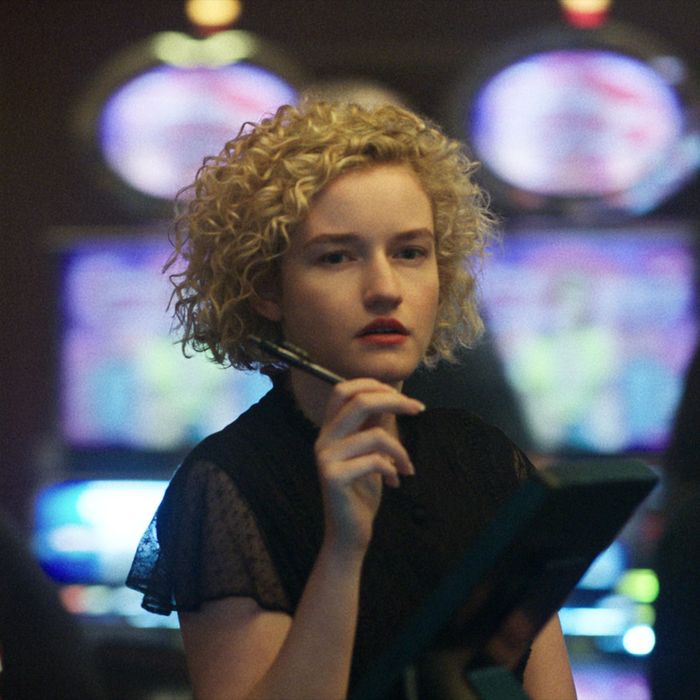 Photo: Courtesy of Netflix
"I'm just trying to keep us safe." —Marty Byrde (Jason Bateman).
Much of the dramatic foundation of the excellent season-three premiere of Ozark — and what will likely drive a lot of the entire year — is the fundamental difference in the way that Marty and his wife, Wendy (Laura Linney), see their situation. Since the beginning, Marty has been operating under a safety principle, hoping that there is a way back to normalcy if he can just keep his family from harm. Wendy has become increasingly restless with the stability of safety. After all, she's a political animal. They don't sit still. She wants to thrive instead of just survive. And she sees opportunities where Marty sees shelter. If you're going to be sheltered, why not make the biggest, most profitable shelter around?
Well, Marty would say it's because of the unpredictability of the risk as you grow that shelter. And that's an element that's reflected throughout "Wartime," the concept of the wild card. It's not just in the danger of expanding an empire while still under the watch of the Feds, it's in keeping a hothead like Frank Cosgrove Jr. (Joseph Sikora) on the staff, or putting someone like Ruth (Julia Garner) in a situation where she feels like her skills are being wasted. Most crime shows eventually get to a point in which they analyze the flaws in an empire, whether it's the Big Pussy arc on The Sopranos or the lengths Walter White went to in order to keep Jesse Pinkman in line on Breaking Bad. This season of Ozark could be about keeping not just the Missouri Belle afloat, but also the empire the Byrdes are building atop it.
"Wartime" opens with a horrific scene in Coahuila State, Mexico, wherein a man murders dozens of people at a crowded market, another move in a violent cartel war. Whereas most people would see this as a cautionary sign of what could befall them if they continue to engage in illegal practices, Wendy sees an opportunity. She's going to offer kingpin Omar Navarro (Felix Solis) the kind of safety that her husband is seeking — the stability of a regular business. She sees a chance to expand the Byrde empire into another hotel/casino in Missouri, giving the Navarro family a more stable way to launder their money than what's happening in Mexico. Of course, Marty hates the idea, but Wendy goes behind his back and meets Navarro with Helen Pierce (Janet McTeer) by her side. Marty has become so used to Wendy doing whatever she wants that he's almost not even mad about it, especially as pressure rises to begin laundering through the Belle. After all, Marty is paying a woman to pretend to be their couples therapist, so he's on thin ice when it comes to marital honesty anyway.
Back to the Belle, which has been open for a few months but is not yet laundering cartel money. Marty is too scared to really get it going because of concern they're being monitored. They had to hire 200 people to open the casino — one is probably a Fed plant. But Ruth is getting frustrated collecting money at drops and just hoarding it. She wants to get moving, whether legally or illegally. She's too smart to be waiting two hours at a drop or babysitting the moronic Frank Jr. In fact, she's smart enough to know that Frank Jr. shouldn't be in the high-stakes poker game, but Marty overrules her. While Frank Jr. ends up being the distraction to what's really going on in the laundering operation, it's a bit surprising that Marty even allows him anywhere near the real dangerous stuff, as he's clearly going to be a problem.
Everything changes when Helen basically tells the Byrdes that there's no more waiting; they have to start cleaning that cash. And Marty knows that the high-stakes poker game is the best way to do it. Drama ensues when Frank Jr. can't hold his temper after losing on a bad beat, and Ruth has to kick him from the table. As an agent is warning Marty about a "wild card," Frank Jr. is acting like one, threatening Ruth. However, it's worth noting that Ruth doesn't back down at all, throwing Frank overboard. Maybe she's the actual wild card in Marty's system?
Meanwhile, Wyatt (Charlie Tahan) is off the grid, breaking into rich people's homes and refusing to take any of Ruth's money. After a meet-cute at a jail, he somehow ends up in the web of the deadly Darlene (Lisa Emery), who is now a single mother after the death of Jacob, and she basically offers Wyatt a job. Run, Wyatt. Run.
As for the Byrde kids, their season starts slowly. Charlotte (Sofia Hublitz) actually seems relatively happy — and not just because mom is letting her drink a bit at home — and she buys Jonah (Skylar Gaertner) a drone that will almost certainly play a role later in the season. Jonah volunteers to use it to basically chart the area, surveilling the homes and systems nearby. Not weird at all. At least in the Byrde world.
Expertly directed by Bateman, who won an Emmy for his direction last year and could again here, "Wartime" is a wonderful setup for a season that's looking to dwell on the tension between safety and progress. "We could run this goddamn place," Wendy tells Marty. He doesn't want that. Marty has always been a creature of safety, someone who spouts statistics about risk to anyone who will listen. Wendy is not. She's never going to be satisfied trying to get REO Speedwagon to the Missouri Belle for a dental convention. Neither is Ruth. She's not going to take shit from anyone, and she's not going to wait on the side of the road to be a courier. The only question is which is the wild card that's going to get Marty Byrde in danger first.
Dirty Laundry
• The song that closes the episode? The excellent "The Daily Mail" by Radiohead.
• When Marty finds out that Jonah has a drone, he jokingly asks if he's going to do something called "Drone Porn." Believe it or not, he's not making it up. (Don't worry, the link is mostly SFW.)
• One of the most remarkable things about "Wartime" is how deftly it picks up where we left off without making it feel like we're lost or don't remember what happened a year and a half ago. If you don't remember the details of season two — and it feels like a lifetime since August 2018 — you can still really keep up with what's happening here.
• Does anyone else find it interesting that two characters had arcs in which they broke into homes that weren't theirs and didn't really steal anything? Wyatt is just doing it to live, but Wendy goes into her old home in Chicago. At first she's just complacent enough to visit, but the urge to do more than play it safe compels her to mess with a few things. It's a nice symbol for what she's doing in the Ozarks, too, unwilling to play it safe and at least trying to turn a few things upside down.