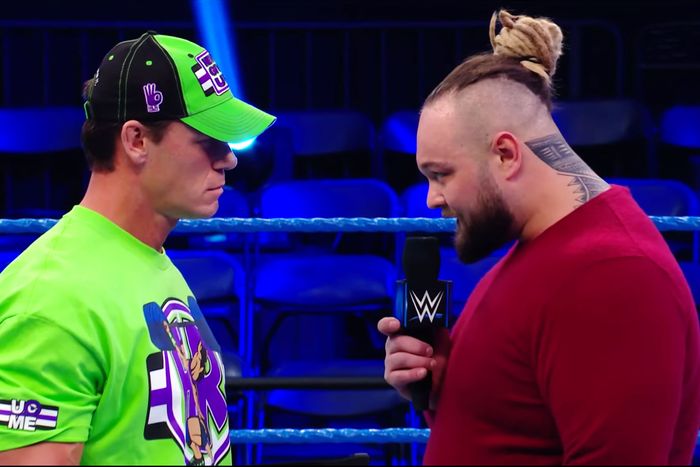 Two thespians practicing their craft.
Photo: WWE/YouTube
Are professional wrestlers just the world's most muscular theater kids? To quote wrestling legend "Stone Cold" Steve Austin, who appeared on last night's episode of WWE's Monday Night Raw: Hell yeah.
Broadcast live without an audience for the first time in history, both Monday Night Raw on the USA Network and last Friday's episode of Smackdown on Fox stripped wrestling down to its bare essentials: a ring, a microphone, and wrestlers to use both. The result was less like the WWE's usual played-to-the-rafters gladiatorial spectacle and more like tech week for a black-box production. It showcased the performers at their weirdest, wildest, and most, well, theatrical.
On Friday's episode of Smackdown, things got downright goofy. That tone was set by wrestler-turned-company-executive (and son-in-law of head honcho Vince McMahon) Paul "Triple H" Levesque, who special-guested on the commentary team and appeared to be having the time of his life. Trips, as he's affectionately known by wrestling smarks, made jokes about the unusual setup: When heel wrestler Asuka waltzed into the room to distract her rivals during a match, he responded by saying, "She blended in with the crowd! I never saw her coming!" He cracked wise about his recent title change, rumored to be a step down in the company hierarchy, by saying, "I'm the only man in the history of the world that can get demoted and get busier." He even broke kayfabe, the once-sacred suspension of disbelief that's still almost always adhered to during the broadcasts themselves, by referring to the show's multiple drafts. ("Real" sporting events, needless to say, aren't scripted.)
The wrestlers followed suit. Bayley, the dastardly women's champion, and her buddy Sasha Banks worked the nonexistent crowd as they walked to the ring. Nikki Cross tried to get a crowd chant going. The Miz and John Morrison used the absence of an audience to talk themselves up without the risk of getting booed. (Triple H's deadpan response: "It's amazing how comfortable Miz and Morrison are without crowd noise. It's like it happens all the time.")
The episode culminated in the already-legendary faceoff between semiretired babyface turned bonafide Hollywood star John Cena and his current rival, demented children's show host (yes, you read that correctly) Bray Wyatt. Without the roar of the crowd yay-ing and booing behind it, the clash between Cena's steely hip-hop Superman persona and Wyatt's Joker-fied madness felt uncomfortably intimate, which to be honest is exactly the way it should feel.
Whether it was the extra few days of planning or the spirit-deflating announcement that WrestleMania, the company's marquee event, will be held without an audience as well, the mood on Monday Night Raw was markedly less comical. Triple H was absent from the commentary team, which featured the usual trio of Tom Phillips, Byron Saxton, and Jerry "The King" Lawler. The product was much more polished and poised; it often felt like a regular episode, to a fault. Why not continue Smackdown's experiments with form and the fourth wall?
Which is not to say the show was without its funny moments, both intentional and otherwise. In the latter category, it'll be hard to forget the sight of industry legend the Undertaker storming the ring with his shirt off, then pacing back and forth for what seemed like an eternity while waiting for his opponent AJ Styles to pop up on the Performance Center jumbotron.
On the funny-on-purpose side of the ledger, "Stone Cold" Steve Austin, arguably the biggest wrestler in the company's history, delivered a series of proclamations for his own personal holiday, "3:16 Day." Since this required both audience and in-ring participation to pull off, commentator Byron Saxton pulled double duty, first hollering responsorial "HELL YEAH" from the announcers' table, then entering the squared circle to get doused in beer and hit with Austin's trademark Stone Cold Stunner maneuver not once but twice. Austin himself seemed genuinely, but genially, flummoxed by the challenge of cutting a promo — industry jargon for wrestling's trademark growled monologues — without people other than Saxton screaming back at him; I think he said "tough crowd" four different times.
But Raw hit a dramatic high that not even the Cena-Wyatt stare-down could match: a hellaciously intense promo from the recently returned superstar (and Vikings actor) Adam "Edge" Copeland, who emerged from a nine-year retirement due to injury after believing he'd never be able to wrestle again. He delivered his lines straight into the camera, eyes bulging ferociously, with nothing but dead silence in response. It was like watching a one-person show in a theater with a double-digit seating capacity, or listening to your fellow drama school student do an uncomfortable monologue. It ruled.
It should be said that on both shows, actual wrestling was an afterthought. On Raw, only one actual match took place during the show's whopping three-hour runtime, the umpteenth battle in the feud between masked legend Rey Mysterio and Mexican heartthrob Andrade. (It was, admittedly, a banger.) Both shows simply recycled lengthy contests from recent pay-per-views to fill out their allotted space; in Raw's case, their re-run of the men's Royal Rumble multi-wrestler extravaganza ate up an hour all by itself.
But with an end to the coronavirus crisis nowhere in sight, WWE has plenty of time to get this right. (As does its competitor, AEW, which will also be without an audience as it faces off against WWE's NXT on Wednesday night.) I know it's not the same without a crowd roaring its approval, but an audience-free show might be the best way to showcase the athleticism and artistry of the talent, who have never been more gifted from an in-ring perspective. In the meantime, more self-effacing jokes, more dramatic monologues, and more overall weirdness, please. You can't hear us, but we'll be cheering for it.