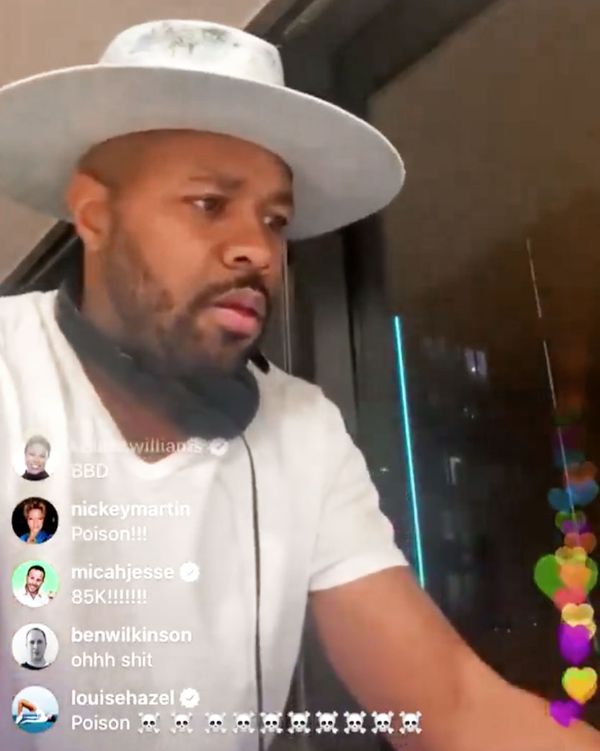 D-Nice deserves to be spinning in the big tents when the dust settles.
Photo: D Nice/Instagram
A week is a long time. For a while, I'd forgotten. Time is a blur when there's people to meet and shows to see and trains and cabs to linger on along the way. With (responsible) people limiting travel to just the most essential jobs and errands, and with (smart) major cities strongly advising against meeting in big groups in person to mitigate the spread of infectious disease, we now find ourselves refreshing social media apps and lurking in group chats more, anxious to fill up empty hours we normally spend outside with friends. This state of affairs is driving everyone up a wall in weird, intriguing ways. (See: that "Imagine" nightmare; Madonna philosophizing in a milky, flower-petal bath; the dramatic uptick in horniness online; increasingly offbeat TikTok content; and the new wave of surprisingly solid coronavirus novelty songs.)
One of the rare pleasures this week has been watching DJs and singer-songwriters spring into action to help people fill up the hollow days and nights of this stilted spring. Late Monday night, Erykah Badu kicked off her Quarantine Concert Series, livestreaming a playful set of hits and deep cuts fans could pick by vote. The price of "entry" was a dollar. Manchester experimental dance music duo Autechre is spending as many as 12 hours a day DJing on the internet radio site Mixlr to lure listeners back into the house. Soul singer Anthony Hamilton went live on Instagram on Sunday with an intimate acoustic set for anyone around to watch. Nashville star Tim McGraw initiated the #deepcutchallenge, inspiring Brad Paisley, Darius Rucker, Thomas Rhett, Luke Combs, and others to join in with solo acoustic renditions of their favorite unheralded country songs. Late Tuesday night, producers Timbaland and Swizz Beatz staged a heated beat battle that drew a crowd of 20,000, including past collaborators like Justin Timberlake and Omarion (and a very feisty Funkmaster Flex). It ended in a draw when the duo hit the 60-minute IG Live time limit and everyone went to bed.
Over the last week, Instagram has become a makeshift performance space for artists and the audiences they can't meet in person. When it's jumping, it's a simulacrum of the feeling of wandering around a music festival. Over the weekend, Bronx hip-hop lifer D-Nice kicked off his Homeschool: Social Distancing Dance Party. The legendary Saturday set pulled 100,000 viewers, including Diddy, Rihanna, Stevie Wonder, Will Smith, Dwyane Wade, Mark Zuckerberg, Oprah, Michelle Obama, and both Democratic candidates for president (if Joe Biden's thumbs-up emoji counts as attendance). D-Nice, a presence in rap since joining KRS-One's Boogie Down Productions in the '80s, spun a rousing blend of rap, funk, soul, and disco classics, mixing in tracks by his celebrity onlookers as often as he became aware they were tuned in. (The Sunday afternoon set beat Saturday's attendance record in the first 15 minutes, and he's set to spin again Wednesday night for Couch Party: A Voter Registration Set Live in partnership with Michelle Obama's When We All Vote initiative.)
I watched the D-Nice set go nuclear Saturday night, then skated when verified corporate accounts came sniffing around the comment section. For the after-hours, I slid over to DJ Premier's page to watch the inimitable producer tell his life story and put on a turntable clinic. He explained how classic Biggie and Gang Starr songs came into existence and shared great stories about classic rap records, at one point highlighting the unusual alliance between punk impresario Malcolm McLaren and the World's Famous Supreme Team, the early Five Percenter rap crew sampled on McLaren's "Buffalo Gals." Lurking the comments were rap titans and scholars like the Alchemist, Questlove, and Boot Camp Klik's DJ Evil Dee, each one every bit as excited about golden-age hip-hop minutiae as everyone else tuned in.
For a while, the unnatural feeling of spending a spring equinox weekend cooped up indoors vanished. Lying in bed was less drab, a little more kinetic. I've always felt like if the bottom fell out of the music industry, or the overarching American economy around it, musicians would persist as the bards of old did, bringing joy to the masses whatever way they could. I don't know that this is that catastrophe yet, but it is a noble show of support from people who could totally just clam up at home and wait to see what happens. For us as spectators, these streams are a great way to pass the time and a reminder that there's value in the wisdom that comes with years of experience with your craft, as vital as new talent is. Next, let's work on getting people paid for their service. D-Nice deserves to be spinning in the big tents when the dust settles.