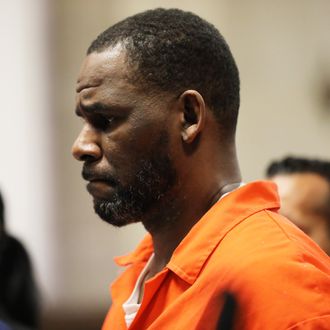 R. Kelly
Photo: Antonio Perez/Pool via Getty Images
R. Kelly is doing his best to practice "social distancing" at Chicago's federal jail to avoid coronavirus, the same way people outside of jail are taking precautions to stop this deadly viral outbreak, his lawyer told Vulture.
"I think it's fair to say that he's trying to follow the same advice as the rest of us, and be smart, and you know, stay away from others," said Kelly's attorney, Steve Greenberg. "He's practicing whatever level of social distancing you can practice in jail."
"He's concerned because he's in probably the worst possible situation, in terms of social distancing, that you could be in," Greenberg said at one point. Kelly's coronavirus concerns come in the wake of reports that producer turned convicted rapist Harvey Weinstein tested positive for COVID-19 in prison.
R. Kelly is presently in jail awaiting trial on sex-abuse and racketeering charges. He has maintained his innocence.
Greenberg said that while Kelly has generally kept to himself since being jailed, he is doing this more in the wake of COVID-19. (Jails and prisons are the kind of close quarters that make key preventive measures — such as avoiding close contact with others — incredibly difficult.) Kelly does have a cellmate, Greenberg said.
According to the jail's website, the facility houses 640 inmates. Visits to the facility have been suspended, the website also said.
"He is not in isolation, nor has he asked to be put in any isolation. He generally stays in his cell as much as possible, so that's sort of like the rest of us who are living at home," he said. "I don't know that you can totally isolate."
Greenberg said he didn't know whether the jail had increased access to things such as soap and hand sanitizer.
Is Kelly washing his hands more? "It's a jail, so I don't know," Greenberg said.
Meanwhile, R. Kelly's upcoming video arraignment for his latest indictment in Brooklyn Federal Court was postponed until April 30, following a district mandate that puts many proceedings on pause due to coronavirus.
"The ends of justice served by taking this action outweigh the interests of the parties and the public in a speedy trial," Judge Ann M. Donnelly said in her order Monday.
Update, March 26, 2020: Kelly's legal team filed paperwork in Brooklyn Federal Court on Thursday asking for him to be released, claiming he is "within the group of people the Centers for Disease Control and Prevention …has categorized as most-at-risk for contracting COVID-19, a dangerous illness spreading rapidly across the world." Lawyers for Kelly, 53, claim his age and "the multiple surgeries he has undergone –including a recent surgery while incarcerated," as well as conditions at jail, "necessitat[e] his temporary release on bail until this pandemic has ended."
"The current medical emergency could cause the trial in this case to be unnecessarily delayed as a result,"Kelly's team also wrote in reference to health risks both to him and his lawyers, later saying, "From Mr. Kelly's perspective, his life—not only his liberty—is on the line, creating a powerful incentive to abide by any release conditions this Court may impose and changing the calculus that initially led to the denial of bail in this case."
Update, March 30, 2020: The Brooklyn U.S. attorney's office filed paperwork Monday opposing Kelly's bail request, insisting that he's "well under the age of older adults … at higher risk for severe illness from COVID-19." (Public-health officials, the Feds point out, say risk increases at age 65 or older.) Prosecutors — who maintain that Kelly is likely to flee if released — also said that he "continues to have access to soap and cleaning supplies at no cost," and "may purchase additional soap from the commissary if he so chooses." Kelly, they conclude, hasn't given a "compelling reason" to be released on bail.
This is a breaking news story and has been updated.