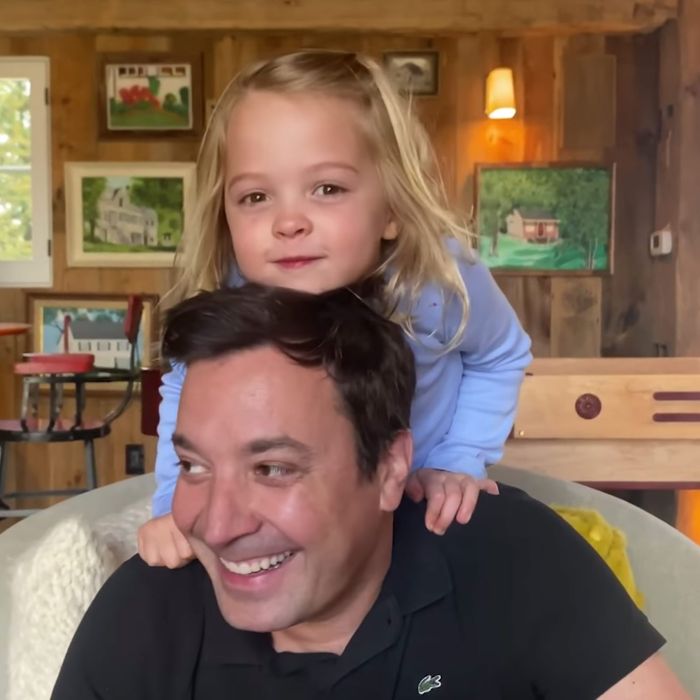 Jimmy Fallon, hosting
The Tonight Show
online with an assist from his daughter Franny.
Photo: Courtesy of YouTube
The COVID-19 outbreak has forced late-night-TV hosts into exile. With traditional production shut down, none of them can work from a studio, do a monologue in front of a live audience, or sit behind a desk and interview celebrities. While a number of shows have gone on hiatus, several are still producing videos on digital platforms, like YouTube and Facebook. Conan O'Brien and Samantha Bee, for example, have been appearing in short clips sharing, cheekily, coping and survival tips during this time of quarantining.
But a number of hosts have gone a step further and tried to repurpose their shows for the web with social distancing in mind. This week, the 11:30 p.m. major-network hosts — Jimmy Fallon, Jimmy Kimmel, and Stephen Colbert — all did this. So did Trevor Noah, who has been hosting The Daily Social Distancing Show from his sofa in lieu of the usual Daily Show. Earlier this week, O'Brien announced that he plans to attempt something similar, shooting from his home using an iPhone and welcoming guests via Skype in episodes that will start streaming March 30. While the COVID-19 outbreak is anything but positive, the way it's forced late night to adapt could wind up being one of the best things to happen to the genre in decades.
Late-night talk shows, particularly on the major broadcast networks, have felt boxed in for a really long time. Virtually every show adheres to the same format that has existed since the genre was invented. There has been disruption over the years, David Letterman being the chief disruptor. The current crop of network hosts have also tried to inject new elements into the mix, like the games that Fallon regularly plays on The Tonight Show and the carpool karaoke sessions on James Corden's Late Late Show. But bits are still bits, and forced spontaneity can often feel, well, forced and not spontaneous.
Figuring out how to make a TV show from your home, with no staff present, is, by nature, a spontaneous act, and it's injecting an organic vibe back into "late night" that is right for the internet and right for this moment.
Fallon has been "broadcasting" from his house, where his wife, Nancy Jovonen, is acting as his cameraperson, his two daughters regularly interrupt him, and his interviews with people like Lin-Manuel Miranda and Jennifer Garner unfold via Skype. It's the most charming he has been in years. His monologues, which he reads directly from sheets of paper, could use some work. But his casual, regular guy persona — something that can seem discordant with the fancy, expensive set he normally appears on — is more relatable in the on-the-fly context in which he's been forced to work.
Fallon's interviews have always seemed less like interviews and more like chats with preprogrammed bits shoved in to give them some kind of framework. That style works much better in a YouTube video. If he had forced Jennifer Garner to play "Happy Birthday" on the saxophone, as he did in his most recent episode, during a traditional Tonight Show taping, it would have seemed hokey. Doing it via Skype, when both are confined to their homes, made it sweet and oddly comforting.
In keeping with his persona, Fallon has mostly avoided political humor. But in keeping with theirs, Kimmel, Colbert, and Noah have not. All of them have pointed out the hypocrisy, incompetency, and tastelessness that President Trump has displayed during this crisis. "You know, they say a great way to prevent a virus from spreading is to name it something racist," Kimmel joked earlier this week from his couch, a reference to the president's insistence on calling the coronavirus the "Chinese virus." I am sure he and his writers have scripted his jokes, but Kimmel makes it seem like he's just sharing thoughts off the top of his head. Like Fallon, he seems to be rediscovering a sense of spontaneity that doesn't always come across in front of a studio audience and multiple professional cameras.
Colbert, who announced that he's taking a hiatus during his most recent web-only episode, shot on his front porch and dubbed The Light Show With Stephen Colb-air, has allowed unedited mess-ups to remain in his videos. At several points during the monologue he delivered during an episode shot from his backyard fire pit (The Flame Show With Stephen Colburn), he got overwhelmed by smoke and started laughing. Those errors were often just as funny as the actual jokes he was telling. It also cements the impression that these guys are struggling just as hard to work from home as we are, even if some of them have nicer homes than we do. (I now covet Trevor Noah's couch, the Kurt Vonnegut print hanging on Jimmy Kimmel's living room wall, Stephen Colbert's lovely porch, and the slide that Jimmy Fallon has in his house. A slide! I want one!)
Their kids have been creeping into the frame in ways that make work-from-home parents feel seen too. Fallon's daughters climb on him while he's telling jokes. Kimmel's daughter drew the pictures and sings the opening theme for his COVID-19 version of Jimmy Kimmel Live, punctuating her song with a giggle and a "This is ridiculous." (It's adorable.) A video chat this week between Noah and Daily Show correspondent Roy Wood Jr. was interrupted by shouts from Wood's 3-year-old, who was apparently chewing on toilet paper. Maybe the kid really was doing that and maybe he wasn't. It was still funny.
Moments like these bring late-night TV and its hosts back to their core purpose, which is to make viewers feel like they know the people on the other side of the screen. By being forced to strip away the pretenses that come from working behind a desk on a set, they're driving home the notion that we really are all in this together, an idea further underlined by the fundraising efforts included with some of these streaming efforts. (Fallon, Kimmel and Noah have used their video platforms to drive donations to a variety of charities, including No Kid Hungry and the Red Cross.)
When we're allowed to wander outdoors freely again and TV starts to return to its regularly scheduled programming, let's hope they take the DIY spirit they've been forced to find this week and make it part of a new standard for what late night should look like.