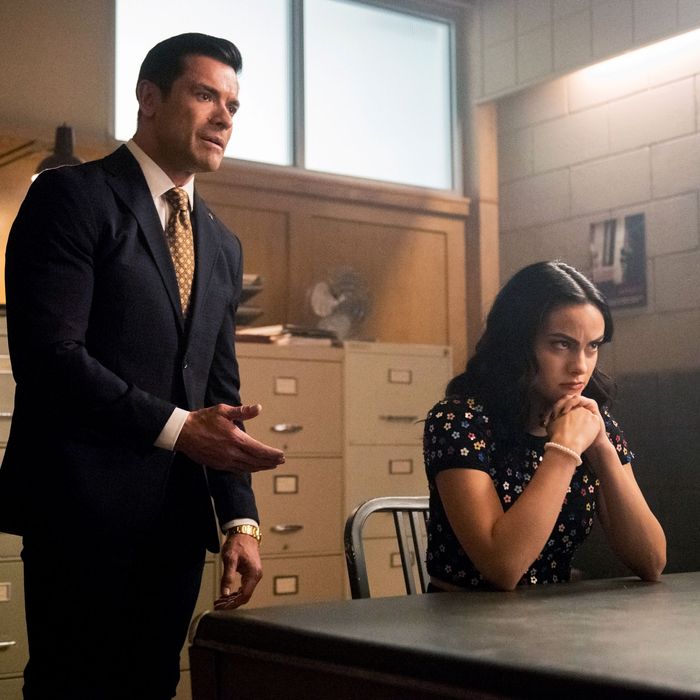 Photo: Dean Buscher/The CW
The surviving, nonhospitalized, not-on-the-lam-indefinitely members of the Cooper and Jones families are eating a sadness breakfast when Betty gets a call from Yale: A spot has opened in the class she applied to, maybe because somebody died or something — does she want it or what? (So, did she really get rejected, or was she wait-listed? And by the way, regular-admissions decisions don't even come out till the very end of March! I am well aware that this is truly the stupidest in the entire articulated skeleton's worth of bones I have ever had to pick with Riverdale!)
Alice has started filming a crime documentary about Jughead's apparent murder, for which both the picture quality and general mise-en-scène can best be described as neo–Blair Witch Project. She asks Sheriff Jones if he suspects foul play, and I have to wonder how many sets of circumstances in which a person is found dead of blunt-force trauma to the head with a bloody rock nearby and their body later discovered stashed in a ravine are legally classifiable as "natural causes."
Warrant in hand, FP is off to rummage around Donna's dorm room, which I am thrilled to tell you features the Klimt The Kiss poster that all young women are required by federal law to display in their dwellings. He finds Jughead's tie pin; she says he threw it in their faces when he was expelled. Then Donna (this actress is so delightfully unhinged, by the way, that she just motivated me to do a Google so that I can tell you her name is Sarah Desjardins) bursts into tears and confesses that she's been too afraid of Betty to come forward — but she and Bret saw her standing over Jughead's body, holding a rock, and Veronica and Archie were there, too, and is there an affidavit you'd like me to sign?
And so FP storms into the middle of bio class and arrests all three of Jughead's best friends for his murder. What I wouldn't have given to watch someone get arrested in the middle of high-school bio class, provided it wasn't during one of the 14 times that Dr. [redacted] made us watch Gattaca, an objectively solid movie. Betty takes this development remarkably in stride, even when Alice sits down with her privately at the sheriff's station and tells her "I know you did it" and that "I was expecting something like this," which is real cold, Mom.
But the kids are released from custody when the forensics report finally comes back and reveals that the corn-syrup blood smeared on the (decoy) rock was fake. Does no one feel compelled to look into what kind of Grand Guignol production was being staged in the woods that night?
Donna, who knows for a fact that the original rock was smeared with Jughead's blood, because she watched Jonathan apply it, thank you very much, is horrified by this news. She calls up Betty at 3 a.m. to make a truly wild … or is it … wild, I mean … accusation: Jughead is really alive, and Betty is hiding him away while she gathers evidence to land the Stonies for attempted murder. Yes, she's clearly deranged, but I kind of wouldn't hate it if Donna and Betty dated — is that weird?
Betty and FP host a wake for Jughead, at which two strong contenders for Worst Funeral Behavior emerge. Donna rants and raves about how Jughead is, in fact, alive and interrogates his preteen sister, which is somehow more upsetting than Bret straight-up lunging for the closed casket. Cool, normal behavior, as always.
Hiram strongly suggests FP take a leave of absence from his duties, which, honestly, fair, and to which the now-former sheriff responds by quitting. Hermosa reminds us that she is a private investigator (I forgot! I'm sorry! There's a lot of shit going on!) when, after discovering Veronica is under investigation by Barnard, she hands her little sister a fake passport (Monica Posh rides again!) and a plane ticket in a not so subtle suggestion that she skip town. Veronica declines. Then, once Hermosa manages to find out that all three kids came home with different cover stories on the night of Jughead's disappearance, she demands Veronica tell her the truth.
Rumors that Jughead may not be Jugdead (I'm sorry, I loved that too much not to use it again) soon sweep Riverdale High, despite Betty's apparent rage at such a "cruel" suggestion. She and Archie have that teary conversation at Pop's we saw in an earlier episode, in which he takes her hand and promises they'll get through Jughead's loss together. In context, this little heart-to-heart sure seems like it's for the benefit of Cheryl, who's declared herself Betty's one-woman suicide-watch emergency-response squad, listening in from one booth over.
The next day, Cheryl follows Archie and Betty to the music room and sees them kissing, whaaaaat — and mass-texts an incriminating photo thereof to the entire school. Cue a highly public blowout in which Veronica screams at Archie and Betty, channeling Brittany Cartwright rawt in hail energy. This scene could not feel more staged if everyone was doing that nose-touch signal from The Sting (ugh, I love The Sting) at each other all the time, which is not at all to say I dislike it.
Another thing I do not at all dislike: This episode takes a fun meta turn when Kevin recaps this cheating drama to Alice's camera, and he might as well be talking about the IRL Riverdale fandom. "I think there are a lot of closeted Barchie stans out there who have been waiting for this moment," he says. "There's a lot of people who don't think Bughead shouldn't have happened."
So, if Barchie is happening, then Jughead must be dead. Right?
Donna trails her future girlfriend (leave me alone) Betty to Pop's, where she picks up takeout, and then to Dilton's bunker (aww, the bunker!), which she descends into alone. Convinced she's found Jughead's hideout at last, Donna climbs down herself, only to find Betty canoodling with someone on the cot: Archie. So there, ma'am.
Then, we find Archie canoodling with someone in his bed: Veronica.
Then, we find Betty canoodling with someone else on the cot: Jughead! (He is alive, to be clear — she isn't making out with a corpse.) Congratulations to all of us for knowing he was Not Dead™ and also to Cole Sprouse on his mandatory several-episode vacation! He was hiding under the cot during that whole Betty-Archie-Donna scene, you see. And in the midst of being investigated for murder and plotting an elaborate cover-up to properly incriminate the real would-be killers, Betty had time to teach herself to knit and make him a new beanie! Besides Alice, who Betty just informed like half an hour ago, FP and Jellybean (thank god), Mrs. Andrews, Dr. Curdle Jr. (love ya, babe), and Charles are all in on their scheme.
Here is the thing: I want to enjoy this more than I do. I love grifts and cons and scams and I appreciate that Riverdale took a big narrative swing. But — was it such a big narrative swing? Who among us really, wholeheartedly believed that Jughead was dead?
That said, speaking of narrative swings, Archie and Betty reassure their respective significant others that their just-for-show red herring of a kiss meant nothing, of course, and that everything's fine, before — in just about the one moment in this episode that doesn't feel like it's an intentionally staged public performance — privately texting each other kissy-face emoji that seem to mean something more than nothing. Hmm!
Donna, looking more wild-eyed than usual, which is an achievement, runs into Bret's room to announce she has conclusive proof that Jughead is alive: She saw three, not two, Pop's milkshakes in the bunker. That, respectfully, is dumb as hell: If you're gonna have an impulsive affair with your murdered best friend's girlfriend slash murder your boyfriend's best friend in a sex–slash–death bunker, ordering an extra milkshake to split is not that crazy in context. When Bret tells her to move on, that they definitely succeeded in killing Forsythe (wee-woo, wee-woo), she slaps him and threatens to kill him like Jonathan — excuse me, did we know Jonathan was dead?
Hermosa has now decided she's actually on Veronica's side, surprise, and rolls up with some incriminating, gasp-inducing, "smoking gun" dirt on Donna that we'll have to wait until next week to find out. Is she secretly an Evernever? A Muggs? A Grundy? A Curdle?