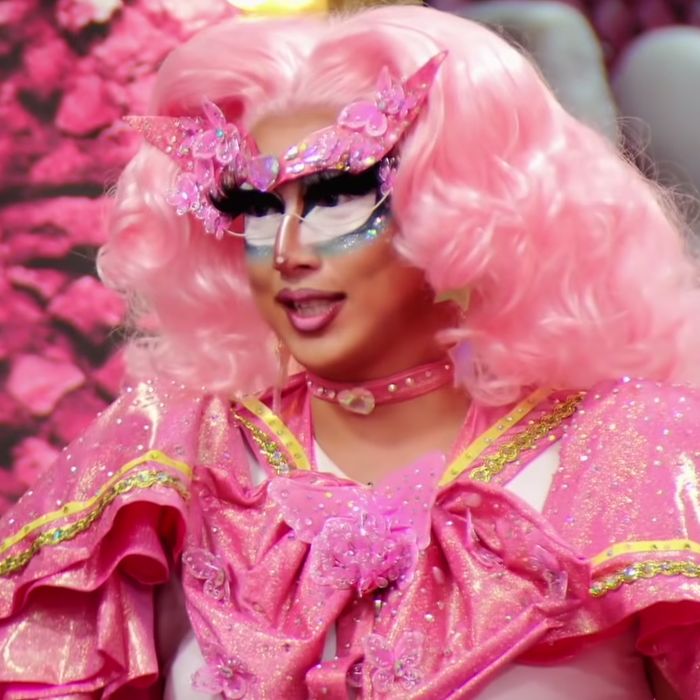 Hi, shapeshifters! Your favorite Twitter comedian is back-back-back again with another unsolicited Drag Race recap. Last week, we met the the first half of the season 12 cast as they rapped, twirled, strutted, and bucked the house down in a top-notch season premiere. This week, we meet the rest of the queens in an episode that is, dare I say, less thrilling. Don't get me wrong: The six talented entertainers we meet this episode are more than worthy of the Ru-girl moniker. But given the fact that we just saw seven queens slay near-identical challenges last week, this ersatz season premiere felt pretty stale.
*Squeak* What's that I hear? The first queen entering the Werkroom? Let's go say hi to my faves.
First in is Rock M. Sakura. The Vietnamese/Filipino queen's aesthetic is an amalgam of Japanese pop culture. "Am I really Japanese? Is it cultural appropriation?" she asks the audience. "We'll find out." Last week, I had the privilege of seeing Sakura live at the NYC Drag Race premiere viewing party (brag). She's quirky, funny, and a stunt queen to boot; I can't wait to see what she does this season.
Second is Dahlia Sin from NYC's Haus of Aja. Dahlia is hot, mean, and bored. I love her.
Coming in next is "the Queen of Camp" Sherry Pie, and so we must pause here to address the elephant in the room. This week, five young men came forward accusing Sherry Pie of catfishing them, posing as an influential New York casting director in order to solicit sexual videos of them over the course of months. Thursday evening, Sherry confirmed these accusations on her Facebook, and just hours before this episode aired, VH1 announced she's been "disqualified" from the show. Of course, this season was filmed months ago; Sherry's performance and ultimate placement on the show is immutable, and there's no going back in time, so it's hard to say precisely what disqualification means in this case. Still, I'm glad to see RuPaul, World of Wonder, and VH1 taking this predatory behavior seriously; as a show that prides itself on being a family and has even tackled issues of sexual assault (on season 10 with Blair St. Clair,) Drag Race has a duty to condemn repugnant and abusive sexual misconduct in the strongest possible terms. Especially when the call is coming from inside the house.
To say I won't be rooting for Sherry this season is an understatement. So let's meet the rest of the dolls hoping to impress us this season. Next up is Jan! (née Jansport.) Jan is a musical theater queen from NYC, and baby, Jan came to do two things: snatch the crown and act in accordance with U.S. intellectual property law. Jan is a talented singer, but don't take my word for it! Mere seconds after her entrance, she's on her second vocal run. And honey, you KNOW they were shooting these entrances at 7 a.m. Work, bitch! Terrifyingly energetic, ambitious, and classically trained, Jan is a musical theater BFA taken human form.
I'll be honest, I've been excited for Jaida Essence Hall since the cast announcements. Jaida is a born-and-bred pageant queen with the skills and polish to show for it. She's funny, self-aware, and, as she points out, a fashion queen who sewed 99 percent of the things she brought. A veritable Betsy Ross of Drag Race. (Betsy Ross Matthews?) Ladies, I smell a front-runner.
Lastly, there's the spooky-ooky Aiden Zhane, who describes her drag as "mysterious." If you're wondering what that means, keep wondering, girl. When pressed, Aiden reveals that she performs "zero times a week" in Atlanta, a city she describes as "not very diverse." Seems legit! I don't know what this Haus of Janis Ian queen has up her sleeve (and I don't think she does, either), but my expectations are low.
The girls then take a very non-spontaneous, producer-mandated walk around the Werkroom and notice that, OMG, there were other girls already here! Sherry and Dahlia are quick to suggest sabotage and thievery, but before they can live out their Ocean's Six fantasy, RuPaul enters to tell the queens what we've already know: For the mini-challenge, they must serve two looks fit for Fashion Week blah blah blah. Déjà Ru. You know how this works because we've seen it already, so let's get into some highlights!
Overall, this runway is significantly weaker than last week's. (Trend alert!) To me, the standouts are Rock M. Sakura's hand-drawn anime dress and cape, Dahlia's head-to-toe black fur dress (complete with glued-on, slicked down baby hairs), and Jaida's gorgeous lavender pantsuit.
On to the maxi-challenge. The queens must create choreography and write verses for the Fosse-inspired track "You Don't Know Me." Jan climaxes. After a few minutes spent writing and deciding who will take charge of the choreo (sound familiar?), the girls ultimately appoint Rock as the group's Fosse with Sherry as her Verdon.
History repeats itself on the mainstage where the queens clash. I'm tempted to copy-paste this section of last week's recap, since it is almost beat for beat the exact same fight. (Just kidding, haha … unless … ?) Long story short: Jaida doesn't like the direction of the choreography, Jan and Sherry push back, Aiden can't dance. Can we move on now?
The next day in the Werkroom, as the sleep-deprived queens beat their faces for the runway, Rock confesses that her leadership role took a toll. In a moving and vulnerable admission, Rock explains how her mother was addicted to meth as a child and would lash out at Rock and her siblings, going as far as saying, "You're the reason I do drugs." The girls comfort her, particularly Jaida, who embraces Rock and reminds her that we can only be responsible for our own actions and her mom had no right to blame her. Wise words, queen. It's a lovely moment, and you can tell the bonds of sisterhood are already forming. You heard it here first: Everything you see on reality TV is 100 percent real!
Finally, we're ready to watch the highly anticipated Fosse-"Cell Block Tango"-inspired dance number "You Don't Know Me." This song is, to use a technical writer's term, bad! However, the queens do their darnedest and deliver a few memorable spoken-word verses. My favorite lines are penned by Jaida ("She's got talent beyond recognition / And that's how mother dear will slay the competition"), and Rock ("a high kick to a fart that can send a grown man home to his mama"). A special shoutout to Jan who delivers a performance that's as high-octane as it is high-octave. She ends her verse by screlting an F6! The Rachel Berry of drag.
With that, we're off to the runway with EXtra-special guest judges Robyn and Thandie Newton (two people I'm confident had never heard of each other before that day). The runway theme is "tulle," a somewhat more creative pitch than "sparkle." (Baby steps!) Jaida and Rock are my favorites: Jaida is a vision in a bright yellow Giambattista Valli-esque gown, and Rock bounces onto the runway in a beautifully constructed tulle suit of armor that would be quite at home on the Met Gala Camp red carpet.
The judges praise the queens pretty equally, with two exceptions. First, Ross and Michelle are grossed out by Rock M. Sakura's fart joke. (Somehow this is where Drag Race draws the line?) Second, Michelle admonishes Dahlia for seeming nervous and then questions the inspiration behind her lyrics. "You've won titles? What are those?" Michelle asks. "Mostly just being on the train being a whore," Dahlia replies. Reader, how can I not stan?
The judges also spend a good deal of time on Jan. Ross praises her versatility and spirit, and Ru is amused by her ambition. "I just really want to pay attention to the details," says Jan eagerly, in a tulle construction worker pantsuit and an Elsa wig. During deliberations, the guest judges weigh in as well. "The positive energy was so … apparent" Robyn whispers in cursive.
"Strong, and also very … a lot." Ah yes. How do you say "musical theater major at Boston Conservatory" in Swedish?
Ultimately, the judges heap the most praise on Jaida (yay) and Sherry (blegh), giving us our top two of the week. The lipsync is to the seminal gay hymn "Call Your Girlfriend" by Robyn. Sherry delivers camp and comedy, but Jaida's reveals, gags, and stunts thankfully let her pull off the win.
And with that, the episode is conclu — HOLD UP! Before this episode ends, it's time for the Montagues and Capulets to meet. That's right. At long last, our season 12 queens will be assembled as one. The safe queens walk into the Werkroom and find their new rivals sitting across from them, poised, stunning, and unimpressed. Ladies? We've got a standoff on our hands.
With the two groups' battlelines drawn, episode two is finally at its end. While I remain excited for this season, the fact that episode two's format was nearly indistinguishable from the season premiere did these queens no favors. Next week, we'll be treated to our first acting challenge, and FINALLY get our first elimination. Strap in, Racers, we've only just begun.
"It DO Take Nerve"
Quotes that left me mouth agape
• "Same, same, same, same, camp, camp, same. Next." — Nicki Doll
Our resident aloof Parisian is none too impressed by her competition, and is not afraid to let the confessional booth know.
• "There's too many bitches in the workroom" — Heidi N. Closet
Everything Heidi says makes me laugh. God I missed her this episode!
The fact that both quotes here are from queens who didn't even compete this episode should tell you everything you need to know about this ep!