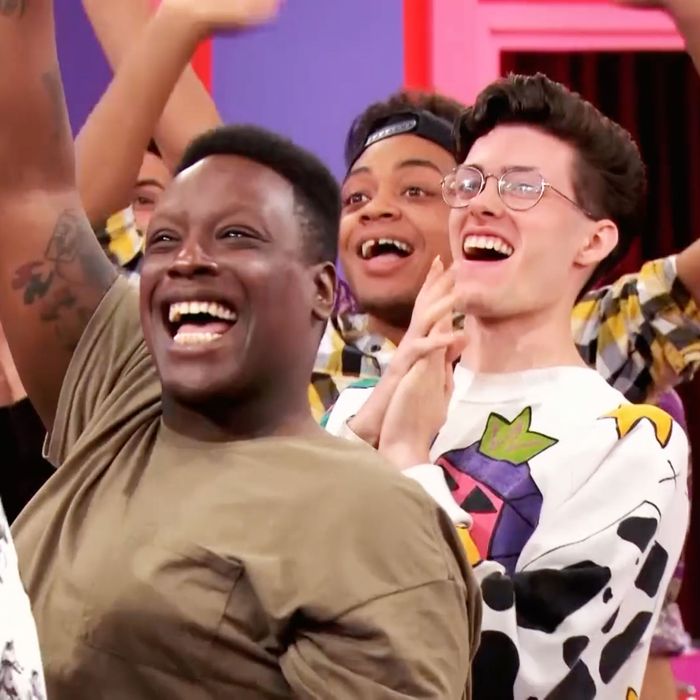 BRING ME AIDEN ZHANE'S SKULL ON A PIKE.
Yes, you heard me. My patience with Aiden Zhane has been waning with each new episode, and I can't take it anymore. I know we're all self-isolating to head off a deadly global pandemic, but even so, I believe it is our moral obligation to take to the streets tonight in protest of tonight's bottom two. Join me, sisters!
Don't get me wrong: I understand the chain of events that land the sweet Rock M. Sakura and my dear Brita in the bottom two tonight. To borrow a phrase from famed psychoanalyst and fracker RuPaul, both queens have their "inner saboteur" to blame. Brita can look to her hubris. While her swagger was praised early on (by Nicki Minaj herself, no less), Brita's cockiness has since become a liability, culminating in an uninspiring runway presentation. Rock M. Sakura must also look inward. The comedy queen has talent and personality in spades, but has been emotionally all over the place. Critiques in the first two episodes cut Rock M. deeply, which unfortunately manifested in an inability to own her star quality, and ultimately sent her home this week.
But who exemplifies both of these problems more than Aiden Zhane? In the span of two hours we see her go from over-confident bordering on delusional in the Werkroom (where she takes a nap while everyone else improves their eleganza), to mopey backstage in Untucked (where Leslie Jones pointedly asks her, "What's up with you? You have this sour thing."). Where Rock and Brita struggle, Aiden struggles twofold. Yet it is inexplicably Aiden who's spared from elimination this week.
And what better episode than this one to bring all insecurities to the surface? It's one of the most highly regarded challenges in the Drag Race canon, and fans eagerly await it every season. You guessed it: In the great tradition of Paris is Burning, the queens must get into quick drag, dress up in Party City bee costumes, and twerk to RuPaul's "Freaky Money" to raise awareness for the endangered honey bee.
Kidding. We're having a ball! Once an honor only reserved for the top four, the ball challenge is now an early season treat that gives us the pleasure of seeing not one, not two, but 36 looks on the runway. As usual, the queens must serve us three categories: Lady Baller, Basketball Wife Realness, and "Balls to the Wall Eleganza." We're served some classic ball challenge tropes, of course. Rock M. Sakura is hard at work planning a silhouette inspired by the dress Ross just hated, Brita and Heidi can't sew, our look queens (Nicky, Gigi, Jaida) each try to stake their place as frontrunners, and Aiden has nothing but confidence in her ugly outfit. Go girl, give us nothing!
Before we get to my uneducated and uninformed opinions on ball culture and high fashion, I would be remiss if I didn't lavish praise on one of the best guest judges in Drag Race history. Leslie Jones has the time of her life this episode, and her happiness is infectious. She recites lines along with RuPaul, squeals at dramatic lighting changes, and even makes me cry when she goes backstage to praise the girls in Untucked. So, I would now like to present my original sonnet: An Ode to Leslie Jones.
Shall I compare you to a Shea Couleé?
Thou art as lovely and as sickening.
You gagged when Ru walked down the runway,
All the while on your iPhone 8 filming.
Your sequined dress was had shimmery blue hues,
Your slick back 'fro served us Diana Ross,
Your critiques outshined Ross, Michelle and Ru's,
And in Untucked you showed who's "The Boss."
Thank you for saying Aiden's face was "sour,"
Oh, and for signing Widow's ugly shoe.
Your joy and passion growing by the hour,
You GAGGED at the lipsync of the Bottom Two.
So long as Drag Race airs, and eyes can see,
So long you should guest judge it on TV.
*Polite snapping* Okay, runway time!
Jackie Cox: Really nails it with the "She's The Man" lacrosse player realness. I also really appreciated her Basketball Wife look. It's very on brand, and the netting is in keeping with the sports theme. She's a smart cookie, that Jackie! However, I barely get any "balls" from her extravaganza look, which I think kept her from the top.
Nicky Doll: This Lady Baller look is stunning! It's like Dorothy Hamill quit figure skating and joined the NFL team on Chromatica. I also love her red fur and beret look, trés Basketball Epousé. Her extravaganza look is detailed and high-fashion. Finally, a good week for Nicky. Welcome to the party, madame!
Aiden Zhane: I am thoroughly unimpressed. Her Basketball Wife runway prop is a paper bag. A paper bag! Girl, we going to Sweetgreen?? Her Balls to the Wall eleganza is by far the worst of the bunch. The fact that she didn't lipsync is unjustifiable. I will be suing RuPaul, and fully intend to take this case to the highest court in the land (Judge Judy).
Rock M. Sakura: The tetherball wig is so fun! Unfortunately, Michelle is right that the rest is not. Her Basketball Wife realness is just so uninspired. I'm shocked that such a smart and funny queen was so unable to tell us a story. I honestly didn't hate her Balls Eleganza. I know the execution is too much, but I'm so impressed with her ability to construct that garment. Not bottom two material! My lawyers will be in touch.
Jaida Essence Hall: Jaida has my absolute favorite Lady Baller realness. Additionally, her Basketball Wife is so stunning that I fully expect Jaida to land a Clippers player after this. I personally wasn't floored by her extravaganza look, but I'm so happy the judges disagreed. Jaida, I adore you!
Brita Filter: Very cool Lady Baller concept, the silhouette is giving me Ball-main (sorry). I knew the writing was on the wall for Brita when they showed that insert of the judges looking at each other in confusion and asking if her outfit was supposed to be pineapple or a husk of corn. Absolutely brutal.
Crystal Methyd: Crystal really nailed this challenge. From her lady bowler realness, to her Paris Ramada Inn Basketball Wife, to her Carmen Miranda couture, Crystal gave polish and characterization to every look. I love this kooky bitch!
Jan: Jan, if you're reading this I will pay you any amount of money (up to $75) for that rhinestoned Thom Browne tracksuit. PLEASE. I'll compliment you in every recap! I have NO integrity!
Heidi: Heidi can do no wrong. Her PGA tour look is adorable, and she embodies Basketball Wife realness. Everyone else, go home. I'm so impressed with Heidi's versatility this episode.
Widow Von'Du: I love Widow's concepts throughout this challenge; this queen can dress! She clearly has talent in spades and will be going far this season. That said… Leslie is right about the shoes.
Sherry Pie: Sherry is camp and on brand throughout the runway. Her best look is definitely her Trunchbull couture, complete with a ball and chain purse. Good for Sherry, I guess! She's safe, so at least we don't have to watch the judges praise her this week.
Gigi Goode: Our winner! Gigi's Heathers look is absolutely perfect, and such a great take on the theme. Her snakeskin jacket reads more femme fatale/Sharon Stone than Basketball Wife, but she's certainly stunning. The fact that Gigi constructed that dress in one day is very impressive. Am I crazy for thinking the balls glued on didn't add much to it? (Rhetorical question, my opinions are perfect!)
The judges heap praise on Gigi, Jaida, and Nicky, telling the latter that she needs to make sure her personality is as vibrant as her runways. Unsurprisingly, Gigi takes home the five grand prize. Brita, Rock, and Aiden make up the bottom three, with Aiden (yes, AIDEN) declared safe.
The lipsync is hard to watch. Of course, it's a joy to watch Brita light up the stage with her charisma and humor, but it's painful to watch charming, effervescent Rock struggle. She spends a good third of the lipsync trying to rip off her petticoat, and never recovers. You can see the defeat on her face, and while she pulls off some impressive stunts, Brita dances circles around her (literally, in some instances). Performing Rihanna is about attitude, and honey, Brita has attitude.
Rock's elimination is sad and I'm sorry to see her go, but it just goes to show how strong this group of queens is. Anything could happen next week, from Aiden going home to Aiden going home. This season is just getting started, and I'm excited to see where it goes.
"It DO Take Nerve"
Quotes that left me mouth agape
• "Sit down, have several seats. Matter of fact let me slide this bench over for you so you can lie down and get comfortable. Aiden needs to step it up." —Widow Von'Du
Widow is consistently giving truly incredible confessional chair one-liners. Relax your throat, bitch, 'cuz you're gagging.
• Widow: "If I'd have worn the same black pumps, I would've gotten read!"
Leslie: "Same shoes is better than ugly shoes."
Leslie Jones has been on this show for 20 minutes and is already reading better than half the contestants. Bring her back!