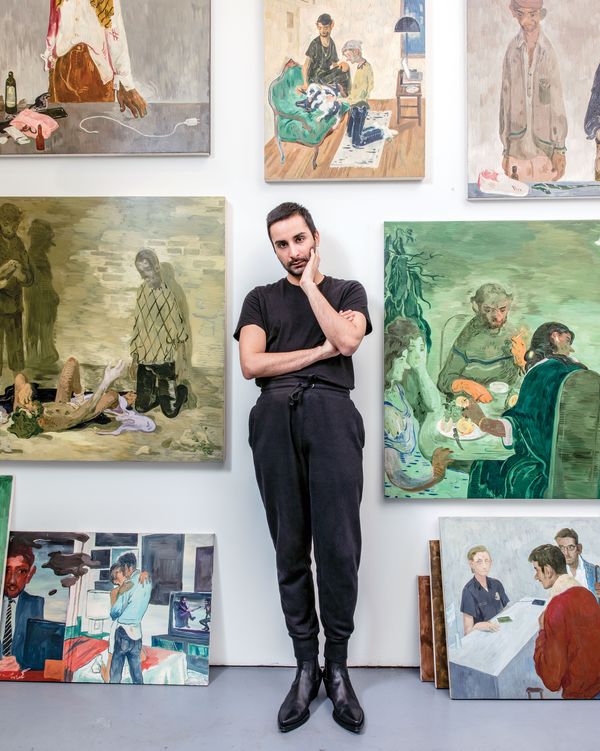 Salman Toor lives, and paints, between worlds — Lahore, Pakistan, where he grew up fascinated with his grandmother's framed Gainsborough prints and refused, much to the befuddlement of his parents, to draw cars or planes and other things deemed gender appropriate, and New York, where he moved in 2006 after going to Ohio Wesleyan. "I was just completely speechless for the first year because I hadn't really been to the States, and I was like, 'What is going on?,' " he tells me, laughing, when I arrive at his Bushwick studio with the iced coffee he requested despite its being rather icy out. After Ohio, he got into graduate school at Pratt, where he befuddled his professors with his interest in the rococo (Watteau's work is among his favorites, but it wasn't among theirs) and his desire to create himself in the mode of various no-longer-in-fashion canonical painters of 16th- and 17th-century Europe.
Toor is 36, but he looks younger, if less bohemian, than the lanky, curly-haired boy with the extra-long nose who seems to act in many of his paintings as his fairy avatar, passively alive with nervous languor. Toor still holds on to the somewhat posh accent of the private school his prosperous parents sent him to in Lahore (where his father owns a car dealership) and comes across a bit like a gay man of another, more fastidious era when he explains why the legs in his paintings are so skinny and unarticulated: He just likes legs too much and is afraid to lose himself in erotic reverie if he gets too much into painting them. Best to hold back a bit.
Up until three or so years ago, Toor had been making what he calls "very academic kind of work" — bloodless and careful — which was bought by mostly South Asian collectors. Then, on a whim, he decided to do something different, something loopier, just to decorate his apartment. These were scenes of joy and fey disquiet very much like the queer life he'd created for himself in New York. His gallery at the time — Aicon in NoHo — wasn't convinced at first, but images of the work, which is very Instagrammable but far more interesting in person, went viral.
The Whitney invited him to his first solo museum exhibition six months ago (the opening was scheduled for this month, but is on hold now until the pandemic ends). Some of the paintings, of family and immigration inspections and what appears to be a gay bashing, were done in his studio in Lahore. He reconstructs everything entirely from memory, which is why something like a car doesn't look very much like an actual car, but when he paints a boy dancing or staring into his phone, it couldn't feel more real. And then there are the paintings of life in New York, made in New York, which are cozy and quietly heroic in a way but still unsettled.
I ask him why the hands are often different colors and the noses extra long. He references Pinocchio: "It's that they're different parts that are put together to make this person who is maybe relatable and nice and moral — but in the fairy-tale language of a marionette."
Salman Toor's "How Will I Know" was delayed by the pandemic, but finally opened November 13th.
*A version of this article appears in the March 16, 2020, issue of New York Magazine. Subscribe Now!