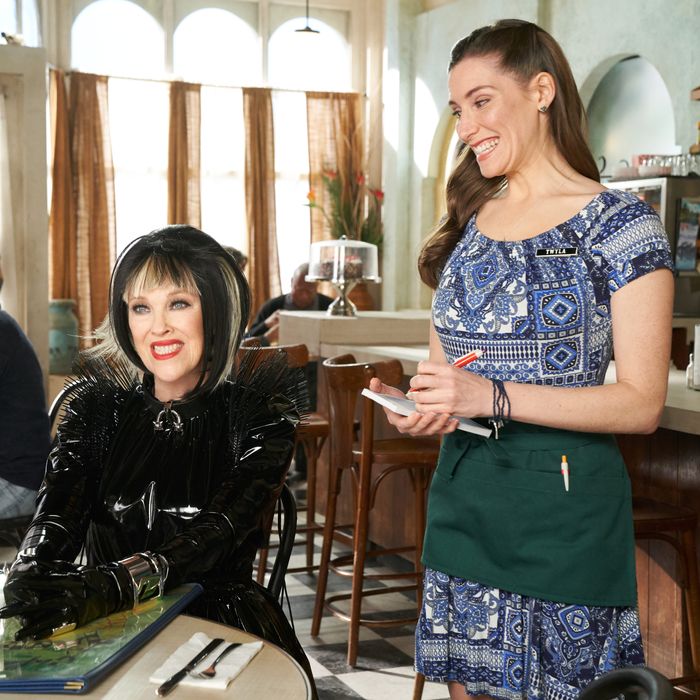 Honestly, is every episode of Schitt's Creek going to make me cry from here on out? It's not like I want to, but when Johnny Rose is sitting there in his suit next to his daughter and opening up to her like that, what else am I supposed to do? I am but a human woman. Schitt's Creek has always been about the Roses learning how to become an actual family unit, and because of this, they've never really shied from having heartfelt — well, as heartfelt as they can — moments about the current state of their relationships, about how much they rely on and care for one another now. But very little has been spent on them owning up to their faults from before their lives came crashing down. That's exactly what Johnny does in "Rebound," and holy hell did it make me feel a lot of feelings.
The family is concerned about how Alexis is handling her breakup with Ted. It's been a week, and already she's been going out with other guys and acting in a way that David can only describe as "alarmingly manic." Johnny and Moira are just learning of this, but when Alexis comes home from a date with Artie and they get to meet this new guy, they share David's concern. Especially Johnny. Artie, you see, is a scarf-and-bracelet gentleman who calls Alexis "Lexi" and is definitely Johnny's age or older. Johnny Rose is not having any of this.
He tries to have a chat with his daughter about the situation when he finds her alone at the motel, giggling over some texts Artie just sent her. He's relieved when Alexis assures him it's just something fun and casual, but then all of that relief is immediately tossed out the window when she goes on to tell her father that she's going to be celebrating Artie's birthday at his ex-wife's winery surrounded by Artie's children and grandchildren.
So when Johnny finally gets a moment with Artie alone at the diner — he and Alexis stopped there before a Jazz Festival date because Artie's blood sugar was low — he wants to have a talk. First of all, Artie shouldn't be calling Johnny "Dad" for, like, so many reasons. Second, Johnny tells Artie that Alexis just got out of a very serious relationship with a guy she was engaged to twice and he should take that into consideration. Artie reads Johnny loud and clear. By which I mean, Alexis comes home in tears because Artie dumps her. She explains to Johnny that she's upset because she "just got dumped by a man who wears three medic alert bracelets" and all she wanted was a "distraction from the fact that [her] heart is shattered into a million pieces." The more Johnny tries to console Alexis, the more obvious it becomes that Johnny spoke with Artie. "I told you I was in control of the situation," Alexis yells at her father for interfering. And Johnny's response is so sweet and emotional and vulnerable that honestly, I need a fainting couch or something. I cannot be upright while hearing Johnny open up to his daughter: "In the past, I couldn't always be there for you when you were dealing with heartbreak. I wasn't there to protect you and I guess was just being a bit overzealous in trying to make up for lost time." HOLD ME.
Lest you think this show has gone completely soft, the moment Alexis sobs into Johnny's chest, so heartbroken, he gets as awkward as you'd expect. They're taking baby steps into becoming better people, and this emotion coming from his daughter is basically pushing him into the deep end headfirst. He'll get there one day!
Like Alexis, another Rose is having a tough week. Moira walks outside the motel to find that her car has been egged. Stevie, in the wrong place at the wrong time, tries to calm Moira down by suggesting the family car being egged could be pointed toward someone else: "I could think of a handful of people who would want to egg David," Stevie suggests. But no, Moira has been harassed before during the height of her fame, and now, because of the success of the Crows movie, she has "another giant bull's eye on [her] thorax." She immediately heads over to the Town Council office to have something done about this grievous attack.
As soon as Moira (and Stevie, the "star witness") get there, we learn what prompted this egging: Ronnie and Roland inform Moira that her recent interview in People magazine, in which Moira described Schitt's Creek as "the last place you'd ever want to end up," has pissed off a lot of people in town. Moira assures them that her words were misconstrued: "I described the town as 'the last place I'd ever want to end up,'" she offers up as an explanation. The damage has been done, though. People are fired up. And this is especially upsetting because they were just preparing to launch a new tourism campaign. Moira's words won't help. "This could be the biggest scandal since we installed the church wheelchair ramp backwards," Roland tells her.
Moira tries to fix things by confronting her extremely polite protestors. Seriously, their signs say things like "We're really unhappy with you, Moira!" and "That wasn't very nice :(" and my personal favorite, "We are not angry — we are disappointed!" Ah, Schitt's Creek, you beautifully weird town. Moira attempts an apology, but "please know that I believe deep down there are worse places to be" doesn't seem to appease anyone. And then Ronnie has an idea that will help everyone: Moira is going to star in the town's tourism video.
You guys, this video is an instant Schitt's Creek classic, from Moira barely choking out nice things about the town — "Won't you join me for a little stroll through the slice of paradise I like to call the town where I currently am?" — to the horrendous on-camera skills of just about everyone else in the town. (David's inability to act natural in front of the camera particularly kills me.) It is one of the many gifts we'll keep from Schitt's Creek after it's gone.
The Wig Wall
• Jocelyn, looking for some extra cash, asks David and Patrick for a job at the store, and David begrudgingly gives her a trial run even though he doesn't think she's a fit for their brand in any way. Despite what her "casual owl sweatshirt" might say, Jocelyn is an excellent sales clerk, and by the end of the day, Patrick forces David to eat his words and offer Jocelyn a permanent position. Only she turns them down because she just doesn't think "it's in [her] brand." David could not be more thrilled to rub that in Patrick's face.
• Jocelyn's pitch to David includes her reminding him that she is "the mother with the baby at home looking for some extra cash after I invested in your father's business." "That's a lot to unload over brunch," David responds.
• David trying to justify Jocelyn's success on the sales floor: "It's probably beginner's luck, like when you walk into a casino and win big on your first pull of the Basic Instinct slot machine."
• After Johnny gives his speech about wanting to be protective of Alexis now, her response is another Alexis Rose classic: "Where were you when I was dating half the cast of White Squall?"
• Bless this line, from when Moira visits Cafe Tropical in the tourism video: "Did someone say fine dining? Cafe Tropical has certainly been described as fine."
• "Do you know what scatting is?"