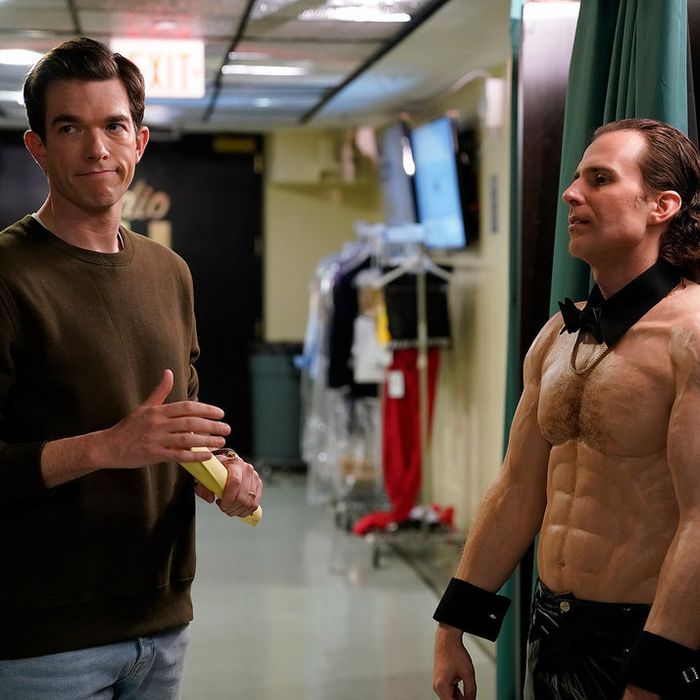 Photo: Will Heath/NBC/Will Heath/NBC
John Mulaney's success as an SNL host shouldn't come as a surprise. He is a well-remembered writer on the show — known for, among other things, cracking up Bill Hader when he did Stefan on Weekend Update. Any of his stand-up specials testify to his ability as a joke writer. And as his latest Netflix special, John Mulaney & the Sack Lunch Bunch, shows, he still thinks a lot about sketch. His two previous hosting gigs, in as many years, were both great shows; though Hader doesn't show up this time, it seems musical guest David Byrne and a cameo appearance from Jake Gyllenhaal came in part because of their connection to Mulaney via Sack Lunch Bunch. And yes, of course there was an opulent musical sketch dissecting a very particular New York phenomenon …
As usual, this week's sketches are ranked here from best to worst.
Airport Sushi
In the tradition of "Diner Lobster" and "Bodega Bathroom," a guy (Pete Davidson) wants to do something dumb and is told off in song. This time, the impetus is the guy's interest in buying a spicy tuna roll at LaGuardia Airport. The clerk (Mulaney) brings out the Phantom of LaGuardia (Kenan Thompson) and the sushi chef (Cecily Strong) to set him straight. From there, Auntie Orphan Annie (Kate McKinnon), a crying baby (Beck Bennett), a guy in pajamas (Jake Gyllenhaal), and a baggage handler (David Byrne) all chip in their two cents to snippets of songs from Phantom, Annie, West Side Story, Wicked, and other Broadway standards. On top of that, there's a reprise of Talking Heads' "Road to Nowhere." Once again, the musical sketch on Mulaney's night is a showstopper. Yeah, the sheer volume of LaGuardia gripes could be overwhelming — but they're wrapped in such a delightful package, and the format hasn't lost its charm.
John Mulaney Monologue
Though he has already hosted twice, Mulaney apologizes to anyone who doesn't know who he is. ("Like Louis Farrakhan, I mean a lot to a small group of people.") From there, he talks about boomer dads — their emotionality, friendlessness, and ability to cite trivia about WWII-era Normandy — Jesus's pals, and the Founding Fathers. A lot of menergy, maybe, but even those who aren't stand-up fans will remember that Mulaney delivers during a monologue. His run about constitutional amendments, in particular the details about quartering soldiers, is excellent. His story about a disappointed young woman who selected Mulaney for her Make-A-Wish is funny and a little sad. Plus, he tells a Caesar joke that relates to Trump in a roundabout way, and is decidedly more political than his horse-in-a-hospital bit.
Coronavirus Cold Open
As Mike Pence (Beck Bennett) tries to curb fears about COVID-19 at a press conference, he is swamped by Democratic presidential hopefuls. Mike Bloomberg (Fred Armisen) delivers some terrible Spanish before being taunted by Elizabeth Warren (Kate McKinnon); Joe Biden (John Mulaney) tells a rambling, inappropriate anecdote; Bernie Sanders (Larry David) celebrates his victories; Pete Buttigieg and Amy Klobuchar (Colin Jost and Rachel Dratch) aim for the moderates. While the sketch does feel like unfocused chatter, there are a few nice jokes that move beyond simple reactions to headlines. The way David's own sensibility overlaps with Bernie once again proves a strength, and Biden's strange monologue is great, even if Mulaney isn't the impressionist that Jason Sudeikis is.
Sound of Music: Rolf and Liesl
In this recreation of a scene of "Fiddler on the Roof for WASPs," eldest von Trapp daughter Liesl (Cecily Strong) sings about age and wisdom with her suitor, Rolf (John Mulaney). Though she is 16 going on 17, he is not in fact 17 going on 18, but older. Much older. Much, much older. Rolf defends himself as Leisl debates the merits of their ongoing courtship. ("You're a geriatric telegram boy. I'm rich and good at puppets. You do the math.") Eventually, Liesl's dad, Gaylord (Beck Bennett), and that precocious former nun Maria (Kate McKinnon) must intervene. Writerly obsessions often make for the best sketches, and the particulars of the premise seem to point toward one here. The way in which Rolf doles out the truths about his age, musically, are great, and the tiptoeing around the impending German occupation is nice, too.
Weekend Update
On the minds of the Update hosts this week is the Coronavirus, Americans' fears about it, and Trump's inability to assuage those fears. Things get interesting when Michael Che decides the pressure is just too much, and he wonders why he pretends to care about politics. Che then tosses his clip-on tie and starts drinking whiskey in order to feel free. Colin Jost, meanwhile, insists that the stock-market dip should be called a "Trump Slump," using the same "people are saying" justification that Trump uses when he just wants something to be true.
After Che spins out a bit more, Chris Redd comes on to talk about Black History Month. Citing the Harriet Tubman Visa card, the Barnes & Noble editions that turned white authors' protagonists black, and boxer Deontay Wilder's sparkly costume, Redd says it was a terrible month and asks that we collectively give black folks April. Redd has not had this kind of time on Update, and he does not waste it. His jokes are sharp, his delivery assured, and there are a number of carefully observed ideas. His depiction of Joe Biden as a man "trying to parallel park his thoughts for 20 minutes," for instance, is perfectly imagined.
Uncle Meme
At a family gathering, Uncle Ron (Mulaney) accuses his nephew Tyler (Pete Davidson) of making a mean meme with Ron's Facebook profile photo. While Tyler's parents (Beck Bennett and Aidy Bryant) do their best to defend him, Uncle Ron has collected all kinds of evidence — memes with phrases such as, "When she wanna smash but the pee-pee too small." Uncle Ron even dug up Tyler's original meme, and it's the meanest of all. This is really a sketch built on the number of gags the writers can float around Mulaney's silly image, and while there are more than enough jokes, the framework feels irrelevant. (Bryant's line, "This is not what Melania meant when she said, 'Be Best,'" and her delivery almost justify it, though.)
Kyle's Transformation
It's just another week at the office, as Kyle Mooney and Beck Bennett come up with pitches for Mulaney's visit. Mulaney has ideas of his own, though, including a male strip-club sketch in which Mooney would just not fit. Tired of being the dork, Mooney hires Justin Theroux as a trainer and gets ripped. Lorne's impressed, Chloe Fineman is turned on, and Mooney makes the cover of SNL Magazine. By the end of the week, Mooney is a shoe-in for the sketch — but plans have changed. Without his love interest, Leslie Jones, around, Mooney finds another fun and self-effacing way to play on his image. In addition to the oddly hypnotizing visual of jacked Mooney, there are several great throwaway lines here.
The Admiral
In this '50s movie, Say, Those Two Don't Seem to Like Each Other, two lonely sisters (Kate McKinnon and Aidy Bryant) hope to turn the head of an eligible admiral (Beck Bennett). While waiting for his arrival, they try to murder each other in hopes of securing the admiral's affections. Nothing works. What's worse, their sailor brother (John Mulaney) returns from the war just as cute and sweaty as he can be. Plus, he got promoted from Petty Officer to "Pass-Around Party Bottom," and the admiral is interested. Though McKinnon and Bryant always play well together, this beat doesn't quite hit the playful note of its predecessor, "The Corporal." The specifics and the scheming aren't as inspired, and Mulaney's clueless sexiness doesn't read all that well.
Jackie Robinson
On the TV doc Forgotten Figures in Black History, a host (Ego Nwodim) considers not a big name like Jackie Robinson but a less-remembered person: Terence Washington (Kenan Thompson). Washington was famously the first black man to boo Robinson. In the stands, a bunch of white guys (Kyle Mooney, Beck Bennett, Mikey Day, and John Mulaney) try to set him straight about Robinson's greatness — but Washington is unmoved because his wife once said that Robinson was handsome. In the end, the fans in the stands all make a huge sacrifice in order to help Washington feel better about it all. The premise is funnier than the execution here, but Thompson (as always) does his best to make a bitter guy likable.
It's fitting that, with Mulaney hosting and David Byrne as musical guest, SNL once again indulges its musical side. The show gives a lot of time and space for the right segments, particularly the big musical parody and Mulaney's monologue. Without those two bits, the show wouldn't have been such a success. The cold open seems to be doing too much, and Update, too little. Some of the other sketches feel like good ideas that just didn't find their legs. But there are enough unexpected moments — like a drop-by from that oddball Gyllenhaal, who is in full view during his Sack Lunch Bunch segment — to keep things exciting. Next week, Daniel Craig hosts alongside his collection of American accents before the release of the new Bond film.