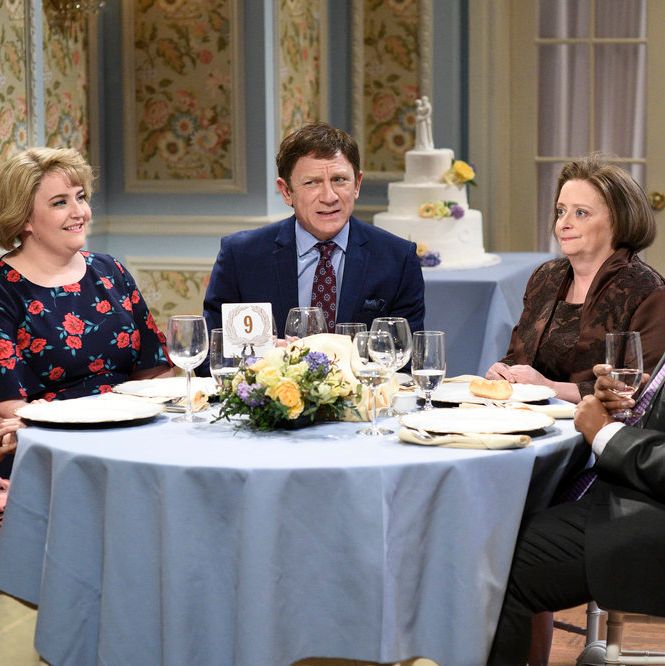 This week's SNL promo — featuring Daniel Craig simply unable to deprogram himself from James Bond–esque bone-crunching — is funny. It also highlights what we already know about Craig: He's a great brooding-and-punching machine, and seeing him outside of that context — particularly in comedic scenarios like Knives Out or SNL — can be jarring. His first hosting gig for SNL, in 2012, was a decidedly mixed bag; while Craig came across as someone eager to play, his timing and delivery didn't quite match his enthusiasm. And once the Bond stuff has been toyed with, what's left? Well, this time the writers found new spots for Craig to invest his energy, but a number of the sketches just didn't make it off the ground.
As usual, this week's sketches are ordered here from best to worst.
The Ingraham Angle Coronavirus Cold Open
Laura Ingraham (Kate McKinnon) looks to assuage conservatives' fears of the coronavirus. "The left is trying to whip people into a fear frenzy of lies, which just isn't right — that's our thing," she says. To back her up, she welcomes Jeanine Pirro (Cecily Strong), Chris Matthews (Darrell Hammond), and Donald Trump Jr. with Eric at his side (Mikey Day and Alex Moffat). After this parade of visitors, she invites Elizabeth Warren (yes, the Elizabeth Warren) on to talk about the end of her campaign and working over Mike Bloomberg during the debate. (As a recap, Ingraham plays the viral video of Warren's dog Bailey eating the burrito he snatched from a Warren staffer.) It's great to see Warren on the show so soon after she dropped out of the race, humble and seemingly without ire; on top of that, she's happy to tell jokes at her expense. While Warren is the surprise here, the sketch exhibits several moments of fun writing, e.g., Ingraham's list of things to worry about other than COVID-19 (including "Mexican teens rehearsing quinceañera dances in a public park").
Daniel Craig James Bond Monologue / James Bond Scene
Craig sets things up by mentioning a few particulars: He lives in Brooklyn now, he is a "suave, sophisticated" guy very much like Bond, and Phoebe Waller-Bridge helped to write dialogue in No Time to Die. Craig points to the postponed rollout of No Time and shows the audience a sneak peek of a scene he loves. From this point, it's a filmed play on a Bond casino scene. While Bond makes contact with a dark, seductive woman who positively drips intrigue (Chloe Fineman), he can't resist the allure of the craps table. Some enthusiastic gamblers (Heidi Gardner, Beck Bennett, Kenan Thompson, and Kate McKinnon) egg him on, and Bond forgets the usual chores of being an international spy. This is Craig's funniest performance of the night; his outsize giddiness is something to behold.
Weekend Update
The primaries and eventual general election are on the hosts' minds. Colin Jost wants to see a Biden-Trump debate if only because it would be the first one "moderated by a Jamaican nurse." Michael Che confesses that he thinks about Democrats the same way he thinks about condoms: "I'll use them because it's safer, I guess, but it doesn't feel good." As it was last week, Che eventually pulls out a tumbler of whiskey and meanders away from the news. Then Bowen Yang comes on as a new character, Bottle Boi. Draped in plastic cape and festooned with bottle caps, he defends single-use plastic bags in light of New York's recently enacted ban. While Yang exhibits a lot of flare in the delivery, the take isn't all that inspired.
Che lands a couple of nice ones in the second half, including one about NASA's search for a diverse crop of astronauts and a 100-year-old woman who asked to be arrested. ("No need to look it up: She's white.") For the first time in a long time, Cecily Strong returns as the Girl You Wish You Hadn't Started a Conversation With at a Party. As she tries to talk about the "Qdoba" virus and every other world ill, as always, the misinformation and malapropisms fly. It's good to be reminded how funny this character is — a great combination of clever wordplay and a perspective that's perfectly pitched.
Deep Quote Game Night
At the end of game night, when it's about time to go home, one houseguest (Heidi Gardner) challenges everyone to guess movie quotes. While most of the remaining guests are less than enthused, one of the hosts (Daniel Craig) jumps in with both feet. The two spar and flirt, moving quickly away from obvious references to "deep quotes" such as, "Hey, hi, I didn't know you were here." (The answer, of course, is Failure to Launch.) The two players match each other, quote for quote, until they're down to charades. As most of the players on stage haven't got much to do, it's the playful chemistry between Gardner and Craig makes this one work. Because they enjoy the sparring match, it's hard not to enjoy the sketch. Just ask Kate McKinnon, who giggles throughout.
The Sands of Modesto
This soap-opera parody opens with a disclaimer: Due to fears about COVID-19, some of the staging will be altered for the actors' health. Deborah (Kate McKinnon) gets an unexpected visit from her old lover (Daniel Craig) and his parrot — but his ex-wife (Cecily Strong) walks in on the two of them getting hot and heavy. A standard soap-opera trope, but with every moment of potential physical contact with skin or another surface that might transmit the virus, there's a precaution taken. Handshakes are mimed, embraces are foot taps, and a tryst is made safe by a handy roll of plastic wrap. Once the sketch gets rolling, it's all about how these alterations and impediments interrupt the proceedings. The performances get swallowed up in the parade of sight gags, but there are some well-calibrated physical bits.
On the Couch
In this lite-R&B jam, three guys (Kenan Thompson, Chris Redd, and musical guest the Weeknd) lament circumstances in which they get home and are told by their women that they'll be sleeping on the couch. While staying out late drinking might feel like a plausible reason for a partner's annoyance, something as benign as working late makes the couch punishment feel extreme. Turns out each of the ladies have a laundry list of very good reasons that they're keeping their boyfriends (or ex-boyfriends) at arm's length. In addition to the reveal and several nice specifics, the unexpected pacing of the jokes really adds a nice layer. The Weeknd, for his part, fits right in.
Debbie Downer Wedding Reception
Debbie Downer (Rachel Dratch) parachutes into a wedding reception where a table full of fun people (Melissa Villaseñor, Aidy Bryant, Kenan Thompson, and Daniel Craig) need their days ruined. Debbie's all worked up about COVID-19 and fears choking on a crouton because someone might cop a feel while giving her the Heimlich. While any chance to get Dratch some stage time at 8H is absolutely welcome, the best moment may be the big reveal of Debbie. The sad-trombone cam and some Dratch mugging can do a lot, but they can't replace strong punchlines and a giggly Horatio Sanz. Thompson does have a nice moment acknowledging the happy characters' unspoken angst, chastising a fellow tablemate for goading Debbie with questions: "Why would you delve?"
Daytime Show
The titular host of The Deirdre Show (Aidy Bryant) welcomes musical diva Cookie Laflue (Ego Nwodim) and British chef Chef Clyde (Daniel Craig) to the show. While showing off his mini quiches, Clyde cautions Cookie to watch out for the foil on the outside — and she gets a bit offended. "I don't eat foil," she says, and continues to obsess about the chef's unintended rudeness for the rest of the segment. Usually, with this sort of mountain-out-of-a-molehill sketch, the laughs come as one character doubles down on the absurdity of things. In this, the obsession never transcends odd and unlikely. Nwodim might be able to dig deeper into her inner diva, but the script doesn't give any of the players that much room to roam. Deirdre's question to the studio audience, "Did we lose you?" is a question the writers clearly want to ask the home audience as well.
Accent Coach
In preparation to play the detective in Knives Out, Craig is asked by the casting directors (Mikey Day, Ego Nwodim, and Aidy Bryant) to work on his Southern accent. Enter Craig's accent coach, a guy in a studded, denim Elvis-style jumpsuit called Franklin Hughes (Beck Bennett). Hughes tries to give examples of accents from Arkansas, Alabama, and Georgia; they are terrible and apparently based on cartoons like Foghorn Leghorn. Also, Hughes can't stop talking about how hot everyone's butts are and showing off his other special talents. This is an excuse for Bennett to chew the scenery — not bad, in and of itself, but Bennett's hamming can't really justify the entire sketch. For the most part, Craig is a prop here, but when he does echo Bennett's weirdness, it's admirable. The foul mess of the final 30 seconds is almost worth watching on its own.
Salad
While her family is asleep, a sunny '50s-style housewife stays up all night to make her recipe for "overnight salad." The ingredients include not just lettuce and lemon juice, but a gallon of mayo, 50 hot dogs, and much more. Though the family is pretty excited to see the massive, sculptural centerpiece on the kitchen table, things change rapidly after the first mouthful. While this sketch looks great, and Bryant remains manically optimistic and clueless, it doesn't give much more than this.
As with his first hosting gig, Craig has a lot of fun and it shows. Though the Bond parody is one of the highlights, it works because Craig gives in to a childlike glee we don't often see from him in Bond mode — not simply because it's toying with the franchise. That said, it's telling that the best moment of the night arrives via a visiting politician. Update manages a few good jabs, and the writers have found a fun conceit with Michael Che drinking and getting honest. Beyond this, the show gets bogged down by sketches that don't offer much to Craig or the audience. The next live show should be March 28, when John Krasinski makes his hosting debut.