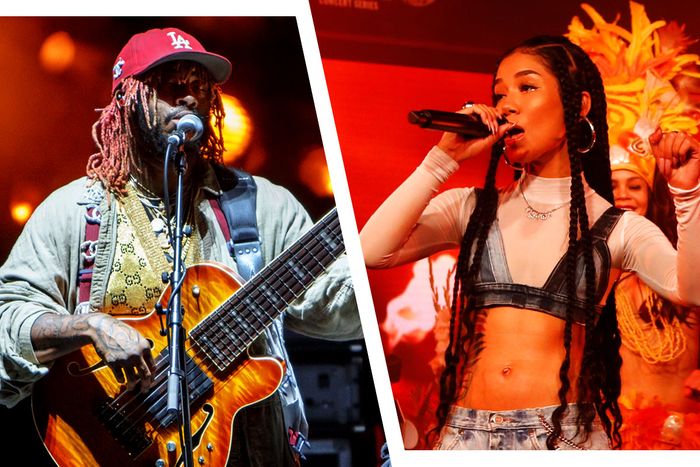 Let's get weird.
Photo: Getty Images and ABC
I used to spend a lot of time inside as a kid, reading, writing, watching television, and nerding out over video games and comic books and whatnot. So, "social distancing" feels like my default form. Left to my own devices, I fill my nights to the brim with indoor entertainment and activities. I don't know how to chill. (In truth, though, I'm slowly withering with all of the bars in the city closed. 'Rona is making shit personal.) Right now we're all thinking of ways to keep ourselves and everyone entertained through the present hellscape; today, for me, it's seeking out music for watching spring through the window, a vibe I've known since childhood. We've got upbeat jams about spooky premonitions and quiet songs about how spring sorta sucks and a psych-rock epic about the apocalypse. Let's get weird.
Thundercat, "Black Qualls"
The lead single from bass whiz Thundercat's forthcoming studio album, It Is What It Is, presents a dizzying contradiction in tones. On the surface, it's an instant funk classic bridging multiple generations of talent through guest spots from Donald Glover, the young guitarist Steve Lacy, and funk legend Steve Arrington, formerly of the Dayton, Ohio, hit-making group Slave. But lean in closer, and "Black Qualls" serves a timely word on fighting off fear and anxiety about the future.
Vampire Weekend, "Stranger"
I hear the chorus to "Stranger" in my head every week or two or three in this era as a sort of Greek-chorus response to some new and unnerving current event. Like much of the rest of last year's excellent Father of the Bride, "Stranger" speaks to a longing for stasis in the face of an uncertain future, and to the comforts of staying home in good company. We all know the feeling this week.
Beach House, "Dark Spring"
The opener from Brooklyn indie-rock duo Beach House's 2018 album 7 isn't necessarily about Earth or any of its seasons, but it's gorgeous, ominous spring music nevertheless, so it stays.
Bob Dylan, "Early Mornin' Rain"
Canadian folkie Gordon Lightfoot's autobiographical yarn about passing time on rainy days by watching planes come into LAX made its way onto a dozen hit albums, but it's Bob Dylan's version, from the loudly reviled 1970 double album Self-Portrait, that takes the cake. He sings it cloyingly cleanly, predicting the coming wave of exquisitely sad '70s Cali shlock like Albert Hammond's "It Never Rains in Southern California," somehow selling sincerity and ironic distance at the same time.
Antônio Carlos Jobim, "Waters of March"
Springtime in the northern hemisphere is actually autumn south of the equator, so really, Brazilian bossa nova titan Antônio Carlos Jobim's "Águas de Março" (or "Waters of March") is a song about the wet and cold end of summer rather than winter. But the chorus, spelled out in English on the 1973 Jobim album — "And the riverbank talks / Of the water of march / It's the end of the strain / It's the joy in your heart" — makes me dream of the end of the current troubles.
Simon and Garfunkel, "April, Come She Will"
Paul Simon's Sounds of Silence tune about a lover who blows through like a spring storm, leaving devastation in her wake, hits so crazy right now.
Fleet Foxes, "Third of May / Ōdaigahara"
The lead single from the Fleet Foxes' 2017 comeback album Crack-Up is a doozy, a majestic nine-minute folk tune about watching a close friend drift away over time that's also kind of an ode to a mountain in Japan and a painting by the Spanish painter Francisco Goya.
Stan Getz, "Spring Is Here"
On paper, "Spring Is Here" is a song about feeling cold and lonely in spite of the warmth that comes with a change of seasons, written for a play called I Married an Angel, which does not mince any words about plot in its title. But in the hands of Philly sax icon Stan Getz, on his late-career Blue Skies album, it's a love song. (For extra credit, peep the devastating vocal version from 1966's Nina Simone with Strings.)
Jhené Aiko, "Born Tired"
Jhené Aiko makes good "worn out but smoking my way through it" music. That's important right now.
The Grateful Dead, "Morning Dew (Europe '72 Live)"
"Morning Dew" is one of the prettiest songs ever written about traversing the end of the world, and a solid point of entry into the Dead's multiverse of live recordings for enterprising music nerds suddenly finding themselves with a lot of time on their hands.