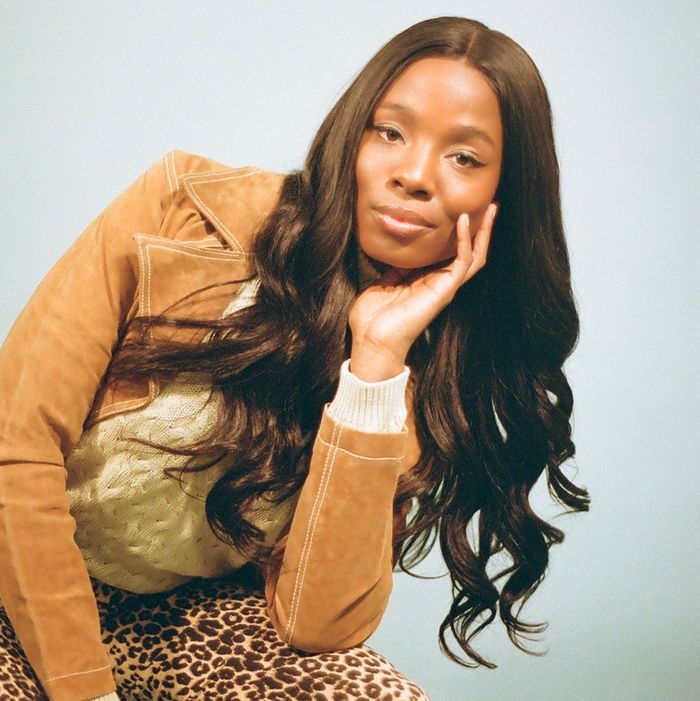 Sydnee Washington.
Photo: Corbin Chase
Sydnee Washington (@Justsydnyc) is a comedian, actor, and very hot model based in New York. She co-hosts both The Unofficial Expert podcast and Comedy at the Knitting Factory on Sundays. She also recently completed the Comedy Central Digital Creators Program and appeared on Comedy Central's 2018 Up Next stand-up showcase series.
This week, Sydnee and I talked about mean friends, success in celibacy, and listening to The Smiths on loop.
What made you pursue a career in comedy?
I was waitressing at a high-end lounge in NYC and every night a friend would secretly videotape me doing commentary and bits (aggressive). She put together a compilation reel and was like "Bitch you are funny, you need to do something with this." And I was like "I'm actually just wasted and high but thank you so much." I ended up taking a stand-up comedy class ($450, I'm so rich). I invited all my mean friends to the graduation show; they said the show was bad but I was funny and should really continue doing stand-up. Seven years later, I'm still here and absolutely want my $450 back from that class.
My emails are always flooded with job opportunities when I'm not sexually active. This tweet is really just me projecting about not getting any bunz and trying to look at the bright side of things. But then I had so many DMs from celibate ppl bragging about all the amazing jobs they have. Then I realized, Bitch you might be onto something. But I'm not giving sex up for success, I'm just too lazy to actually have it right now.
Has social media changed your sense of humor at all? Has it changed the way you write jokes?
Social media is that mean best friend that you're constantly debating on dropping but can't because so many good and bad things come out of the relationship. Twitter makes me get straight to the point with a joke but also waste a ton of time on it. I'm long-winded AF and I really have to be concise with my humor. I'm all over the place mentally, and social media is like "Bitch get to the point and make it make sense." Also, it's helped me be more open to other people's comedy. Initially I won't find something hilarious until I've looked at it 12 times in a row.
You're a multi-multi-hyphenate. Do you think that's a requirement in the industry today? Is there any one thing you like doing more?
Oh am I? Damn didn't even realize that. Overall I'm pretty good at stand-up, I'm a work in progress when it comes to acting, and clearly I'm a model. You absolutely have to be good at several things for longevity in this business. One minute you aren't getting booked on enough stand-up shows but booking several acting gigs. Sometimes acting is slow but you can get into a writers' room. And randomly, comedy just won't be popping for me and I'll get a JCREW AD, so it's important for my bank account and sanity to be multi-hyphenated.
If you don't know what being a femme means, it means to dress like you want straight men to talk to you, but you actually don't. Not appearing "gay" enough is an actual thing in this beautiful society. I get it on all ends — not just people wondering if I'll go back to peen or not. Meanwhile, back at the ranch I've been a full-blown lesbian for almost seven years. It's crazy how wearing a low-cut top and push-up bra can have many doubting if I want to truly date women. HEY WOMEN LIKE BOOBS and freshly-washed long hair too!!
What's your favorite part about hosting Comedy at the Knit? Do you feel any pressure about the show's place/legacy in the Brooklyn comedy scene?
I love love love the Knit. Everything about it. I host it with my best friends Marie Faustin and Aminah Imani with an amazing lineup of stellar comedians every week. The audience is so here for all of our shenanigans and jokes. I run my material all the time, and it pushes me to write new stuff. It's an iconic comedy staple and important that we keep the show lively and refreshing. Hannibal Buress started the show almost eight years ago, then it was passed on to Will Miles, Clark Jones, and Kenny DeForest, then us. So there's always this unspoken question, "Will the Sunday Knit show ever end?" So we have to make sure it continues to be great just for the sake of keeping the show alive forever.
It doesn't matter if I'm in a deep depression hole or happy-go-lucky, I'll play the same song all day in my house blasting to the top level and not once have they checked on me. I'm just trying to figure out when my neighbors will finally knock on my door to borrow some sugar or at least check on the status of my well-being, I'm hot … they should care.
What's your favorite song to play on repeat? Any suggestions for our spiraling readers?
My favorite song to keep on loop is The Smith's "Asleep." It's the saddest song about death. I cry my eyes out, and whatever dark feelings are inside will pour the hell out. Eventually I'm so exhausted from the sadness that I then turn into a happy person again (antidepressant-adjacent). It's weird but it helps, and randomly my skin looks even better afterwards.
Okay, we've all waited long enough: Drop the skincare routine, sis.
HONEY ALL THE KIDS WANT TO KNOW! I cannot sleep without taking my makeup off. Sleeping in makeup is a clear sign that you don't love yourself enough; it's truly self-care. I double cleanse my face. One with Glossier Milky Jelly and the Drunk Elephant Beste No. 9 Jelly Cleanser. Then Hyaluronic Acid serum from Ordinary. And I can not get enough of Kiehl's Overnight Recovery for well-moisturized morning skin. Also, drink water — it keeps the skin young forever unless you're Trump. Not even water and the sickest skin regimen can help that face.