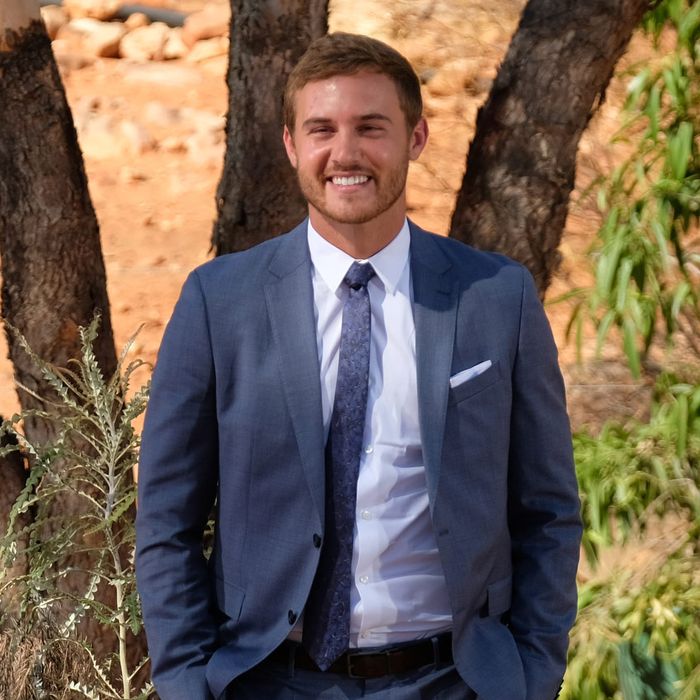 Peter Weber, looking happy for a change.
Photo: Courtesy of ABC
Do you watch The Bachelor make questionable decisions from a land down under? Where the women glowed and Peter Weber plundered? We sure did! With Weber, Madison Prewett, and Hannah Ann Sluss in a deadlocked love triangle to become Instagram's hottest couple, the first part of the show's two-night finale was full of quintessential relationship drama to fuel our wine hangovers, which was further elevated by the arrival of Weber's very opinionated family in Australia (and extremely cute baby kangaroos, not to be confused with that iconic Woggles song). As we wait to see the unlucky lady who ends up with the randy pilot, here's where things currently stand.
Peter's family takes a firm anti-Madison stance.
Despite Madison previously meeting Peter's parents and brother at the beginning of the season during a one-on-one date — a meeting that by all means went well — the Weber clan made it very clear during the "meet the family" portion of the finale that they favored Hannah Ann by a long shot. In a particularly brutal comment about Madison, Peter's mother, Barbara, repeatedly said that "she's not there for you," while every family member voiced concerns at the duo's compatibility issues in regards to their sexual, religious, and lifestyle preferences. When the women had their own private chat, Barbara even expressed annoyance that Madison gave Peter an ultimatum about sleeping with other contestants during Fantasy Suites:
I respect you for your values, and if I didn't want to go to the Fantasy Suite because I was you, I understand that. But to tell someone else when there are other girls that he has very strong feelings for, whether he wants to get physical with them or emotional, that's up to him.
Madison, while polite, didn't take kindly to Barbara's criticism:
At the same time, my expectations and feelings are valid just as much as his, and I totally get that's his journey, but it's also mine. And I have the standards that I have. I'm not going to apologize for that. I'm not going to be ashamed of that or be remorseful. I didn't tell him what to do. All I said was it's going to be hard for me to continue to work through this if this happens. But I just want to be open and honest about how it will make me feel. And that is all I wanted to do. It's not perfect, and there are a lot of differences, and there are a lot of things that we are facing right now, but I think at the end of the day you have to ask yourself: Is it worth it?
Peter's brother, Jack, also reminded Peter that "line dancing, partying, and drinking" is a big part of his life when he's not in pilot mode, while Madison is looking for a husband who embodies a quieter faith leader. Because of this, he can't possibly see them working together as a real-world couple.
The blubbering, viral speech Barbara gave was about … Hannah Ann!
Even more so than Dr. Shaun Murphy commercials, Bachelor viewers have been forced for months to consume the same damn clip of Barbara tearfully begging Peter to chase after the right woman. While fan speculation heavily favored Madison as the topic of this conversation, in a nice twist, Barbara was actually talking about her preferred daughter-in-law pick, Hannah Ann. "God has answered my prayers and put the right person in your path," she told Peter. "Hannah Ann loves you with all of her heart. Don't let her go. Don't let her go! Bring her home. Bring her home to us! We will welcome her with open arms. We will welcome her with all the love in the world — all the love in the world. She's a dream come true, and God has placed her there for you. That's what love stories are made out of: someone that is so madly in love with you." In an extra twist of the knife to Madison, Barbara also christened Hannah Ann as an "angel on Earth."
Madison self-eliminates …
Fueled by the growing realization of their compatibility issues, as well as the abysmal family meeting, Madison decides to leave the show and break up with Peter at the end of their date. Her main issue, she told him, was that she simply couldn't see them as a functional couple outside the constraints of the Bachelor universe. "I want this so badly, but when you want something so badly, a lot of times you can't see clearly. And as much as we want this, I don't know that we can give each other what we need. Being a great warrior and being a good fighter is knowing when to surrender," she explained. "And I do think that love still wins, and I do still think love still conquers all because I'm willing to walk away so that you can get what you came here to find. We see things so differently. We expect such different things. There's always going to be this level of misunderstanding, and I don't want us to feel like we have to work into overtime to love each other."
Peter, who confirmed in several talking-head interviews that he's in love with Madison, responded that her decision "makes absolutely no sense to me."
… or does she actually come back?
In a clip teasing the finale's conclusion on Tuesday evening, it seems Madison returns to Australia in the hopes of getting Peter to take her back. "My heart, to this day, has wanted Peter," she tells the camera, Pam style.