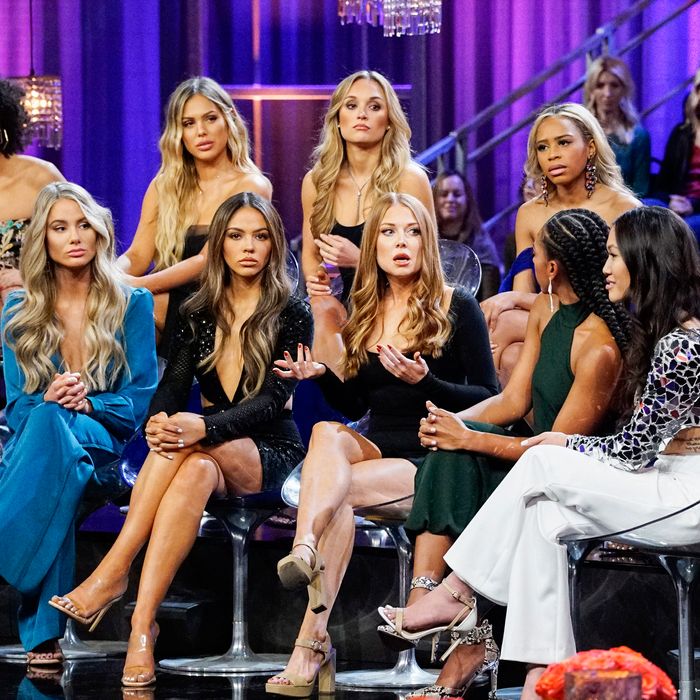 Zzzzzzz.
Photo: Kelsey McNeal/ABC
For a Bachelor season that was seemingly able to break the Richter scale for petty, inconsequential drama with every episode, the "Women Tell All" special was a surprisingly snoozy experience that no amount of $4 white wine could cure. Remember when Mykenna and Tammy fought about … something? And Alayah and Victoria P. argued about … that other thing? Ha ha. Yeah, we don't either. Get our boy Dr. Shaun Murphy in here for a diagnosis. There were, though, a few lingering threads we needed answers to, which obviously meant dissecting everything related to Victoria F. Ever the devoted Bachelor servants, we are here to review the bombshells you need to know.
Victoria F. was sent home at the rose ceremony…
Surprise! Before the actual "Women Tell All" shenanigans were afoot, the show had to do some narrative housekeeping: Peter sent home Victoria F. at the rose ceremony in Australia, even though it looked like Madison wouldn't be showing up thanks to his very randy behavior during Fantasy Suites. In her requisite car interview, Victoria somewhat put the blame on Madison's values about sex, equating her behavior to an ultimatum. "I think the conversation he had with Madison changed everything that he felt with me," she said. "The fact that someone could sway his opinion with an ultimatum, I mean, it sucks. I just don't want him to regret any decisions he's made."
…and she also denied all of those home-wrecking accusations.
Victoria has been plagued by external morsels of drama all season long, whether it was with her modeling past for Confederate-inspired clothing or allegedly breaking up several marriages in her hometown of Virginia Beach. (And not only that, but breaking up several marriages of her friends.) When she was point-blank asked about these claims by Chris Harrison, she vehemently denied them. "Absolutely not. And I think it's just hard to have this guy who I'm dating, who could potentially be my husband, now think that about me," she responded. "And once that's out there, people think that about you. I definitely could have handled it better, obviously could have handled the whole season better, but I can't go back in time." Victoria also said that the woman who confronted Peter about her alleged behavior — his ex-girlfriend, Merissa — did it because she "maybe wanted to come on the show" for attention. As a helpful reminder, Merissa's face was fully blurred.
Peter still doesn't know how his season will end.
Well, add this nonsense to the growing list of theories: Pilot Pete himself doesn't know what will happen in the two-part finale next week. "It's a finale so unexpected, so unprecedented," Harrison teased before one of the commercial breaks, "there is not a single person who knows how Peter's journey will end. Not even Peter." Weber also expressed annoyance that people are writing critical articles about his poor decision making skills.
We received a PSA about online harassment.
In a surprisingly earnest segment, former Bachelorette Rachel Lindsay, who previously said that the franchise failed to protect her, read aloud various racist, hateful, and cruel social media messages sent to the current group of Bachelor contestants. "It's so unfortunate because people have become so comfortable being mean, and meaner than ever, on social media. If we're ever going to fix this problem, we have to acknowledge the problem," Lindsay explained. "When I was asked to be the Bachelorette, I knew it would be hard. I knew I would get even more hate and criticism. But I wanted to pave a way for women who look like me who hadn't been represented in this role on this show. But sometimes I feel like my efforts are in vain because it seems to be getting so much worse. I feel like you guys see us talk about the hate we receive, but you have no idea what it actually is."
Some of the messages read aloud were death threats, while others mocked the races of certain contestants. "I'm shaking as I'm reading this because it's shocking, it's uncomfortable," Lindsay continued through tears. "I know how uncomfortable it is for you to see. Just imagine how uncomfortable it is to get this in your comments and your DMs every day, every week, every month. And that's just a tip of the iceberg." Every woman raised their hands when Harrison asked them if they experienced recent digital harassment.
Kelley and Natasha were no-shows. Boooooo!
Making for very odd optics, two of the season's top six contestants didn't show up to the "Women Tell All" taping: Kelley and Natasha, who were obvious fan favorites thanks to their unabashedly open and no-bullshit personalities. While Natasha specified on Twitter that she couldn't attend due to a prior commitment, Kelley, in a strange twist, revealed that she wasn't invited by the producers. The mystery further deepens.