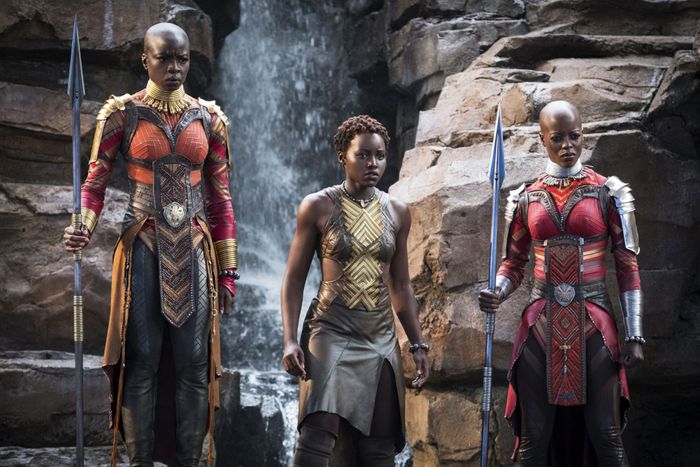 Black Panther
Photo: Marvel Studios
Are you new to comedy podcasts, overwhelmed by the array of options, and wondering where to begin? Then welcome to Start Here, a recurring guide to the best comedy podcasts available — and our recommendations for which episodes are the best entry points to your next auditory obsession.
On The Bechdel Cast, the feminist comedy podcast that comedians Caitlin Durante and Jamie Loftus have hosted since November 2016, "facts" fly fast and furiously. Over the last three-plus years, many revelations — that every movie ever made has a "steampunk" scene; that Alfred Molina's Doc Ock is the thiccest villain in history; that Durante has a master's degree in screenwriting from Boston University — have been made on the show. The hosts, ever good at their jobs, then sculpted them into running jokes that now pop up in every episode. But it's the symbiosis between Durante's scholastic, organized mind and Loftus's filthy, absurdist one (both are hyperintelligent; Loftus even released a podcast series about joining MENSA) that have kept afloat this silly-salty show, which from its inception has earnestly considered the representation of women in film while also talking shit about it.
In their introductory episode, the hosts explained that each week, a new guest would bring a beloved film to the table. Durante and Loftus would then offer mile-a-minute color commentary on how well or poorly that movie portrays its female characters, including whether or not it passes the famous Bechdel Test. Finally, everyone would rate the picture on a scale of one to five nipples — five being the hairiest, and therefore the strongest measure of a film's feminism. Durante, with dual backgrounds in screenwriting and academia, presents herself as an analytic voice; Loftus, by contrast, offers a savage wit and an impatience for anything less than compelling entertainment. Therefore, any film that receives five full nipples from both hosts and their guests has to offer both complex, humane depictions of women and an exemplary artistic vision.
According to writer Alison Bechdel, the test's namesake, a work of fiction passes only when at least two of its female characters — who must have their own names — converse about something other than a man. But as Durante acknowledged in the Bechdel Cast premiere, a general "pass" or "fail" would not necessarily indicate how well women were being represented in cinema; the test simply offered the hosts a jumping-off point to riff about their portrayals.
Almost immediately into the podcast's run, Loftus and Durante discovered a nasty little irony: While every early episode of their show passed the Bechdel, naturally, many of their favorite films did not. For every Titanic they discussed, with its unsinkable Molly Brown and ax-wielding Rose, there was a Batman episode featuring agencyless damsels in distress and toxically masculine villains. Even some of the movies that ostensibly passed the test still betrayed their female leads with underwritten character development and unearned sentimentality (shame on you, Love Actually). By their tenth episode, Loftus and Durante had adapted, turning their jadedness and frustrations into dark, hilarious fodder. Then in its second year, as the podcast started gaining steam and listenership, a stunning new dynamic began to emerge.
While early episodes primarily focused on classic films, Durante and Loftus began quietly pivoting toward more of-the-minute conversations that engaged both with contemporary films and, more broadly, the public discourses surrounding them. In 2017, they released episodes about Wonder Woman and Sofia Coppola's The Beguiled that were didactic, informed, and bruisingly funny. A few months later came a conversation with Madison Shepard about the thrilling box-office success of Girls Trip that was just as funny as the show had ever been. And just four weeks later, on March 1, 2018, The Bechdel Cast released what remains its most enriching and entertaining episode.
Like every episode, "Black Panther With Naomi Ekperigin and Ify Nwadiwe" begins with the tinkly theme song written by comedian Myq Kaplan and sung sweetly by Katherine Voskressensky. But Loftus immediately notes that with this episode, they've officially become "veterans" because they've just released their 69th pod. "Hell yeah!" says Durante. "If I was in middle school, I'd be pissing myself right now," adds Loftus.
In an effort to keep things running smoothly, Durante reiterates the concept of the Bechdel Test and the podcast's format before introducing their guests, Naomi Ekperigin and Ify Nwadiwe. The comedians respond by taking the (white) hosts to task for inviting two people of Nigerian descent to speak about this particular film: When Durante mentions that theirs is the first two-guest episode in the show's history, Ekperigin retorts, "I thought you were gonna say, '… make history when we had two black people.'" Then Nwadiwe snarks, "We're in a post–Black Panther society — it's very advanced." Despite those jabs, though, all agree that Black Panther is "like the movie to see," as Loftus describes it, with Durante and Nwadiwe having seen it three times each. "Any initial thoughts or takes on the movie?" inquires Durante. "Yaaaaaasssss," yells Ekperigin.
As Durante starts summarizing the plot, Nwadiwe steps in to heap praise on the movie, describing T'Challa's story as a "Shakespearean royal battle for the mantle while also being an almost Spike Lee joint" and declaring it a major step forward in genre filmmaking for both self-professed "nerds" and Africans. At one point, he almost sounds like he might cry. Then he lapses into a boss-level impression of Loftus's "No. 1 Crush," Winston Duke's M'Baku: "For too long! We have watched from the mountains … WE WILL NOT HAVE IT, OH!"
Nwadiwe also deploys hysterical impressions of Chadwick Boseman and Sterling K. Brown, and soon Ekperigin joins in with her own version of Michael B. Jordan's pivotal "Hey, Auntie!" scene. Durante, as caught up in the frivolity as the listeners, is unable to finish her standard recap until 38 minutes and ten seconds in.
Finally, the discussion turns to the hosts' bread and butter: the portrayal of women and groundbreaking depictions that Black Panther offers in mainstream Hollywood culture. As Loftus comments, "We don't expect superhero movies to do well with women — ever." The group homes in on Letitia Wright's "little baby genius" Shuri, a woman in STEM, and Danai Gurira's Okoye, a take-no-bullshit warrior, as two of the film's most remarkable female characters.
But Ekperigin, with a key interjection, quickly clarifies that they are also essentially totems of black excellence. "We have no choice! Our culture," she says, referring to 2018 America, "has killed and/or incarcerated so many black men that women are in charge of the home lives for so many people. So if you tell most black stories, it's gonna be a woman kind of running things to some capacity."
With less than four minutes left in the show, Durante notes that while the movie does indeed pass the Bechdel Test, it also offers a reminder of how far Hollywood has to go in terms of representation. In most of the female characters' scenes, she points out, their conversations focus exclusively on T'Challa, and therefore nearly don't pass. Loftus agrees, giving the film a 4.5 nipple rating, with half a point deducted for Angela Bassett's Queen Ramonda's relatively limited role and the uncomfortable surprise kiss that concludes the film.
But because "you see women kicking ass the whole time — having agency, having desires, having skills," ultimately Durante awards Black Panther five full nipples, the highest possible rating, as do Ekperigin ("Five hard nips, baby!") and Nwadiwe ("Five cocoa-butter-moisturized nips. Super chocolate areolas"). It remains, almost two years later, the highest nipple rating in Bechdel Cast history.
The hosts, having just spent an hour and a half laughing, thank their guests effusively. And in the last moments of the podcast, all four come together to sign off in what seems the only appropriate way: "Wakanda forever!"