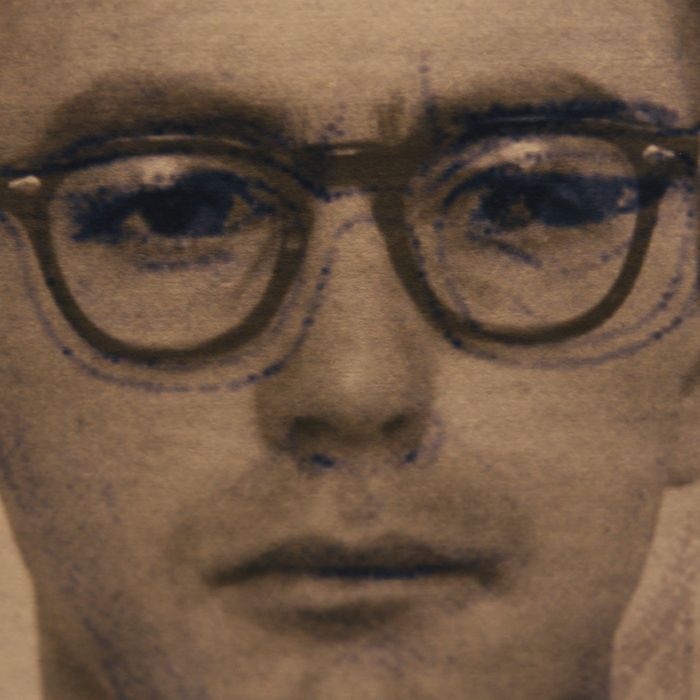 Was Earl Van Best Jr. the Zodiac Killer? Probably not.
Photo: Courtesy of FX
Soon after production on FX's true-crime series The Most Dangerous Animal of All began, its producers faced a vexing problem: Was their protagonist a beleaguered soul with a profound identity crisis who had simply made a mistake, or was he a con man?
The series follows Gary L. Stewart's painful quest for his biological father, which he documented in the 2014 best-selling memoir, The Most Dangerous Animal of All: Searching for My Father … and Finding the Zodiac Killer. In the book, Stewart lays out his case for linking his deceased father Earl Van Best Jr. to the Zodiac Killer, the unidentified serial murderer who terrorized Northern California in the late '60s and '70s. Though his evidence was circumstantial, Stewart gathered a lot of it: an uncanny police sketch, partial-fingerprint evidence, matched handwriting, encrypted messages in letters written by the Zodiac Killer, and partial DNA.
In Stewart's view, it all pointed to a horrifying truth: The grown man who eloped with his 14-year-old mother, got her pregnant, and later abandoned Stewart as an infant in an apartment building stairwell was also the elusive serial killer who murdered at least five people. Inspired by meeting his biological mother, Jude Gilford, who tracked him down 18 years ago, Stewart set out on a labored, at times torturous, process that lasted a dozen years and culminated in the memoir he co-wrote with journalist Susan Mustafa.
Four years later, executive producer Ross Dinerstein and director Kief Davidson saw the potential in a documentary series that would follow Stewart's amateur sleuthing, but also depict the toll the obsessive search took on him and his family. They hired a private detective to retrace Stewart's steps and to vet him, and before long, investigator Zach Fechheimer was poking holes in each of Stewart's claims. Yes, the sketch of Zodiac looks a lot like Earl Van Best Jr., but experts dismissed the handwriting and fingerprints as matches and discredited the DNA analysis. Fechheimer also noticed that Stewart had doctored a police report, and — in the biggest revelation — tracked down Van Best Jr.'s whereabouts to Europe at the same time the Zodiac Killer was on his rampage.
While the story was turning out exponentially more complicated and compelling than the producers imagined, debunking every one of Stewart's theories threatened to destroy their relationship with him and possibly derail the show. They decided to wait to present Stewart their findings until close to the end of the yearlong production.
"The hardest part for me was knowing there was enough evidence to say Gary is not correct, but we couldn't necessarily tell him what we found out," Davidson said. "There was a few weeks there that I just couldn't wait to be able to interview him because you don't really like sitting on information that will have an impact on someone else's life."
As the discrepancies mounted, the producers forged ahead because, they decided, what mattered was that Stewart believed his father was the Zodiac Killer. "We struggled with having information that we couldn't share with Gary," said Dinerstein, founder of Campfire, the production company behind the series. "I felt guilty about that, but we knew it would affect him in a specific way and affect his interview. We had to be strategic with how we disseminated information, which was hard because I consider Gary a friend."
Dinerstein and Stewart had an easy and quick connection from the first time they spoke on the phone in 2018. A true-crime fan, Dinerstein had read the memoir and responded to its nature versus nurture themes, so he called Stewart to tell him he was interested in buying the rights. "I believed the book word for word," Dinerstein said. A couple of weeks later, they met in New Orleans for lunch. By the time the meal was over, Stewart chose Dinerstein over other producers who were courting him.
"I saw a really kind man and a really interesting, conflicted man who had everything in the world, but had this primal wound that he was not able to heal," Dinerstein said. "He didn't have closure. And I thought this show could be his closure. It could be almost like a therapeutic experience. I found him to be very genuine."
Once Stewart signed with Campfire, Dinerstein gave the book to Davidson to see if he'd want to join the project. Although he's not typically drawn to true crime, Davidson saw potential in expanding the story that Stewart tells in the book. But he told Stewart from the start that he would conduct his own investigation.
"Gary was making pretty bold claims in the book," Davidson said. "I came at it from a more skeptical viewpoint [than Dinerstein], but it wasn't that I was a nonbeliever. I wasn't a believer either. I was somewhere in the middle."
Both men say that Stewart was enthusiastic to work with them and expressed that he was looking forward to finding the finality he did not get with the release of the book. (Stewart declined to be interviewed by Vulture for this story.)
"It was really after meeting Gary and seeing the complexity in his struggle, understanding who he was and where he came from, that made me want to go further," Davidson said. "The primary goal wasn't to solve the Zodiac case, but I did say, Let's turn over every rock."
The series blends archival footage from the '60s and '70s with reenactments of Van Best Jr.'s life and relationship with Stewart's mother, and reenactments of Stewart investigating his father's history and the Zodiac Killer case for his book. At times, while Stewart is filmed doing something he's already done in the past — like reading old newspaper articles in the library about his parents' marriage — he openly sobs. The docuseries also features interviews with Stewart's biological mother and aunt, law enforcement officials, and Mustafa, who breaks down when she learns much of her book is false. Eventually, she conducts her own review and declares she's going to burn the book by the end of the series.
"Gary's not an actor. When he showed us where his father left him in the stairwell, he broke down," Dinerstein said. "It's just really hard for him. He just wears his emotions on his sleeve and is easily triggered by all of it."
When the time finally came to confront Stewart with their new evidence, Davidson said he became angry but stuck to his theory. "No matter what we threw at him, he'd say, 'So we got the fingerprints wrong, we got the handwriting wrong, that doesn't mean I'm wrong,'" he recalled. "I can only speculate that this has become such a part of his identity that it's a hard pill to swallow."
Dinerstein was not in Louisiana the day Stewart learned what their investigation had turned up, but he spoke to him on the phone after they finished filming. "He knows we had to tell all sides of it," Dinerstein said. "But he feels what we presented is irrelevant. I think he still believes, but I also think, for the first time in his life, he's ready to put it to bed after the series comes out."
Six months after production ended, the producers still struggle with their conclusions about Stewart. Davidson is convinced that Stewart's father was not the Zodiac Killer, but Dinerstein is not so sure. "I don't think we're ever going to know who the Zodiac Killer is," he said. "I would be surprised if Earl Van Best Jr. is the Zodiac, but I also wouldn't be surprised if Earl Van Best Jr. was involved or had some connection to it."
For Davidson, the lingering questions are more about Stewart himself. "Throughout this process, we'd go back and forth wondering if this was just one big con," he said. "I don't believe it is a con. I think this man really believes this. But is there an element of opportunism? Or did he believe for a good chunk of his adult life and then it changed but there's a cover-up? That part we don't know."
In Stewart's last moment in the series, he drives away in a car featuring a "VANBEST" vanity plate. Dinerstein says he noticed it at their first lunch and "it pinged me as unusual." Even though there's no evidence that Van Best Jr. was the Zodiac Killer, he was, without a doubt, a pedophile who impregnated a teenager and then abandoned their newborn son in a stairwell.
"One way to look at that is to ask if he's trying to cash in," Davidson said. "It doesn't quite fit the profile of the person with the identity crisis who just wants to find his father. I put it at the very end of the show because I still don't quite know what's really going on there."
The producers allowed Stewart to screen the series ahead of its release to assuage his anxiety over it being a hit piece. That took another, final surprising turn.
"I think he was quite pissed at me with that last interview and he felt blindsided," Davidson said. "But then I get a text from Gary, after he watches it, basically saying that I was brilliant and that he was super happy with it. So Gary is a huge fan of the series. But then you have to ask yourself: What does that tie into, that he loved it so much? How is that even possible?"