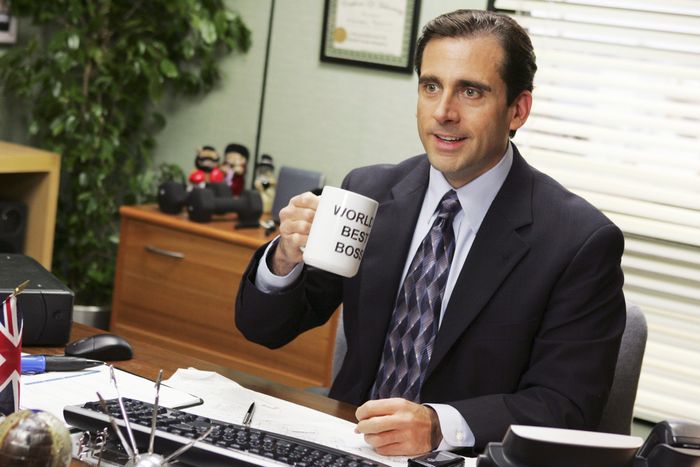 Steve Carell as
The Office
's Michael Scott.
Photo: NBC
When The Office debuted on NBC in 2005 — or, rather, when the American reimagining of the British series of the same name created by Ricky Gervais and Stephen Merchant debuted — things did not look good. The source material was one of the most loved and most revolutionary sitcoms in decades, and the cast was stacked with little-known actors, except for moderately well-known Daily Show correspondent Steve Carell as odious Dunder Mifflin boss Michael Scott. And yet, The Office was really good. Great, in fact. It won the Outstanding Comedy Series Emmy in just its second season and ran until 2013, guided by the brilliant hands of creatives like Greg Daniels, Michael Schur, and Paul Lieberstein (who also played Human Resources dweeb Toby). It never really went away, though — probably 100,000 people are rewatching it on Netflix for the 100,000th time right this minute.
It's a landmark of television in its own right and thus worthy of a long book about its production and impact, a book like Andy Greene's The Office: The Untold Story of the Greatest Sitcom of the 2000s. Greene conducted interviews with nearly everybody who worked on- or offscreen for Dunder Mifflin to construct his exhaustive and definitive oral history of the series. Here are some of the most interesting reveals.
Cast members didn't think the show would last long.
The first season of The Office was barely a season — six episodes (including the pilot, a remake of the British Office pilot) airing as a midseason replacement. With initially low ratings, NBC was unsure of its future prospects, as was the cast. Kate Flannery (Meredith) kept her job as a waitress at a Beverly Hills bistro for the entire first chunk of episodes, and Greg Daniels would visit her at work to discuss script issues. Episode director Ken Whittingham, who also worked on Scrubs at the time, remembers John Krasinski (Jim) asking if he could help him book a role on that series. Krasinski was so sure the show was destined to be a one-season wonder that when they all shot the sixth episode of the first season (without a second-season pickup), he asked producers for "a DVD of this to show my mom, because this is definitely the best thing I've ever done." He's still got the DVD.
Greg Daniels personally paid the crew during the writers strike.
The 2007–2008 Writers Guild of America strike (which had to do largely with revenue from internet-based distribution, which The Office helped pioneer as one of the first TV shows downloadable from iTunes), shut down production on most scripted television for months. While The Office's writers picketed and argued for fairer contracts, the production staff was left out of work, and without pay. Showrunner Greg Daniels dutifully jumped in and wrote a sizable check to every crew member — out of pocket, from the joint checking account he shared with his wife. "I think it was either $1,000 or $1,200," recalls hairstylist Kim Ferry. According to boom operator and sound mixer Brian Wittle, the cast then matched Daniels's act, pooling their money and "gave each person two grand or something." Reportedly, the only show in Hollywood where such a gesture occurred was The Office.
Steve Carell (reportedly) didn't actually want to depart the series.
Up until now, the official line on Steve Carell's departure from The Office in the middle of its seventh season is that his contract was up, and he looked forward to focusing on his successful movie career. Greene quoted producer Teri Weinberg, who backs up that perception of events, saying that Carell "made the decision to leave on his own" and that he "had seen his character progress in a way that was incredibly satisfying to him." But according to The Office hairstylist Kim Ferry, Carell did not want to quit portraying Michael Scott: "He had told the network he was going to sign on for another couple of years. He was willing to and his agent was willing to." And then, for reasons still mysterious and unclear, nobody at NBC contacted him to make the necessary arrangements to keep Carell on The Office. "Maybe they were just trying to wait it out and then they were going to offer him something lesser," Ferry speculated. That game of contract chicken didn't work, and Carell had to bolt. "I really think that he would've stayed on longer, but if you're not respected and don't even get offered a contract or a discussion of a future contract, then you move on," said producer Randy Cordray. (While the book features quotes from Carell, it included no comments from him about his departure.)
The new boss could have been portrayed by Queen Latifah or James Gandolfini.
The departure of Steve Carell, and Michael Scott, threw writers and producers into a mild hysteria as they tried to figure out who the new boss should be, and who should take the role. One contingent of writers pushed to make warehouse manager Darryl (Craig Robinson) the new guy in charge, with one person going so far as to pass out "Darryl for Manager" T-shirts on set. There was also interest in bringing in Ricky Gervais to reprise his role as David Brent on the original Office. Writer Halsted Sullivan proposed a slow reboot, set in motion by hiring Queen Latifah to play the new manager. "Slowly, one by one, she starts firing all the employees," Sullivan said. "And you just bring in all these black comedians. It becomes a black office and we just go from there." The one possibility who came the closest to joining the cast: James Gandolfini. Paul Lieberstein said that Tony Soprano was the option people were "super excited about," but that the actor was "really unsure about comedy." Nevertheless, Gandolfini actually agreed to do the show, but then later backed out. James Spader ultimately got the role of bizarre boss Robert California.
There are countless "lost episodes" of The Office.
As a long-running sitcom that employed a large staff of writers, far more stories were proposed for The Office than could have ever been produced. Early on, Greg Daniels completed a script called "Pet Day," where the staff brings their pets to the office, among them Michael Scott's parrot named Jim Carrey. For years, writers saved it as a "break the glass" script — in case of emergency, like collective and persistent writers' block, they had this one ready to go. Other ideas didn't much make it past the pitch stage. Among those: a high-end stationery company moves into Dunder Mifflin's office building; Phyllis goes through menopause, leading to hot flashes and a thermostat fight with ever-chilly Angela; and an episode of vignettes that followed everybody around during their lunch break. Probably the nuttiest unused Office idea came from writer Aaron Shure, who proposed that Michael Scott take on a Christlike persona for a while after accidentally "crucifying" himself — while playing basketball at his house, the garage door opens, catches his shorts and he gets pulled up into the air, and underneath the hoop, which resembles a crown of thorns.