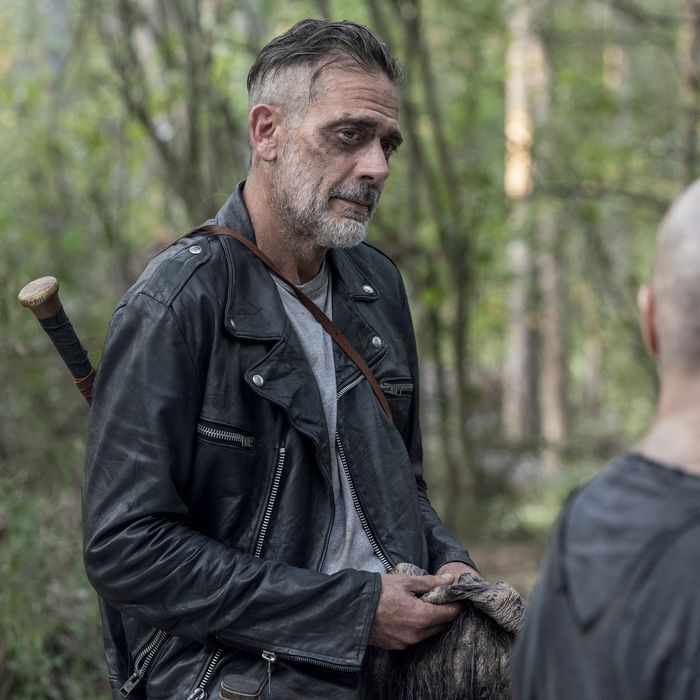 Military strategists and football coaches say the best offense is a good defense. Try running that bullshit past Alpha, who gets a rush out of inflicting pain — on herself, on her new boy toy, on her loyal followers, and especially on the survivors of A-Town and Hilltop. She sends herds their way, leads them into zombie-filled caves, drops trees on their fences, displays their heads on spikes, plants a sleeper cell within their walls, and sends her consigliere through an underground tunnel for a sneak attack. Now, she's preparing yet another assault, this one aimed at wiping out Hilltop for good. For a bunch of dirty forest murder-hippies with no discernible shelters or even so much as a tent, wouldn't it be easier to just move up the road a spell? I'm sure they could claim Delaware without much pushback.
But Alpha's got only one thing on her mind — killing. Well, also sex with Negan, who is completely baffling this season. It seemed like he was on a path to redemption, particularly with his semi-sweet friendship with Judith. Sure, he's got more than a few bodies on him, but if this show is about anything, it's maintaining — or reclaiming — one's humanity in the face of utter despair and literal decay. So it made sense that he'd switch teams to beat Alpha at her own game and eventually reveal he's been working for the good guys all along. But now he's getting laid, indulging in Alpha's "next level of kinky Whisperer shit," and even sporting a skin mask (though he somehow keeps that leather jacket fresh and clean).
Speaking of uncomfortable fornication, poor Zeke gets busy after finding his ex sulking at Camp Feel Sorry For Yourself and revealing his cancer diagnosis. Zeke lost a kid and has a fatal disease, but you don't see him moping around, do you Carol? Her misery parade continues as she bonds with Lydia, who, as a teen and the daughter of a psychopath, has some plenty of reasons to be angsty. Yes, they're both outcasts, but Carol's role is one she's mostly adopted herself. (Ironically, she does have something in common with Alpha: Their track record with kids is horrible. If you're under the age of 17 and hope to survive, stay away from those two.) So Carol turns to her therapist of few words, Daryl, who responds exactly as you'd expect — says he'll never hate her, then walks off in smoldering silence — and the waterworks begin. Carol's got three options from here: Redeem herself before the season ends, die, or, my personal fave, really lean into hating the world and turn bad. Or just turn. Or go to Delaware.
One guy who desperately needs some lovin' is Eugene. He's back on the radio chatting with the mystery woman and decides to then tell her exactly where he's located. Smart! The woman reveals her name is Danielle and wants to meet, but suspiciously doesn't want Eugene to tell anyone about her. Desperate as the poor guy is, she didn't seem worth the trouble — that is, until she began to sing the lyrics to "When the Wild Wind Blows" by Iron Maiden. No wonder he couldn't bring himself to kiss Rosita. Pack up yer shit and find this dream girl posthaste, mullet-boy!
All of this is mozz sticks and nachos ahead of the 24-ounce ribeye: the assault on Hilltop. For a fleeting moment, Alpha seems to contemplate Negan's alternative plan to make them "bend the knee" and surrender. She later explains that she does indeed want the Hilltoppers to join her, but there's a catch: "As paht of my hoe-ahd." Negan smiles and bestows upon her the title of badass; if he's hiding loyalty to the A-town Alliance, then he's also the Daniel Day Lewis of the end times.
The moments leading up to the battle sure do smell of bad things ahead: Zeke gives Lydia his son's body armor (odd gift, since it didn't help Henry much), Aaron gives Mary a spear, and Daryl wraps a bandage around his gimpy leg and probably rubbed some dirt on his near-fatal stab wound. Things get even more grim when Daryl and Zeke bond for a moment, agreeing to save the kids if one of them dies. Even a cute talk with Judith, who put an artistic touch on his vest, turns dark real fast as Daryl makes her promise to go with Zeke if he comes for her. His lingering look back, Carol staring at portraits of the fallen — none of that bodes well.
In the opener, we saw Beta has taken up a new hobby of collecting sap — how very DIY of you, Mr. B. Once the assault on Hilltop begins, we see he's not planning to open an IHOP. Eugene's electrified fence appears to kill about 2.5 zombies before short circuiting. The secondary blockade is much better, skewering the zombies for easy extermination. And we finally see the weapon name-checked in the episode's title, as Daryl has traded his crossbow for big stick with a spiked metal ball attached on a long chain; it looks cool, but takes a lot of work (wind up, swing, repeat, don't whack yourself in the noggin, etc.)
But as the second barrier begins to collapse, we see how Beta planned to use his syrup balloons. They're slingshotted over the front line and soak the Hilltoppers in sticky goo. That's followed by the debut of the Whisperer Archery Club, which includes skin-masked Negan launching fire-tipped arrows. Sap, as we all know from Google, is highly flammable, and at least one Hilltopper gets lit up. The walkers break through the fence as a second arrow volley sails over their heads and lights the entire Hilltop fence on fire. Now the gang is trapped between the pressing Horde and a flaming wall. Is it possible that Judith—when we saw her on her walkie — secretly called in Michonne for reinforcements? Whoever shows up or doesn't, this was an impressive cliffhanger.