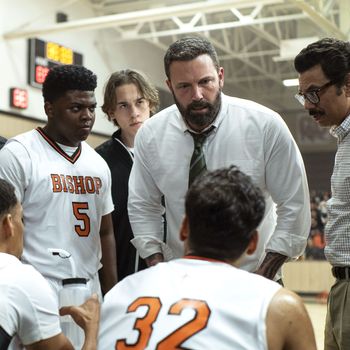 Ben Affleck in
The Way Back.
Photo: Richard Foreman/Warner Bros.
This review originally ran earlier this month. We are republishing it on the occasion of the film's digital release.
The Way Back is too good of a movie to be looked at only as the first mile marker on Ben Affleck's comeback journey. But there's no pretending its fictional dramas aren't fully entwined with the real ones of its lead actor, either. The film's main character, Jack Cunningham, is a high school basketball coach who, like Affleck, is an alcoholic, and who, like Affleck, is coming out of a marriage to a woman who still cares about him but who can't bear to be with him anymore. The movie has served as a way for Affleck, who came directly from rehab to set, to talk about his personal struggles on a press tour that's brought a combination of vulnerability and publicist-negotiated strategery. Unlike the actor, Jack is not a public figure, though he had a brush with a more local sort of fame when he was a basketball star at the school that's hired him back to help their floundering team, back before he started self-immolating in a misguided attempt to hurt his father by hurting himself.
When The Way Back begins, Jack's already been through a cycle of redemption and relapse, having spiraled into isolation and addiction when tragedy tore apart the life he'd put together with his soon-to-be-ex, Angela (Janina Gavankar). The scenes depicting Jack's sad routine — which starts with a shower beer, continues with concealed drinking at his construction job, and ends with his getting obliterated at his local bar — have the bleakest sort of wistfulness to them. It's not a wistfulness born of nostalgia, by any means. It feels more related to a desire to reckon with an arc of self-destruction and recovery in a more controlled context, complete with a cautiously upbeat ending. Affleck's own issues with alcohol unfolded on an intensely public stage, each up and down chronicled in loving, invasive detail by the paparazzi. In The Way Back, the actor revisits what are obviously some familiar beats, divorced from the context of inescapable scrutiny and occasional schadenfreude.
Jack's problems unfold on a more private scale, but his strategic solitude is no less terrible. To take in his technique for working his way through a case of beer — always loading the next can in the freezer to make sure it's extra cold when he's ready to crack it open — is to understand he's engaged in a slow-motion suicide. The Way Back was co-written and directed by Gavin O'Connor, whose 2011 MMA drama Warrior was a masterpiece of emotional pain expressed through bruises and blows to the kidneys. But this new film is less grand, by design, with an aversion to melodrama that sometimes leaves it feeling a little too subdued. O'Connor is more interested in the ways in which Jack hides his addiction — a performance of functionality that starts slipping the longer he's in the company of others, which is why he's put so much distance between himself and everyone he loves. There's a scene in which his sister Beth (Michaela Watkins) presses him about how he's been living in the aftermath of a Thanksgiving gathering, and his temper flares up with a sudden violence that seems to surprise him as much as it does her.
Jack's lonely Torrance life is a safe space where no one comments on how bad his drinking has become, but when he's coaxed out for his new gig overseeing a tattered group of teenage boys accustomed to losing, he can no longer evade close observation. The Way Back is, technically, a sports movie. Jack takes charge of the team, which includes the cocky Marcus (Melvin Gregg), the lothario Eddy (Will Ropp), and the quiet Brandon (Brandon Wilson), with Al Madrigal as the algebra teacher turned assistant coach. And he eventually figures out an approach that allows these undersize underdogs to start winning, opting for a full-court press and swapping out the positions and the roles his players have fallen into. But even as they start winding their way toward inevitable playoff prospects, the film is careful not to overcommit to what basketball can do for its protagonist, whose problems go deeper than needing some connection. The Way Back makes a choice, in its final act, that would seem downright perverse in a traditional underdog tale but that emphasizes where its actual priorities lie.
They're with Jack, and with Affleck, who pries himself open in a scene with Gavankar that serves as the heart of the film and a testament to how poor his character's abilities to process his emotions have been until then. More than anything, The Way Back is a reminder that movie stardom has never sat easily on Affleck, who was better at playing a despairing actor who got famous for playing a superhero in Hollywoodland than he was playing a superhero himself in Batman v Superman: Dawn of Justice. Freed up from that as Jack — puffy, disheveled, and more open to the camera than to anyone around him — he's a poignant example of a high school hero gone to seed but also of a man who, in middle age, is struggling to find a way around the shut-down stoicism he was raised to aspire to. It's a performance that suggests the most interesting stretch of Affleck's career as an actor is still to come.