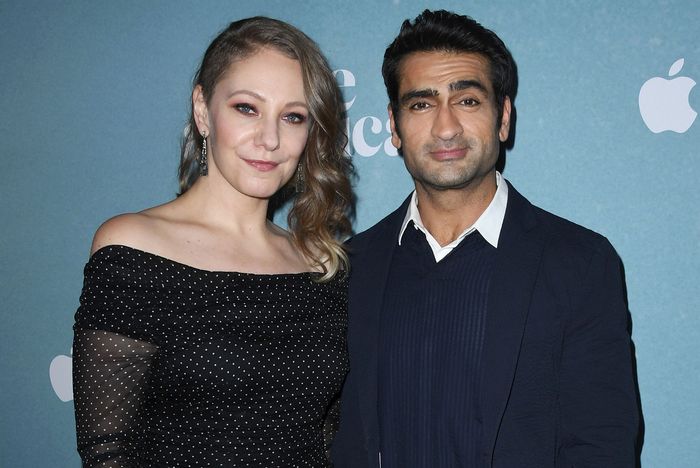 Photo: Jon Kopaloff/Getty Images
The comedy-podcast universe is ever-expanding, not unlike the universe-universe. We're here to make it a bit smaller, a bit more manageable. There are a lot of great shows, and each one has a lot of great episodes, so we want to highlight the exceptional, the noteworthy. Each week, our crack team of podcast enthusiasts and specialists and especially enthusiastic people will pick their favorites. We hope to have your ears permanently plugged with the best in aural comedy.
Staying In With Emily & Kumail — Fumbling for Normalcy 
Is it possible to both adapt and escape? Kumail Nanjiani and Emily V. Gordon are here to help us attempt the feat. With their new limited series podcast, Staying In With Emily & Kumail, they offer tips on "how to make the best of living in quarantine," while not leaning too heavily into the current chaos of the world. The couple speaks from experience: Gordon is a "chronically sick person who often has to quarantine herself," while Nanjiani helps take care of her (see The Big Sick). While the first episode gets a little heavy as the couple provides some background, they stick to their promise to provide a respite. "This is not going to be a podcast that's going to be about updates about the science or this virus," Nanjiani assures listeners, adding, "We're not going to be using the C-word very much." They focus, instead, on how to kick cabin fever with a range of suggestions addressing everything from working from home to exercising to exorcising frustration. Funny but useful suggestions like throwing ice fulfill the latter. A bonus: All advice is shared via cute and charming banter, and all proceeds will be donated to the Center for Disaster Philanthropy, Feeding America, and the Restaurant Workers Community Foundation. — Becca James
Listen: Spotify | Apple | Website
Confronting Demons With Megan Stalter — None of My Guests Showed Up
Megan Stalter has taken her talents to the pod waves, and it couldn't have come at a better time. As it gets harder and harder in these weird times to sit in isolation with nothing but your own thoughts, letting Stalter fill some of that void is truly a gift. If you're not yet familiar with Stalter, go check out her videos on YouTube, Twitter, and Instagram and get ready to meet your new favorite comedian. So what kind of demons will Stalter be confronting on her new podcast and why? "A demon is someone who's a naughty person. Someone who has hurt you. This podcast is a way that I can open up the conversation to be hearing their side of things." Seems simple enough, right? Well, as you've probably already gleaned from the title of the episode, none of the guests showed up for the premiere episode. After some miscommunications and follow-up phone calls, Chelsea Peretti, Chris Gethard, Tim Dillion, Jo Firestone, and Courtney Parchman all confirm they will not be showing up. Luckily, Stalter's brother Nick, whom she describes as "someone who is basically a candlestick maker" and "the most boring man I've ever met," steps in to record the podcast with her. On Thursday, we'll get to hear a conversation between the two of them to see how true either of those things are. Fingers crossed for next week, when Stalter is going to try and lock down a good guest like Danny Sanchez (someone who is not a real person but sounds like a famous comedian) or Eddie Murphy. — Leigh Cesiro
Listen: Spotify | Apple | Website
Double Threat — Preview: The Mysteries of Ohio
Julie Klausner has been a favored guest on Tom Scharpling's The Best Show since its days on WFMU, so it only makes sense that the duo has finally teamed up along with Forever Dog for a new and undefined weekly program, Double Threat, officially debuting next week. Forever Dog executive producer Brett Boham notes that "Tom and Julie have been recording hours and hours of great stuff" and that this teaser is fully distinct from what will eventually be their usual offering. It makes sense that they'd hang their hat here, under the guise of rescuing a podcast à la frequent Tom target Jon Taffer, on skewering a low-budget regional show, Ohio Mysteries. Devoted Best Show listeners have followed Scharpling's war against ill-produced, poorly mixed podcasts for close to a decade, and "The Loveland Frog" almost seems tailor-made to the beats that he's hit in that time. It remains to be seen what Double Threat will become on a week-to-week basis, but if anyone deserves the time that'll take, it's Klausner and Scharpling. After all, only Julie could completely brush aside Tom's mutedly classic gripe about how the Joker has drifted to the Batman: "The 'the' is moving all over the place." — Noah Jacobs
Listen: Spotify | Apple | Website
The John Dredge Nothing to Do With Anything Show — Series 5, Episode 1
It's been a couple of years since the fourth-season ending of The John Dredge Nothing to Do With Anything Show, and there's been nary a sighting of the bespectacled, unassuming British comedy writer and singer since. Then "Christmas Time Is Here," a very straight-ahead holiday tune by Dredge and his band, The Plinths, popped up on YouTube this past December, and it was clear he was still doing … something. Now we know more: He and his cast of talented voice actors and sound people have stapled together a fifth season of TJDNTDWAS. The first episode dropped this week, every bit as weird and wonderful as all that preceded it. An audio pastiche of Monty Python meets SCTV by way of The Carol Burnett Show, Dredge's new season debut plays like a teaser trailer of bizarre and warped TV and radio shows rejected by the BBC, from "John Dredge Talks to the Furniture" and "Dredge Daren't" (where the host chickens out of doing death-defying stunts) to a new Disney-esque sequel, "Herbie Goes to Leighton Buzzard," a rather sleepy town in England. With a collection of kooky characters, a few dead-on American accents, and wall-to-wall music that sounds like it was stolen from a production library, the 27 minutes fly by so quickly I had to listen twice to clock all the references. Dredge's style and humor may not be everyone's cup of tea, but there are plenty of fans glad he's back for another season. — Marc Hershon
Listen: Spotify | Apple | Website
Other Podcasts We're Listening To:
Las Culturistas - LiterallySisterLife# (w/ Aidy Bryant)
Listen: Spotify | Apple | Website
Why Won't You Date Me - Love (w/ Paul Rust)
Listen: Spotify | Apple | Website
Receipts - Jenny Gorelick & Devon Walker
Listen: Spotify | Apple | Website
Wild Ride! with Steve-O - Tony Hawk
Listen: Apple | Website
Got a comedy podcast recommendation? Drop us a line at comedypodcasts@vulture.com.