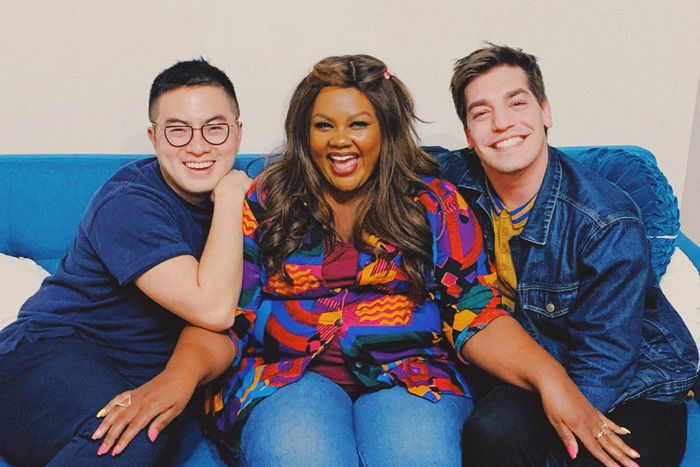 A perfect trio.
Photo: @MattRogersTho/Twitter
The comedy-podcast universe is ever expanding, not unlike the universe-universe. We're here to make it a bit smaller, a bit more manageable. There are a lot of great shows, and each one has a lot of great episodes, so we want to highlight the exceptional, the noteworthy. Each week, our crack team of podcast enthusiasts and specialists and especially enthusiastic people will pick their favorites. We hope to have your ears permanently plugged with the best in aural comedy.
Las Culturistas - "Destabilized" w/ Nicole Byer 
As the internet dives further into a toxic cesspool of despair, let Nicole Byer's appearance on Las Culturistas serve as a reprieve from the daily dread we see online. Much like wine and cheese, Byer, Matt Rogers, and Bowen Yang make for a wonderful pairing that only gets better with time. Although this is Byer's first appearance on the show, the three display major best-friend vibes from the get-go — sorry, Sasheer! With Rogers and Yang's affinity for all things Disney, it was inevitable that they'd touch on the Star Wars branch of the Nicole Byer extended-podcast universe and discuss her new show Newcomers. As one may expect, this quickly leads to a discussion about Adam Driver: specifically, his unlikely rise from Girls fuckboy to action figure. The more I listen to Byer, the more I appreciate her vast knowledge of the oddest things. As you'll see in this episode, she has an unbelievable ability to pull lengthy Ricki Lake and Maury Povich quotes from the early '90s. With Byer, Rogers, and Yang serving as major players in the podcast medium, it's great to see them join forces here to create some comedic gold. Don't miss out! —Tom Rainey
Listen: Spotify | Apple | Website
Everyday Decisions - Nasty Ass Smoothie, Freaky Ass Straw w/ Connor Ratliff
More podcasts alert! National Lampoon Radio Hour: The Podcast cast member and Dr. Gameshow co-host Jo Firestone has added Comedy Central's Everyday Decisions to her growing podfolio. Everyday Decisions is exactly what you would expect from a solo Firestone project: a delightful, soothing conversation about the routines and decisions people make on an average day. For the show's second episode, Connor Ratliff (Dead Eyes) joins to discuss his last 24 hours. He mentions stretching his pasta lunch into pasta dinner, which leads to a relatable debate surrounding food texture, penne versus rotini, and a potential spinoff show called Pastabilities. Ratliff goes on to complain about the Bloomberg campaign's characterization of Bernie Sanders as both Statler and Waldorf, and punches up Trump's usual train of thought. Near the end, Ratliff reveals a recent huge decision: that he and The Chris Gethard Show producer J.D. Amato are creating an exciting new streaming service called [redacted]. Finally, when Firestone reacts with disgust to his "nasty-ass breakfast smoothie" and "freaky-ass straw," Ratliff defends his decision with some universal advice: "It's better to be healthy and weird than too cool to drink a vegetable smoothie with a glass straw." Everyday Decisions is a solid antidote to quarantine anxiety. —Mark Kramer
Listen: Spotify | Apple | Website
Scream, Queen! - The Head Got Popped, Like a Grape 
Scream, Queen! launched last year with a strong start, and its streak of consistency continues into 2020. A podcast dedicated to dishing about horror movies "from a black/queer/indigenous/perspective" while having "a damn good time," it delivers thanks to charming and cutting hosts Tommy Pico (Food 4 Thot) and Drea Washington. Set up in three acts — "Have Y'all Seen," the main discussion, and "Scream Queen of the Week" — they start by talking about Return of the Living Dead 3, which stars Melinda Clarke as Julie Walker 14 years before she would play Julie Cooper on The O.C. It's a fun trip down memory lane full of absurd humor at the expense of the movie's other star, a wannabe drummer ripe for dragging. The main conversation is saved for the new releases The Invisible Man and I'm Not Okay With This, "two worthy entries in the genre." The funniest are Pico's synopses where he says things like "Peggy Olson Scientologist" to mean the former's star, Elisabeth Moss. They wrap up by giving Reba McEntire her due for her work in Tremors where Ass-Blasters lay an egg to make a Dirt Dragon, which turns into a Graboid before becoming a Shrieker, which will grow into an Ass-Blaster, closing the circle of life. It's wild. Watch it. And tune into Scream, Queen! for more hilarious horror commentary and rad recommendations. —Becca James
Listen: Spotify | Apple | Website
Deli Boys - Pico Kosher Deli with Carl Tart
America's No. 1 Jewish delicatessen review podcast is back. After a successful yet unnecessary "Save the Deli Boys" campaign, Brooklyn Nine-Nine writers David Phillips and Evan Susser begin season two of their quest to rank Jewish delis in Los Angeles. As part of the Doughboys extended universe, the Deli Boys bring a similar flavor of self-defeating humor while adding their own sides of Russian dressing. Guest Carl Tart introduces Susser as the writer of Fat Albert (close enough to Fist Fight), and season two is underway. Fans of the show will remember Deli Boys standards like the "Jewish Moment of the Week," where Philips reveals that during the hiatus he got engaged (mazel tov!). In a rousing round of "Guessing For Gelt" titled "Koufax or Koufiction?", Tart has to guess whether names like Julian Edelman and Tamir "Jewish Jordan" Goodman are famous Jewish athletes or not. And of course the "Two Questions" return, where guests must answer "What was the theme of your bar mitzvah?" or "When was the first time you saw an uncircumcised penis?" Be sure to stick around for the review of Pico Kosher Deli, despite Phillips admitting, "We are a food podcast, and we're terrible at describing the food." —Mark Kramer
Listen: Spotify | Apple | Website
The Ron Burgundy Podcast – Female Astronaut
Ron Burgundy, Will Ferrell's titular Anchorman character, has kicked off a third season of The Ron Burgundy Podcast. Burgundy and his ever-suffering co-host and producer Carolina Barlow continue where they left off: alternating between real and fictional guests (and sometimes no guests at all, or promised ones who never show). It seems that Burgundy has gotten himself a girlfriend, Lisa, during the show's hiatus, and she's not only an astronaut but also the first guest of the new season. Ferrell seems to relish having his Burgundy character meet the challenge of still being able to remain viable in the #MeToo era. His dimly aware, womanizing, clueless character squeaks by, often creating cringeworthy moments from which he barely rescues himself or, more often, is rescued by Barlow struggling to save her boss from disaster. In this case, although she's only mentioned by her first name, Lisa (she and Ron met while shopping in a San Diego silverware shop) is alluded to be the former astronaut Lisa Nowak, who achieved notoriety by driving cross-country in a jealous rage to confront her ex-boyfriend's new girlfriend. It's revealed she and Burgundy have only been on one and, as seems obvious when she storms out of the studio, only one date. The writing on this show is super-sharp and includes one of my favorite lines so far this year: Burgundy tells Barlow that she is constantly grimacing "like you just saw something horrible, like two feral dogs fighting over a toddler's dress shoe." —Marc Hershon
Listen: Spotify | Apple | Website
Other Podcasts We're Listening To:
Dumb People Town – Paul Poundstone – Trial by Combat
Listen: Spotify | Apple | Website
Keith and The Girl – Shooters Gotta Shoot w/ Erica Spera
Listen: Spotify | Apple | Website
Got a comedy podcast recommendation? Drop us a line at comedypodcasts@vulture.com.