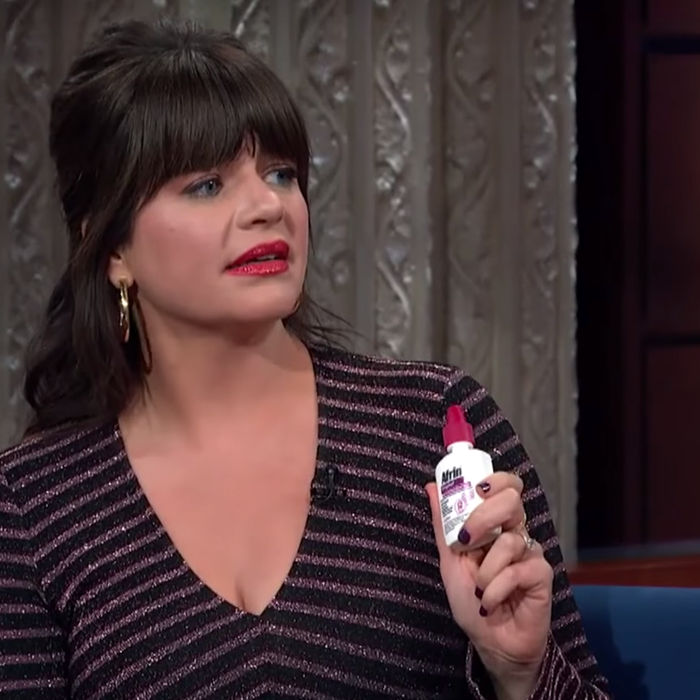 Photo: Casey Wilson cannot for the life of her open a bottle of Affrin/Youtube
So … did anyone have a genuinely "good" week? Between the onslaught of all things Super Tuesday and coronavirus threatening to cancel literally every fun thing you maybe wanted to do this spring, we had a rough go of it this week as a nation. As Democratic presidential candidates dropped like flies (we salute you, last week's late night winner, Elizabeth Warren), late-night hosts did their best to try and inject some much needed levity into our lives, but the bits fell flat more often than usual this week. Nevertheless, late night persisted (okay, too soon). Jokes were made, laughs were had, and John Oliver continued to use his show as a platform to hit on Adam Driver (I smell a recurring theme!). Let's see who came out on top in a week full of bottoms. [Gets a phone call to write for RuPaul's Drag Race for coming up with that line.]
5. Usher Delivers Bad News on The Late Late Show
The Late Late Show With James Corden capitalized on the downer vibes this week by having a segment where Usher delivers bad news to people through the art of song and dance. Got fired? Usher will sing to you about your severance package. Wrecked your rental car? Usher will croon to you about potential payment plans. Got left at the alter Love Is Blind style? Usher's silky smooth voice and endless swag will make you feel better in no time. Also, can somebody write an Usher jukebox musical already? The guy's catalogue is nothing but bops.
4. Dulcé Sloan Tackles the Gender Statue Gap on The Daily Show
Comedian and Daily Show correspondent Dulcé Sloan appeared on the program to ask Trevor Noah an important question: what's up with the lack of statues of women? As Sloan notes, the only two statues of women in Central Park are Alice in Wonderland, a white girl who did molly, and Mother Goose, a bird that fucks. While I would love to go to Coachella with Alice and have nothing but respect for Mother Goose for getting what's hers, it's officially Women's History Month and we have to do better. Sloan provides some great examples of women who deserve the statue treatment, Toni Morrison, Frances Perkins, and Beyoncé who does, in fact, constantly stand like a statue. Replace Every Confederate Monument With a Statue of Beyoncé TikTok Challenge.
3. Hillary Rhodam Clinton Laces Up Her Shady Boots on The Tonight Show and WWHL!
Hillary's got a doc on Hulu to promote and the former secretary of State and historic Democratic party nominee was all over late night this week, spilling tea and throwing shade. On The Tonight Show, Clinton played "Bag of Secrets" where she pulled the name of current and former 2020 Presidential candidates out of a bag, described them, and Jimmy Fallon "guessed" whom she was talking about. While the tea didn't get too hot during the game, Clinton did throw one of the candidates names over her shoulder, refusing to describe them. Okay, Miss Shady Boots! Leave it to Our Patron Saint of Pettiness Andy Cohen from the church of Watch What Happens Live to get Clinton to really open up and answer some difficult questions. Her alleged feud with Barbra Streisand? Nonexistent. Her thoughts on Melania Trump's cyberbullying campaign? The First Lady should look closer to home. Why is Clinton doing "fun" interviews now? Because it's her damn prerogative, that's why! Hillary's salty late-night spree this week was a fun reminder that well-behaved women seldom make history and that's that on that.
2. Taylor Tomlinson Does Stand-up on The Tonight Show
As a 26-year-old who has attended my fair share of weddings and has absolutely been pulled over for "driving while sad," comedian Taylor Tomlinson's stand-up set on The Tonight Show With Jimmy Fallon didn't not hit close to home. Tomlison, whose stand-up special Quarter Life Crisis arrived on Netflix earlier this month, regaled the crowd with jokes about calling off her engagement and the age at which your brain is finally fully developed, which is apparently 27. This explains how and why I recently lost my wallet at a 1:45 p.m. showing of Cats; it's not my fault, it's just my undeveloped, smooth baby brain. Tomlison's breezy, sardonic set goes to show that sometimes laughter really is the best medicine. [Gets a phone call from the CDC.] Okay, actually, medicine is the best medicine and everyone should be washing their hands for 20 full seconds.
1. Adult-Diaper-Wearing Casey Wilson Charms on The Late Show
Actress, comedian, and beloved Bitch Sesh podcaster Casey Wilson's first appearance on The Late Show with Stephen Colbert had everything. Drama: Wilson had recently been arrested at Jane Fonda's recurring Fire Drill Friday climate change protest in Washington, D.C. Suspense: Wilson wore an adult diaper to the climate protest as she knew she'd be sitting for eight to ten hours in a jail cell once arrested (a sensible choice to be sure). Shock: Wilson used the adult diaper while sitting in a jail cell next to living legend Gloria Steinem. Drama, suspense, and shock: Wilson nailed the holy triumvirate of a perfect late-night television interview. The Black Monday actress also brought plenty of laughs, talking about how she wished lice upon her husband and how difficult it is to open a bottle of the nasal spray Afrin, something I know all too well. A confused Colbert opened the Afrin with aplomb, causing Wilson to briefly walk off set. Between the adult diaper and the bottle of Afrin, it looks like we've got a new prop comic in town and her name is Casey Wilson. Your move, Carrot Top.