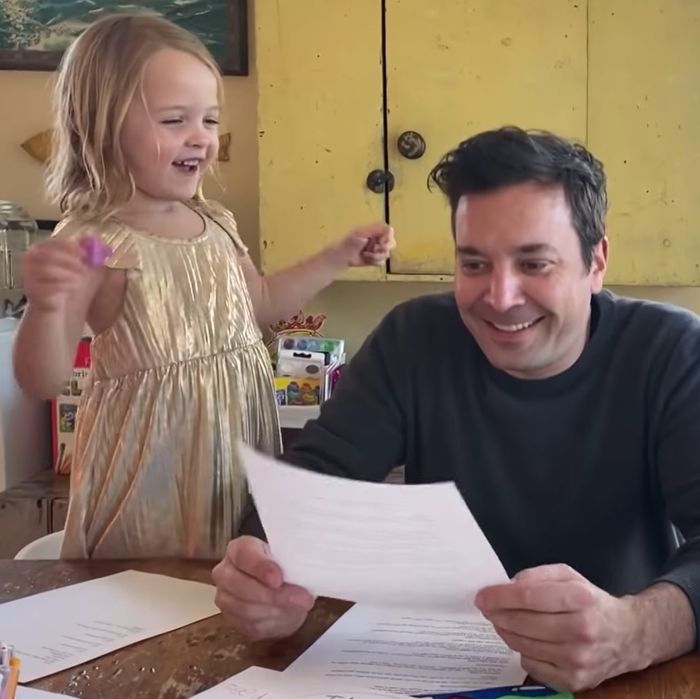 Winnie and Franny hard at work, entertaining the nation.
Photo: Courtesy of YouTube
Greetings, comrades. Welcome to the new era of late-night television. We're about two weeks into the Great Late-Night Experiment of 2020, and the results have been promising. Online content from late-night shows like The Daily Show and Last Week Tonight With John Oliver currently streaming on digital platforms have been on the whole funny, intelligent, and extremely relatable, reminding the world that we are all in the same boat, sitting six feet apart. As Vulture critic Jen Chaney noted in her article on late-night television amid the coronavirus, the DIY attitude that has pervaded late night has been a wonderfully weird and unexpected joy. Let's dive in and see what late-night clips stood out this week.
5. Stephen Colbert's Gray Beard
Stephen Colbert has been having fun as America's second most relatable Late-Night Dad, with web-only segments like "The Light Show With Stephen Colb-Air" shot on his front porch and "The Flame Show With Stephen Colburn" filmed at his extra smoky firepit. My favorite segment has gotta be "Returning My Face Back to Normal," where Stephen Colbeard decides to shave off his quarantine beard, which, by his own admission, is less of a beard and more of a loose collection of gray hairs on his chin. Before he shaves, Colbeard decides to spruce up his face, which leads to him singing to himself in the mirror while giving himself a pretty impressive cat eye, all while wearing a Fratagonia. The segment ends with him in full Tony Stark drag, goatee and all, promising to "build a bigger robot" to rid the world of the coronavirus. As someone who is currently growing out a gross little mustache and has yet to master the cat eye, this segment was at once relatable and inspiring. In a word, glam.
4. Seth Meyers Takes "A Closer Look" From His Garage
Seth Meyers has kept busy under quarantine by continuing to churn out his signature "A Closer Look" segment from a room that definitely isn't his garage because he is not allowed to do "his little political rants" at the dinner table. His most recent installment is incisive as ever, accurately noting that Trump's impeachment trial occurred 300 years ago while analyzing Trump's erratic and unhinged behavior amid the global pandemic. Meyers gets extra points for making a fantastic That's So Raven reference, but loses half of those points for slightly misquoting the titular Raven-Symoné. Meyers quotes Raven-Symoné as using the singular word nasty a lot, but she almost always said the phrase "ya nasty." The ya is critical to the punch line, and as a comedian I expect Meyers to understand and respect that.
3. Courteney Cox Gets Rocked in Friends Trivia on Jimmy Kimmel Live!
Jimmy Kimmel, rocking a Mets hat and a salt-and-pepper quarantine beard, gave viewers a wonderful distraction by having Courteney Cox play Friends trivia against his cousin. After his quarantine minilogue (get it? It's like a monologue, but mini), Kimmel video-chatted with Cox who, like the rest of us, is going a little stir-crazy at home. We learn Cox has an apartment where she works out somewhere in Los Angeles (stars … they're just like us) and that she has a well-stocked fridge complete with my personal favorite drink, Canada Dry ginger ale. In the conversation, the Friends star reveals that she "doesn't remember being on the show" but is currently binge-watching it for the first time and had to buy it on Amazon Prime like a regular person. Cox then gets absolutely crushed by Cousin Anthony in Monica-based Friends trivia, but she doesn't take the loss too hard and gives Anthony a virtual kiss. Sigh, remember kissing? Me neither.
2. Amy Hoggart Attends a Furry Convention on Full Frontal
Maybe it's the quarantine talking, but when we get to the other side of this I think I want to become a furry thanks to this segment from Full Frontal With Samantha Bee. Taped pre-pandemic but released on March 26, the segment follows correspondent Amy Hoggart as she attends a furry convention where people socialize while wearing animal costumes. The genius of the segment is that Hoggart's voice-over places the conference in conversation with our new era of quarantining and social distancing. Weeks ago, we were able to attend a furry convention and ask the participants who they were voting for (overwhelmingly for Bernie Sanders, by the way), and now that has been taken from us. "I miss six days ago," says Hoggart over images of furries dancing together. Even furry conventions aren't immune to nefarious forces though, as Nazis and members of the alt-right have tried to infiltrate the convention. Seriously, if you can't go to a furry convention without running into a Nazi, then where the hell can you go? But the furries persevered and put a swift ban on the Nazis (Twitter, take note). Community, in any form, is rare these days, and getting a peek into a community as loving and accepting as the furries was unexpectedly emotional. Bernie Furry Bros forever.
1. Introducing Winnie and Franny Fallon on The Tonight Show: At Home Edition
The award for Best Transition to Online DIY Late-Night Television Hosting has got to go to America's No. 1 most relatable, goofiest dad, Jimmy Fallon. Fallon is "the most charming he's been in years," according to Jen Chaney, and I can't disagree. A large part of that charm must be attributed to his utilization of his adorable daughters, Winnie and Franny, as everything from the house band to graphic design to a live studio audience. Their joy watching and playing with their dad is infectious (in the good way), and Fallon loosens up in their presence. Beyond Winnie and Franny, Fallon has managed to provide great musical moments by Zooming with Lin-Manuel Miranda, John Legend, and America's favorite DJ, D-Nice. Winnie, Franny, and The Tonight Show: At Home Edition have been a small salve in this bizarre time. Plus, they have an indoor slide, which is, like, the coolest thing ever.