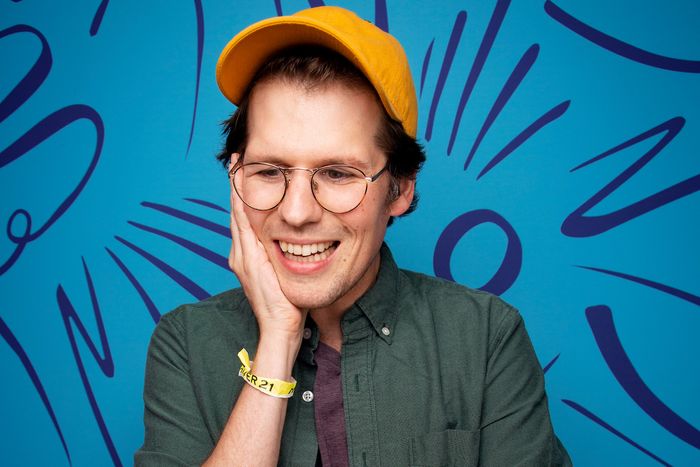 He can't be tamed.
Photo: Mindy Tucker
Tim Platt (@TimothyPlatt) is a comedian, musician, and artist residing in Brooklyn. He was a Kickstarter creator-in-residence and a Comedy Central Up Next comedian at Clusterfest. He has written music for Sesame Street and has been on The Tonight Show Starring Jimmy Fallon, The Late Show With Stephen Colbert, and MasterClass with Steve Martin. He also hosts the absurdist longform interview podcast Hampton High on the Forever Dog network.
This week, Platt and I chatted about non-jokes, quarantine bird-watching, and psychopath grandsons who deserve a scolding.
What made you pursue a career in comedy?
When I was in about second grade, I begged my parents to let me see Jim Carrey's The Mask, and the moment I saw it, I knew that I wanted to do that (be a human cartoon). I had a few theater experiences when I was younger that really turned me off from engaging with performance at all in middle school and high school, so I focused most of that energy into playing guitar in bands. I loved playing music, but in retrospect, I realize music was just my access point to being onstage in front of people.
In college, I was serious about pursuing music, but then I broke my finger and couldn't play for months. In the interim, I joined an improv-comedy group and thought it was simply the coolest thing in the world. Once I graduated in 2010 and didn't get any of the teaching jobs I applied for, I felt like I might as well try the thing that I was scared to try. I moved to New York without much knowledge of what a career in comedy meant. I pretty quickly started working as a teaching artist and eventually actor-director for the Story Pirates, an arts-education/absurdist-theater group that takes stories written by kids and turns them into shows for kids. That first bump of being paid to perform in New York gave me the grounding and community to slowly figure out what I could do/wanted to do in comedy.
This is the best tweet I've ever written. It's got everything I like: an opening line that makes me feel nuts, a rhythm that helps the nonsense land, and — of course — it's kinda about birds. This was a tweet I wanted to send after the first line was written, but I decided to keep going. My drafts are full of abstract, one-sentence non-jokes like "My name will be Mommy Electable," or "a salad for Aaron," and (I have to be honest) all of those make me laugh a lot. I've learned to keep pushing through those kinds of ideas to find what is on the other side of that initial feeling of That sounds strange!
Has being on social media changed the way you write jokes? Do you think it has changed the comedy scene in general?
Social media helped me organize my writing. Before I started using Instagram and Twitter, I threw whatever nonsense I could on the stage, whether or not there was a good joke or performative idea in the bit. Being able to play with text/image/video and get immediate feedback allowed me to isolate and sharpen what material was meant for a live audience and what was meant for a different medium. Obviously there is crossover, and often the crossover is surprising, but it's freeing to take a joke that isn't working in one format and know that it's not dead, it just belongs somewhere else.
I think it's definitely changed the scene. It's given both good writers and good performers freedom to indulge in styles that aren't always (initially) rewarded in the spaces where people start doing live comedy. Being diligent about crafting an original voice is the most interesting thing about making comedy, and social media can help focus that goal. That said, it's always a bummer to see someone who is a totally original nutjob online get onstage and have fear in their eyes. Social media is good for writing, but if you care about it more than the stage, then, well, I guess that's okay. Who am I to judge? But it ain't what gets me going!
I consider you one of the great comedy Dadaists of our time. Where does that ridiculousness come from?
THAT IS NICE! If I were a true Dadaist, this whole interview would be a lot more oblique, but that said, I really can't be tamed. I just don't think any of my thoughts or opinions or experiences are funny. A lot of my comedy is trying to find a line that resonates as strange and then constructing the voice or character or context to make that line as funny to others as it is to me. My favorite comedians are ones who surf a vibe of strangeness and then find ways to pop that vibe with laughs. I'm thinking of Lorelei Ramirez, Ana Fabrega, and Ike Ufomadu, who is my favorite entertainer in New York. They all have different techniques, but each of them balances a focus on performance with a commitment to having fun.
When I started doing stand-up, I made a rule that I couldn't write jokes about my family, politics, my girlfriend (she asked me not to talk about her), or any scenario where a person who wasn't in the room was a punch line. That means both celebrities and also "that jerk in the coffee shop." I did this because I was really bored with all the comedians touching the same topics and I thought that, even if i wasn't good yet, I could still stand out by having material that no one else was touching. So I guess that helped me focus on strange turns of phrase or animals or, America's favorite Timbeaux topic, bags.
How's the coronavirus quarantine going for you? What's something you're doing to stay sane?
Taylor, I got to tell you, it's not what I would call fun. Some days I'm a responsible little boy doing a big-boy job, and some days I'm a bunch of bees drowning in oil. It turns out performing onstage has served as emotional management, and when it not there, Timbeaux get cranky.
I've meditated pretty much daily for about ten years, but I've been trying to meditate for longer during the quarantine. I do push-ups and jumping jacks. I read/write/fret. I play music, but that's not always kind to my roommates. The big thing has been bird-watching. I have access to my building's roof, and I've noticed two peregrine falcons that often perch on the neighboring roof. I watch them a lot and see what they're doing. They don't do much but sit there. That's not totally true — yesterday, I saw one lift off from its perch, do a loop around my building, and then fly over the BQE to somewhere else. I wish I knew where the birds went when I wasn't looking at them. Poets should think about stuff like that sometimes. They might find the notion inspiring.
The other birds I see on the roof are mostly pigeons and starlings. You might think pigeons are idiots, and that's true, but most idiots are good at making friends, and pigeons are no exception. They all hang out together, and there's a story to the way they hang out. I haven't figured it out yet, but I'm close. Also, I guess I'm their friend now, too. I've started writing a daily Bird Diary to document my thoughts/observations about the birds I can see from my roof. It's pretty calming and helps me be comfortable in the space I'm stuck in. Two days ago, I saw a robin and that was a thrill.
I do a lot of characters in my stand-up, and most of them come from me finding a specific sentence in a specific voice and then repeating it over and over and over and over until a more complete joke/scenario/gesture is found. I remember I was walking around at night, looking at the moon, and started improvising a conversation between two people arguing about whether the moon was brighter than the sun. I recorded it on my phone and spent the rest of the weekend (yeah, pal, I remember it was a weekend) repeating lines and playing with voices until I found two voices that had some DRAMA between them. The thing that really tickles TIMBEAUX's li'l fancy is that the grandson is a little psychopath whose unjustifiable resentment will take a few more years to spill out and ruin a family gathering! What a subtle tale, spun by yours truly: Timbebe Plattata.
I've written full kids songs for Sesame Street and the Story Pirates, but when I'm making musical comedy I prefer the music to be more compressed. I like to write songs that are just one-liners, which, apparently, means I like to write jingles. Usually they're a little more playful then this tweet, but sometimes you gotta write topical! I usually start with finding a melody line that makes me laugh and then I pair the line with a sentence that makes the musical resolve into a punch line. Because these jingles were more topical, I started with writing the text while recording possible melodies into my phone. Once the lyrics felt complete, I brought in my guitar, and wow-oh-wow did that really help finish the jingle.
A really embarrassing thing about stand-up is how often the things that get the hugest responses/postshow compliments are not the joke that you put the most time into. The first time I put music in my stand-up was just replacing the lyrics to "Every kiss begins with K" with "Every hiss begins with snake," and the response I got to it was so much bigger than my two-minute bit about the Cyclops being a flirt (because he's always winking). I took the cue and wrote more songs.
Has Planters reached out to you at all? That jingle was a hit.
No. Planters hates me. They always have. They hate me because I'm the one nut they can't own.