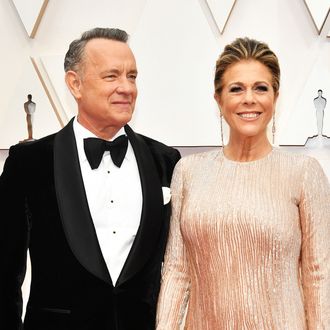 America's couple!
Photo: Amy Sussman/Getty Images
Over the weekend, Tom Hanks and Rita Wilson further alleviated concerns about their coronavirus diagnoses with two excellent social media posts: Wilson did a very long and amusing rap, while Hanks gave an update about how they're on the health rebound. "Two weeks after our first symptoms and we feel better," he wrote, encouraging everyone to keep social distancing. "This, too, shall pass. We can figure this out." This update comes after numerous days of silence from the couple, who last reported on March 17 that their symptoms were somewhat improving, although they still felt generally sick. "No fever but the blahs," Hanks explained at the time. "Folding the laundry and doing the dishes leads to a nap on the couch. Bad news: my wife has won six straight hands of Gin Rummy and leads by 201 points." And, in an cruel twist of fate, noted typewriter superfan Hanks added this bit of trivia with a photo: "I travelled here with a typewriter, one I used to love." Zoom in on the company name.
Hanks and Wilson had previously returned to their rental home in Australia last week to continue their self-quarantine. The couple announced their coronavirus diagnosis on March 11, testing positive after feeling under the weather. To quell concerns, Hanks tweeted to assure fans that he and Wilson were receiving dedicated treatment from doctors Down Under. Hanks initially traveled to the continent to prepare for his role in Baz Luhrmann's upcoming Elvis Presley biopic. He seems to be embracing the Aussie lifestyle during his isolated stay, sharing a picture of toast slathered in (too much?) Vegemite and a cute 'roo. That's certainly one way to ride out the virus.
This article has been updated throughout.