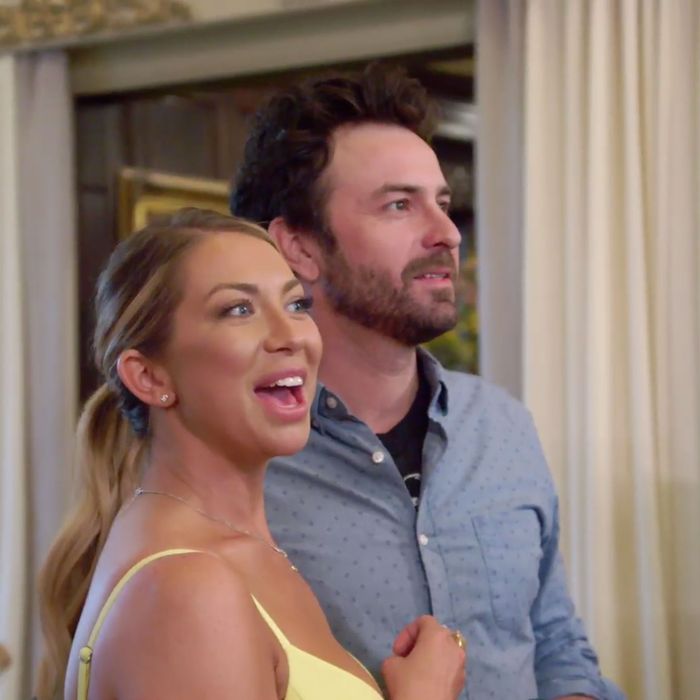 I don't mean to keep harping on it, but how did we arrive in Kentucky approximately 17 weeks ago and Jax and Brittany still haven't walked down the aisle? Their wedding is so old now. In dog years their wedding is dead, stuffed, and already installed on Lisa Vanderpump's mantel next to the space reserved for Giggy.
Most of this episode is devoted to even more wedding-adjacent parties. After the rehearsal dinner, there is a murder-mystery party at the castle where they are getting married. Then there is a rooftop party after that. The next day there is a pool party, complete with pedicures and everyone wearing the beach blazer, which I so coveted in the summer of 2019, and enough pool floats to keep two flotillas of Muppets entertained for the better part of an afternoon.
And we're not done! Then there is a meet-and-greet at a speakeasy, which doesn't seem to have any secret to it, just a front door. Do you know what you call that? A bar. Then, finally, it is the night before the wedding. But everyone is not going to bed and resting up for the big day. Brittany has all the girls over to her suite, and since this is Brittany's wedding, it is also a party and there is also a theme. All the girls have to wear onesies, but not just any onesie — it has to double as a costume of something that lives in a castle, like a princess, a unicorn, or a Transylvanian despot who drinks blood for eternal life. Brittany's onesie is a mermaid. Mermaids do not live in a castle, they live in the sea.
The boys all go to Jax's room to get him shit-faced the night before his wedding. His father is also invited, but because his father is dead Jax just brings the urn that he's in, which sort of looks like an ice bucket made out of a tree stump. Jax is taking shots out of giant ladles and getting so wasted that he has the blurry, cross-eyed face that he usually reserves for getting caught sleeping with his best friend's girlfriend.
Maybe it's the drinking, but Jax is talking about his fear of not being able to make Brittany happy anymore. The editors, the real heroes of this season, then treat us to a montage of Jax acting like an asshole over the years and brief flashes of every woman we've seen him ruin a relationship with. Between that and the black-and-white newsreel of the murder-mystery party, someone needs to give the editors a Cable Ace award or something.
At one point Sandoval says, "Can you believe that you're going to be with one woman for the rest of your life?" Really? Does anyone think that? I mean, really? If the best predictor of future performance is past results, shouldn't we expect Jax to, I don't know, cheat on Brittany while she's pregnant? Leave her with two babies at home to go pursue a yoga instructor who wants him to move to Big Sur? I mean, is anyone expecting these two to last? Really? You know the moment this show is canceled they will sign up for every single season of Marriage Boot Camp: Reality Stars until the eventual divorce. Really.
Speaking of marriage, Tom and Katie aren't really married, which is the most Tom and Katie thing to ever happen. Katie tells us that she planned their entire wedding (while yelling at Tom about how his dick doesn't work) and all she wanted him to do was take care of the marriage certificate. When they got to the venue, he misplaced it and they never bothered to go through with the paperwork of getting legally hitched. Yes, they are still living in sin and killing lizards like a couple of 16-year-olds who together bring in about $1 million a year in reality-television salaries. I will never understand how capitalism works.
Katie is still sticking with Tom; however, she is totally done with Kristen. In fact, both she and Stassi are ready to dump Kristen as a friend. At the rooftop party after the murder-mystery party after the rehearsal dinner, Katie, Stassi, and Lala are talking shit about Kristen when she walks over. They, of course, tell her that they are talking about her. Once again the topic of conversation is Carter. She says that he should be at the wedding because he is a friend of the couple and also, "Like my best friend ever." But is Carter really that close with Jaxney? Jax disinvited him to the bachelor party when he found out they were broken up. Does he really want him at the wedding? Also, how can he be Kristen's best friend when she has spent years complaining about how he treats her like shit?
This fight is so boring and there isn't really anything new to talk about, but Stassi does offer up one really interesting nugget. She says that when Kristen slept with Jax, she could forgive her, because that is something Kristen did. This is a fight about who Kristen is. Apparently Kristen is someone that Stassi and Katie don't really like anymore — but did Stassi and Katie ever really like her? I don't think so, but that is an entirely different argument.
On the rooftop, a very drunken Kristen pulls Beau aside and slurs in his face about how he's "distant as fuck" now that he's with Stassi. He tells her that he makes Stassi number one in his life, and Kristen gets irate about that, saying that she feels betrayed as a friend and the person who set them up. Beau proves himself to be a master of the swerve in this situation and gets Kristen off of the subject because he knows it is not going to end well.
Can we just talk about how awesome Beau is? Not only is he totally devoted to Stassi and great with her cadre of messy friends, he just brings joy and fun wherever he goes. When they're at the party at the opposite of a speakeasy (a yellhard?), Stassi looks out the window and there is her boyfriend outside doing a line dance with a bunch of homosexuals. The wedding is happening the same weekend as Lexington Pride, which is sort of like the Chick-fil-A of Prides. And there is Beau, joining in the fun for no apparent reason. He's not showing off. He doesn't even know that people can see him. He's just out there dancing on his own with a group of other people, like they're all starring in their own personal Robyn video. You can't help but stan, and by stan I mean get all sorts of distressed in the below-the-belt regions.
Back in West Hollywood we have to deal with Max and Dayna. Ugh, how can I even describe this without wading into something that is like the full tank of a porta-potty? I think there is no way to avoid it, so, like a blue chemical and scat fetishist, I guess I'll just dive right in.
Working at SUR, Dayna is approached by Adriana, a malign spirit that was conjured by flashing your LuMee three times in a mirror. Adriana says that she saw Max out at lunch with some girl — "dark hair, really THOTy" — and after some internet stalking found her on Instagram. Oh, how convenient. Naturally Adriana has the girl cued up on her phone and shows Dayna, who sees that she is in her bedroom wearing only one of the Tom Tom T-shirts Max had specially made for Pride. She doesn't even have one! How dare she have a Tom Tom Pride T-shirt? How dare she!
She then decides that, "Everyone was right. Max is a fuckboy." I mean, duh. Have you even looked at his face? Even once? I'm no phrenologist, but there is something about the specific shape of his head that says, "I am totally going to sleep with you and treat you like shit and you are going to love it until you absolutely hate me." That's a lot for a head to say, but that is exactly what Max's head is giving off.
Also, if a bunch of different women all tell you this guy is a no-good jerk, why would you think they're all wrong? If there is one thing we learned from the Me Too movement, it is to believe women. I mean that about everything: from Elizabeth Warren when she says she has a plan to make our country better right on down to the girl who takes my coffee order who tells me that I won't really like a flat white. Believe women. Suze Ormond tells you to save money for retirement, and the girl sitting next to you at a party tells you to wash your hair with vinegar. Believe women. You too, Dayna. Believe women, unless it was a woman who advised you to wear that jewelry in your confessional interviews. Don't believe her.
Anyway, Dayna invites Max over and confronts him about this girl who she has since discovered recently moved to San Diego to be with Max. He downplays it and says that she moved here recently so he's trying to let her down easy by petering out their relationship rather than breaking up with her, which, to me, seems like the crueler option. She then tells Max that it's over and goes to get his necklace, which she dunks in the toilet and then drags through her cat's litter before giving it back to him. This would have been amazing if it weren't as staged as a Riverdance regional tour.
Back in Kentucky, all of the guys were hanging out in Jax's room getting wasted when Sandoval pulled Schwartz into the walk-in closet and told him he had a question to ask him. "Since you and Katie aren't really married I thought this was my only chance," Sandoval said. He put his right hand between him and Schwartz and opened it palm up. Lying in the cradle of his hand was a black jelly ring with a row of bumps around the perimeter. "Will you marry me?"
Schwartz giggled and pushed his hair out of his face. "I thought you'd never ask." He leaned in and they kissed surrounded by Jax's tuxedo and mostly empty hangers. "But I think that ring might be a little big for my fingers."
"Oh, it doesn't go there," Sandoval said. He put the tips of the fingers on his right hand inside of the ring and then expanded it considerably. He then shoved his hand into Schwartz's sweatpants and underwear all in one swipe. "They told me if I liked it then I should put a ring on it," Sandoval said as he let the elastic close around Shwartz's meat and two veg, its elastic snap the real sound of true love.