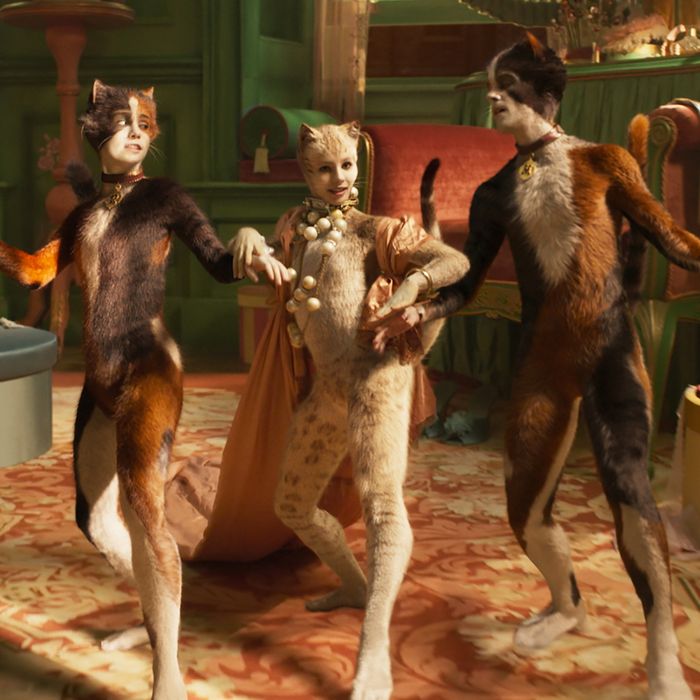 Jellicle cats come out tonight. Jellicle cats come one, come all.
Photo: Universal Pictures
Cats: now and forever, but especially now that we're all stuck inside. After devoting 25 days of our lives to Cats content, we've decided to return once again to the fold, to revisit the film that made theatergoing audiences go "Huh?"; "What is a Jellicle?"; "I am disturbed"; and "Yesssss, Jennifer Hudson, belllt for meee!" Vulture writers Jackson McHenry and Madison Malone Kircher (that's us!) will be hosting a live viewing of Cats over Instagram Live tonight, Thursday, March 19, starting at 7 p.m. ET, to celebrate the fact that the movie is now available digitally and also to try to forget everything else that is happening. Since we can't just livestream the movie for you (copyrights, baby!), we're just going to be showing our beautiful, definitely washed faces as we provide commentary. Download the movie (it's available on iTunes, Prime Video, FandangoNow, Google Play, or Vudu) and watch along with us — or just watch along with us and witness the terror, confusion, and joy on our faces at that specific moment when Judi Dench starts talking to the camera.