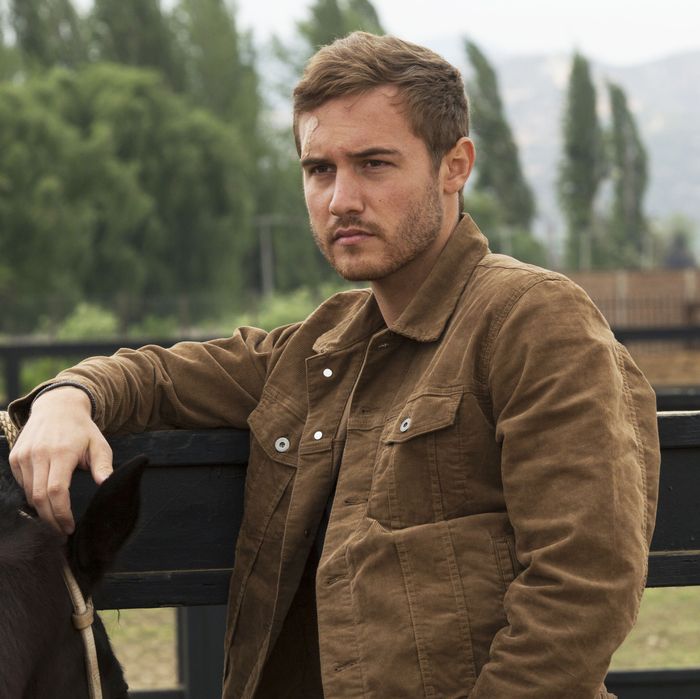 Nice bandage.
Photo: Francisco Roman/ABC
For the first time in the Reality Steve Era of Bachelor programming, the current season of the show, starring horny and confused 28-year-old pilot Peter Weber, has yet to be spoiled. Why, you ask? Your answer is as good as ours, especially since ABC and Weber himself have been so cocksure that we won't able to guess what happens.
"There's a reason no one's going to find out the ending and I'm very happy with how everything turned out," Weber teased earlier this year. "And I am excited for everyone to tune in and have it be the first unspoiled season in a while. It's gonna be so good." (Has the season actually been that good, though? We're gonna go with … nah.)
With the controversial Victoria Fuller eliminated on Monday night's episode before the "Women Tell All" segment, the two women who remain on The Bachelor are Madison Prewett and Hannah Ann Sluss, a foster-parent recruiter and model, respectively. While Sluss has mostly maintained a demure, if not cucumber-cool, aura throughout the season, Prewett revealed to Weber last week that she's a virgin saving herself for marriage, and stated that she'd be inclined to go home if he were to have sex with the other contestants during Fantasy Suites. Prewett walked away from their one-on-one date when Weber told her he indeed had been "intimate," although she ultimately chose to show up at the rose ceremony to accept his rose.
Before we're subjected to the two-night Bachelor finale next week (plan accordingly at the Trader Joe's Wine Shop), let's go ahead and make a series of educated guesses about how Weber's "journey" to "find love" will end, taking into account the chatter on social-media platforms and Reddit. At least we can take a breather knowing who the next Bachelorette will be.
Theory #1: Weber proposes to Sluss, only to subsequently dump her in pursuit of Prewett.
It's clear that Weber and Prewett have fundamental differences about what they want in a relationship. Most notably, they're polar opposites when it comes to the importance of physical intimacy, and Prewett has remarked several times about how she wants her future husband to be a "faith leader" in her household, despite Weber being nonreligious. What we can see unfolding is simple: Prewett chooses to self-eliminate sometime in the finale when she realizes the full extent of these differences; the teaser of Weber being given shocking news on his proposal day (which causes him to retreat to his hotel room and cry) is him learning she decided to leave for good.
Weber, mirroring Rachel Lindsay's season, then chooses Sluss by default, only to realize after the proposal that he made the wrong choice. And then, embracing his inner Arie Luyendyk Jr., he "follows his heart" to pursue Prewett and try to work out these differences. The most intriguing evidence for this theory comes from the fact that Prewett was recently spotted with a Bachelor production crew filming around her hometown in Auburn, Alabama. Since she wasn't offered the Bachelorette gig, what else could she possibly be filming if it's not an after-the-finale life update with Weber?
Also something important to consider is the viral, frequently teased clip of Weber's mother, Barbara, tearfully pleading to him to "bring her home to us!" and "don't let her go!" Given that Weber's family has met Prewett and warmly approved of her earlier this season (and she quite literally visited their home for a vow renewal ceremony), and they have yet to meet Sluss, that's another point in this theory's favor.
Theory #2: Weber ends up with a producer.
The most amusing theory, by far, is that Weber ultimately chooses to eschew the finalists in favor of pursuing a relationship with longstanding Bachelor producer Julie LaPlaca. (To quote host-dad Chris Harrison, that really would make for the most dramatic season ever.) Evidence includes multiple photos of Weber, LaPlaca, and his family spending time together outside the constraints of the show, as well as LaPlaca being spotted wearing Seattle Seahawks merchandise, which is Weber's favorite team. (You'll recall he has a tattoo to show his Seahawk pride.) Robert Mills, the network's senior vice-president of alternative series, also teased its possibility in a recent interview. "I hate to get in the way of a good rumor," he said, "so I'm not going to confirm or deny about whether he ends up with a producer."
Theory #3: Weber can't decide who he wants to propose to, and requests additional time to make his decision.
The most literal translation of Weber saying "no one's going to find out the ending" is because, well, the ending has yet to actually be filmed. His proposal freak-out could be reinterpreted as him not being confident enough to choose between Sluss and Prewett, and the show subsequently granting him a bit of time to make his decision after being back in the real world. This theory would also explain why Weber is apologizing to an unseen contestant in the most recent finale preview, which, as a Reddit sleuth identified, occurred at a Los Angeles property as opposed to Australia. That preview, which is hard to view as anything but a break-up, could've been filmed in the past few weeks or even days. "I'm so sorry. From the bottom of my heart, I'm so sorry," he says through tears. "I swear to god I never, ever envisioned this." If this theory holds, the "After the Final Rose" episode would essentially turn into the grand unveiling of who Weber picks.
Theory #4: Weber chooses nobody.
It's not unprecedented in the franchise's history, but given that Weber has already told Prewett and Sluss he's falling in love with both of them, this theory has less legs than the others. That is, unless he chooses to pick up where things left off with former flame Hannah Brown.
Theory #5: Both women self-eliminate, leaving Weber with nobody.
Could you even imagine! And that's why he's so sad! Kudos to Weber for keeping his chin up during his requisite press tour if so.