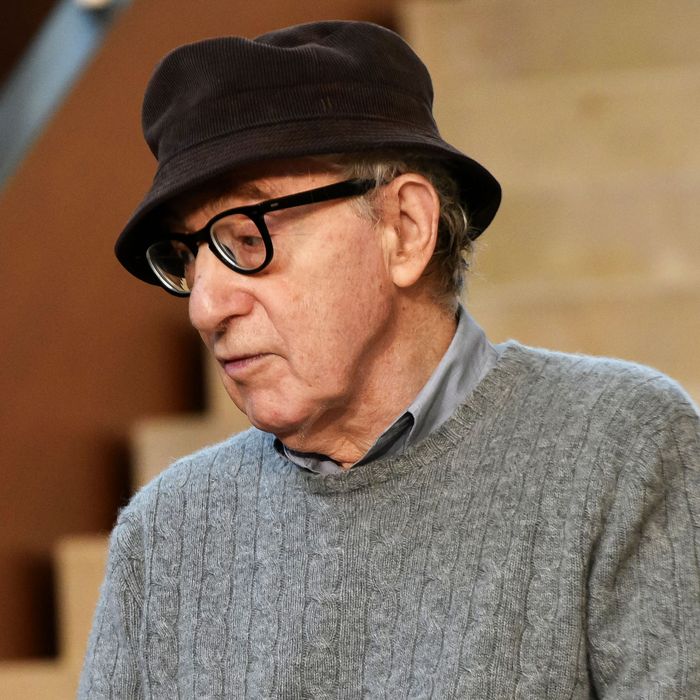 Woody Allen
Photo: Unanue Europa Press/Europa Press via Getty Images
In his new memoir, Apropos of Nothing, Woody Allen recounts his relationship with ex-partner Mia Farrow, his affair with Farrow's adopted daughter Soon-Yi Previn, and his own adopted daughter Dylan Farrow's molestation accusation against him. "I knew Mia was fond of telling people I had molested her underage daughter when in fact Soon-Yi was twenty-two, and of course our love, which has resulted in a marriage of over twenty years, was hardly molestation," he writes of Mia Farrow's anger upon learning of the affair with her adopted daughter. Much of the book's argument is what Allen has said for decades: His relationship with Mia allowed him to live as a bachelor across town, he was uninterested in her adopted children until he struck up a friendship with college-aged Soon-Yi, and that Dylan's accusation is the result of her mother's influence and rage. "There are still loonies who think I married my daughter, who think Soon-Yi was my child, who think Mia was my wife, who think I adopted Soon-Yi, who think that Obama wasn't American. But there was never any trial. I was never charged with anything, as it was clear to the investigators nothing had ever occurred." Here is everything Allen says about the discovery of his affair with Soon-Yi and the molestation allegation.
His relationship with Soon-Yi developed during the filming of Husbands and Wives.
Mia Farrow starred in 12 of Woody Allen's films. Husbands and Wives (1992), about a pair of married couples whose relationships weather separate infidelities, was their final collaboration. (Allen also counts the movie as one of his best.) Allen says Farrow discovered his relationship with Soon-Yi toward the end of the movie's production, which made filming the last week of shooting particularly tense.
While I was filming the movie Husbands and Wives, Soon- Yi and I started an affair. An affair that began the next time she came in from college. Passionate from that day on, it has resulted now in many happy years and a wonderful family. Who would have predicted? I only knew she was not the nonentity her mother had dismissed and written off. How wrong Mia was. Here was a sharp, classy, fabulous young woman; highly intelligent, full of latent potential, and ready to ripen superbly if only someone would show her a little interest, a little support, and, most important, some love. We spent a few afternoons walking and talking, delighting in each other's company and, of course, going to bed. 
Allen says Mia Farrow made-up the molestation accusation to get back at him for his affair with Soon-Yi.
Farrow was vicious after she discovered nude photos of Soon-Yi in Allen's apartment, Allen says. She was shocked by the affair, even though he claims their relationship had peaked many years earlier. (More than once, and for no apparent reason, Allen reports that Farrow had a crush on director Mike Nichols.) In her rage, she threatened to ruin Allen's life more than once. On a scheduled visit to Connecticut to see their kids, he says she found an opportunity.
What had happened was that during my visit, while Mia had gone shopping, after explaining to everyone that I had to be watched carefully, all the kids and the babysitters were in the den watching TV, a room full of people. There were no seats for me, so I sat on the floor and might have leaned my head back on the sofa on Dylan's lap for a moment. I certainly didn't do anything improper to her. I was in a room full of people watching TV midafternoon. Alison, the nervous babysitter for Mia's friend's children — prompted by Mia to be hypervigilant — reported to her employer, Casey, that at one point I had my head on Dylan's lap. Even if so, it was utterly harmless and totally appropriate. No one said I molested Dylan, but when Casey phoned Mia the following day and said her babysitter reported my head was on Dylan's lap, Mia ran to Dylan. According to Monica, the nanny, she said, "I've got him." The head on the lap would over time somehow metamorphosize into my molesting her in the attic, but that reenactment of Dory Previn's song scenario would come later. 



Allen maintains his innocence.
Allen completely denies Dylan Farrow's telling of events that afternoon in Connecticut. Instead, he says, Mia manipulated his daughter into claiming he molested her and coached her through her testimony after rehearsing it on tape.
I never laid a finger on Dylan, never did anything to her that could be even misconstrued as abusing her; it was a total fabrication from start to finish, every subatomic particle of it, no different from I'm the Goglia character. The sheer illogic seemed to me dispositive. I mean, it makes no sense why a fifty-seven-year-old man who has never been accused of a single impropriety in his life, while in the midst of a contentious and very public custody fight, drives up to the hostile environment of the country home belonging to the woman who hates him most, and in a house full of people sympathetic to her, this man, who is thrilled as he has just recently found the serious love of his life, a woman he'd go on to marry and have a family with, would suddenly choose that time and place to become a child molester and abuse his seven-year-old daughter whom he loved. It defied simple common sense. Especially since I had been alone with Dylan many times in my apartment over the years, and if I were actually a fiend, I had ample opportunities to act like one. Yet it makes perfect sense for the angry woman who had announced she would take away my daughter and had a plan worse than death for me, to resort to the single most common cliché of custody warfare, accusing the spouse of abusing the child. 
Allen says he "would welcome Dylan with open arms."
Though Allen denies her molestation accusation, he is dismayed by the strain on his relationship with his daughter, which he says is the result of Mia Farrow's manipulation.
One of the saddest things of my life was that I was deprived of the years of raising Dylan and could only dream about showing her Manhattan and the joys of Paris and Rome. To this day, Soon-Yi and I would welcome Dylan with open arms if she'd ever want to reach out to us as Moses did, but so far that's still only a dream.
Dylan Farrow accused Allen of molesting her in a New York Times open letter in 2014. In 2018, amid Hollywood's Me Too reckoning after revelations about Harvey Weinstein, she recounted the allegations on CBS This Morning: "He instructed me to lay down on my stomach and play with my brother's toy train that was set up," Farrow said. "He sat behind me in the doorway, and as I played with the toy train, I was sexually assaulted … As a 7-year-old I would say, I would have said he touched my private parts."