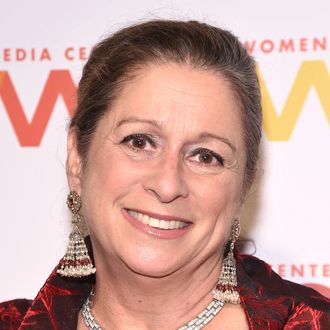 Abigail Disney
Photo: Getty Images
Heiress to the Disney fortune and sufferer of no fools Abigail Disney spoke out after the Financial Times reported that the Walt Disney Company would cut the pay of 100,000 workers while protecting "executive bonus schemes," including a dividend plan typically worth $1.5 billion. The report claimed that the Disney Company would be putting half of its workforce on unpaid leave following the closures of its parks, hotels, and retail locations last month, while executive chairman of Disney Bob Iger and CEO Bob Chapek would both be giving up their $3 million and $2.5 million salaries, respectively, the majority of which comes from bonus schemes.
Abigail, grandniece of Walt Disney, caught wind of the news on Twitter and took the company to task in a lengthy thread outlining her anger and disappointment. She pointed out that the preserved $1.5 billion dividend package would have paid for three months' worth of workers' salaries and called out the "nice rhetoric" that couched the "pillaging and rampaging [of workers] by management." She also called attention to the fact that "front line workers at the parks had to fight for years to get their pay bumped up to $15/hr." Chapek, she noted, is paid roughly 173 times the median Disney worker. "What kind of person is comfortable with this?" she asked and called for Chapek and Iger to give up some of their annual compensation.
Abigail has been vocal in the past about her issues with wealth inequality and workers' rights at the Disney company, specifically criticizing Iger's compensation last year. "I don't have a role at the company, which is fine with me. I'm just a citizen who cares and I think that makes me free to say what I believe," she wrote in her Twitter thread. "But I am an heir. And I do carry this name with me everywhere. And I have a conscience which makes it very difficult for me to sit by when I see abuses taking place with that name attached to them." Read her full thread below.
This post has been corrected to differentiate between executive bonuses and dividend plans.