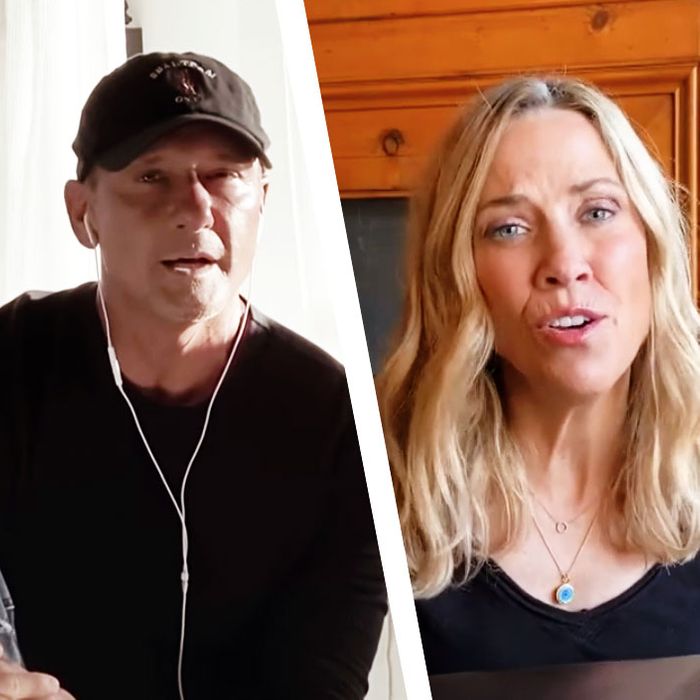 Tim McGraw, Sheryl Crow, and Carrie Underwood.
Photo-Illustration: CBS/YouTube
Even with the Academy of Country Music Awards pushed back to September due to the coronavirus pandemic, the show went on Sunday night, with dozens of stars performing on CBS's concert special ACM Presents: Our Country. Gayle King hosted the event while musicians joined from their own homes for a night of equal parts inspiration and entertainment — a.k.a. what good country music should be, and a combination we could all use right now. Here, the highlights from the April 5 event, including many appropriate song choices and a stirring tribute to Kenny Rogers.
Keith Urban kicked off the show
Last year's Entertainer of the Year was slated to host this year's ACM Awards, and he still will come September. For now, though, Urban opened the show instead, with an apt performance of his 2016 song "Wasted Time." "We wrote this song a while ago," he said. "But I feel, in some ways, it's taken on a different kind of meaning right now."
Lady Antebellum brought out their kids
The trio, appearing via separate videos from Florida and Tennessee, dedicated a poignant performance of their song "What I'm Leaving For" to medical workers and first responders. "This song is about walking out of your house and leaving your family to go do what you know that you're called to do, and sometimes that is not an easy thing," Hillary Scott said. The band kept their own family close during the performance, with Charles Kelley and Dave Haywood's sons joining on the video. Kelley's 4-year-old son Ward got his moment in the spotlight after the song finished. His message? "Boo boo blah blah blah blah!"
Carrie Underwood, like all of us, drank alone
Simon Cowell would call this a perfect song choice. "Right now, we have to find things to do while we're alone together, right?," Underwood said before her performance, grabbing a sizable glass of red wine. "I have an idea." She then effortlessly jumped into her Cry Pretty cut "Drinking Alone." Count us in.
Tim McGraw's band joined him for 'Humble and Kind'
McGraw's 2016 song "Humble and Kind" is always a good reminder of how to behave, but he took it to a new level for this performance, with the rest of his bandmates joining via separate videos. We'd call it a clear step up from his random, peak dad performance on Fox's Living Room Concert for America a week ago. It's the videoconference that'll get you through all the others coming up.
Shania Twain's horse stole the show
Twain singing "Honey, I'm Home" alone would have been a highlight, but with her horse as her audience, this performance became a showstopper. Twain knew what we needed to hear, singing "I'm not going out tonight" as she transitioned into "Man! I Feel Like a Woman." But who says we can't have a little party while staying in? We even saw her horse dancing.
Eric Church debuted a new song, 'Never Break Heart'
The Chief started his performance with some words of wisdom: "Here's what I know: I have hope, and you should have hope, because since the beginning of time, people have gathered," Church said. "And we will gather again. The important thing to remember is to not fear, to be brave, and to endure." Then he broke into a passionate performance of "Never Break Heart," a new follow-up to his 2018 album Desperate Man. "It's okay to cry, but don't never break heart," he sings in the chorus. Deep.
Yes, Blake Shelton and Gwen Stefani were there
Even during quarantine, some things remain constant, like Shelton performing with Stefani on awards shows. The couple would like to interrupt these wholesome, uplifting moments to remind you that some people have loving partners to rely on during these trying times, even if you don't.
Miranda Lambert gave a down-home porch performance
What could be more country than this? Miranda Lambert joined from her porch on her Nashville farm, where she married her husband, Brendan McLoughlin. (He was going to film, she told us, but is down at the pond instead. "I figured, for a New York City boy, he better learn how to fish," she said.) With the sound of a flowing spring in the background, Lambert reminded us that "music is medicine" and played her song "Bluebird."
Sheryl Crow sent a message with 'I Shall Believe'
After releasing her final album last fall, Crow returned to her first one for this performance, playing the closer off Tuesday Night Music Club at her piano. "I'm just encouraging everyone to try to find a little bit of peace in the middle of all this craziness and know that we're gonna come out of it," she said. We have found our little bit of peace, and it's this performance of "I Shall Believe."
Darius Rucker, Brad Paisley, and Luke Bryan paid tribute to Kenny Rogers
Social distancing couldn't stop the ACM from assembling the all-star tribute country star Kenny Rogers deserves. Darius Rucker joined Brad Paisley for a powerful duet of "Lucille" and "The Gambler" over video, then they passed it off to Luke Bryan to close with "Coward of the County." "He's the reason I'm sitting here, man," Rucker said of Rogers, who died March 20. After his performance, Bryan added, "We love you, Kenny. Thank you so much for your musical contributions. I love you, buddy."