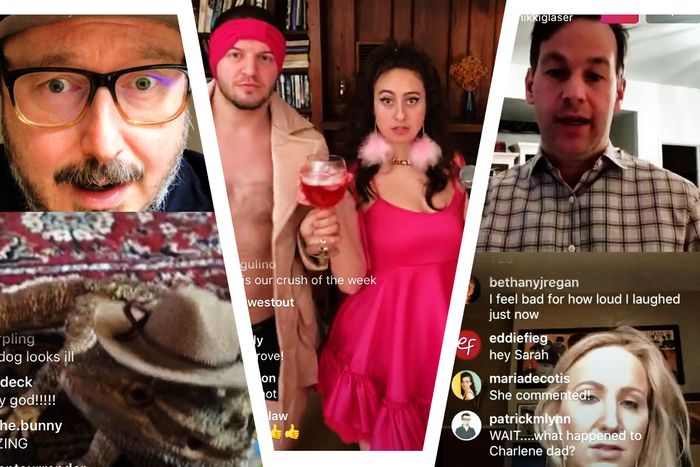 John Hodgman, Catherine Cohen, and Mike Birbiglia's Instagram Live shows.
Photo: Vulture, John Hodgeman/Instagram, Catherine Cohen/Instagram and Mike Birbiglia/Instagram
Very quickly (and slowly at the same time), we're getting deeper into the second month of lockdown for the overwhelming majority of the United States. Binge-watching content of any kind has gone from a popular pastime to a mandatory practice to stay sane while self-isolated and socially distanced for this strange, unsure time. As you well know by now, several comedians have taken the surplus free time to do some sort of livestream show/happening/experiment, resulting in hundreds of Instagram Lives, Twitch shows, and even Netflix Party watch-alongs.
This has created the same problem that you might have had in the "before times" by not knowing what to watch. Because of that, we've made a handy guide to the best comedy livestreams from many of the best comedians across the U.S. that are happening regularly right now.
Cabernet Cabaret with Catherine Cohen
Of the success stories that have happened with livestreaming comedy, Catherine Cohen's Instagram Live version of her weekly Club Cumming show, Cabernet Cabaret, has definitely been one of the best of them. Every Wednesday, Cohen goes live on Instagram and manages to translate every bit of her charm, beautiful voice, and panache through Instagram's tiny frame. It's made especially smaller when having to share the screen with her always-stacked lineup that would be at her physically live show (including Ben Splatt, Heidi Gardner, Matt Rogers, and Patti Harrison). It's inspiring to see Cohen not only make her dazzling variety show work on Instagram but reach viewers in the thousands, a crowd that's way bigger than would ever fit in Club Cumming.
When: Wednesdays at 8 p.m. ET/5 p.m. PT
Where: Cat Cohen's Instagram
Chris Gethard's Planet Scum Live and Friday night showcase
Chris Gethard is no stranger to having to be scrappy, truly making artisanal lemonade out of whatever lemons he found lying around the ground. He did so with The Chris Gethard Show's rise from public access to actual cable TV. So, at a time where live comedy has been limited in such an absurd way, Gethard mobilized immediately by putting on two recurring livestream shows that are essentially two big components of TCGS. Planet Scum Live has Gethard chat with his favorite comedy folks, but always with some sort of twist. Comedy hell-raisers Helltrap Nightmare brought Gethard up to speed on their high-level video art hijinks, and then Bobby Moynihan went down a deep rabbit hole on the least-favorite Star Wars characters, with a reserved Lennon Parham judging them the whole time. Gethard also lets more chaos reign with a Friday showcase show that, like his recent return to public access with Chris Gethard Presents, allows his favorite comedians to do whatever the hell they want (i.e., Mary Houlihan and Nick Naney doing a live read of a spec Sopranos script).
When: Wednesdays (Planet Scum Live) and Fridays (comedy showcase) at 7 p.m. PT/10 p.m. ET
Where: chrisgeth.com/live
Get Your Pets with John Hodgman
Akin to how many people have turned to Animal Crossing, possibly the most popular video game right now, as a soothing distraction to the outside world, John Hodgman has taken to going on Instagram Live every weekday and interviewing people's pets rather than any sort of humans like nearly any other Instagram livestream. Hodgman's congeniality and curiosity make this a daily delight and yet another opportunity to lose yourself in the joy of spending time with people's lovely creatures, which includes, of course, cats and dogs but also features interviews with chameleons, a turtle named Disco, and even an emu. In fact, Hodgman is so considerate within this endeavor of chatting with pets that he often switches the start time of Get Your Pets to accommodate people and their pets wanting to get in on the fun around the globe.
When: Weekdays at various times (Check Hodgman's Twitter and Instagram for start times)
Where: John Hodgman's Instagram
Hot Tub With Kurt & Kristen Home Edition
Kurt Braunohler, Kristen Schaal, and the Hot Tub team have maintained a beloved, standing-room-only show in both L.A. and New York for well over a decade. Having adapted to a livestream home edition, they really have kept the zest of silliness and expertly curated lineups of the best comedians around the country. In fact, they start at the same exact time, Mondays at 8 p.m. Over the last few weeks, they've featured Reggie Watts, James Adomian, Joel Kim Booster, Rory Scovel, Atsuko Okatsuka, and Debra DiGiovanni on their screen. Kurt and Kristen often dress up and even use matching curtains to give some semblance of being at a venue. Their tomfoolery is still intact, as they're up for wearing giant whoopie-cushion costumes or using a rat puppet to channel one of Kurt's wild characters. Their lineups are almost a dead ringer for what they would normally do with their typically balanced curation of beloved headliners, innovative characters, and very solid up-and-comers. They do have a tad more performers than they would at a traditional Hot Tub, as the sets are usually five minutes, but Hot Tub With Kurt & Kristen Home Edition still keeps it short and sweet and makes getting to Monday night a blessing.
When: Mondays 8 p.m. PT/ 11 p.m. ET
Where: Holdthephone.tv
Maria Bamford's new-material Zoom show
Without a doubt, the comedian getting the most stage and screen time right now is the brilliant Maria Bamford. Most weekdays, Maria goes on Zoom to perform for paying patrons that have either supported a food bank or directly paid her through Venmo or PayPal. In the Zoom meeting, Maria does a full half-hour of her stand-up to a digital crowd of dozens. Bamford, who has made a name for herself performing in the most untraditional spaces on a regular basis, has truly made headlining a Zoom comedy show work. In fact, Bamford perhaps unknowingly prepped for such a format, considering she made a whole special to an audience of just her parents inside her own home, The Special Special Special, and even ran her new material to fans at diners and coffee shops in the months leading up to quarantine.
When: Various. Follow Bamford on Twitter or Instagram for start times and details
Where: Zoom
Mary Houlihan's Li'l Morning
Comedy multi-hyphenate Mary Houlihan has risen in New York City by experimenting with characters and bits in her own solo shows, one of which involves chatting it up with a vision of Jack Nicholson. In lockdown, Houlihan has combined all her talents in comedy, animation, acting, and her subtle but undeniable charisma for a children's show called Mary Houlihan's Li'l Morning. It truly is a kids' variety morning show that includes dancing, plenty of cute stuffed animals, dog emails, sketches, and games that work for both kids and hip adults. Also, Houlihan has plenty of guests that happen to be some of New York comedy's more beloved, boundary-pushing performers, including Bowen Yang, Larry Owens, and even Steve Harvey (as played by Milly Tamarez).
When: Mondays, Wednesdays, and Fridays at 11 a.m. ET/8 a.m. PT
Where: Mary Houlihan's Instagram
The Pack Theater's Twitch channel
One of L.A.'s most DIY, anything-goes theaters has been one of its youngest: The Pack Theater. Sketch comedy, improv, stand-up, podcasts, experimental bit shows, and live-action adaptations of dating simulator games are just skimming the surface of the sort of programming that went into The Pack's truly jam-packed schedule. The lockdown in Los Angeles had the Pack's incredibly dedicated artistic director, Elyssa Phillips, and the very loyal community of performers, faculty, staff (most of which are performers), and fans intensely wondering how to save the theater and keep their creative spirits alive. Following a 12-hour marathon comedy livestream on Twitch that raised the funds necessary to keep the Pack's doors open, the theater decided to keep that ball in the air. Much of their programming when they were physically open has now jumped to the livestream realm, including sketch comedy on America's Funniest Hot Cityos, their ever-changing late-night format Your Late Night Show Tonight (their first livestreamed one was hosted by Jerry Minor), and their Coast to Coast-ish parody podcast, This Is Dark Matters.
When: Shows streaming nightly at various times
Where: The Pack Theater's Twitch channel
Saturday Night Quarantine with Ian Abramson
Even outside of a pandemic forcing the hands of some of comedy's more clever troublemakers, the idea of a fever-dream-ish attempt to do an episode of Saturday Night Live by your lonesome is pretty damn intriguing. Ian Abramson has not only pulled off such a feat several weeks in a row on Twitch but made it into a weekly check-in to see what the hell he's going to do and how exactly he's going to pull it off (reminiscent of the original draw of watching the actual SNL in its early days). So far, Abramson has looked like a bizarro version of Two-Face so he can play both Anderson Cooper and Trump in a cold open sketch, committed to irreversibly screwing up his hair, created sketches via Mad Libs from Twitch chat suggestions, and slickly transitioned between all of these bits with pretaped sketches and segments from all over the comedy world. Also, Tim Barnes doing his own version of "Weekend Update" in the spirit of past hosts has been part and parcel to this alternate-universe version of SNL (that should get to live on post-COVID-19).
When: Sundays 8:30 p.m. PT/11:30 p.m. ET
Where: Ian Abramson's Twitch channel
Tip Your Waitstaff with Mike Birbiglia
During this time of quarantine, Mike Birbiglia is showing that his heart is as big as any of his Broadway runs for his solo shows. Multiple days a week, Birbiglia takes to Instagram Live with a big-name guest like John Mulaney, Patton Oswalt, Melissa Villaseñor, Maria Bamford, and more to both write new jokes (a rare, almost unprecedented peek behind the curtain for the comedic process) and also raise money for comedy clubs and venues across the country. Specifically, the money raised goes to the venue staff that have unfortunately been furloughed or laid off as comedy clubs and theaters across the country have been closed for several weeks (and are unsure when they might get to open their doors once again). Already, Birbiglia has raised thousands of dollars, and the series really gets into the nitty-gritty of writing jokes, tagging them, and bouncing ideas back and forth, which is almost a sacred sort of practice that normally would be off-limits to almost anyone (but as you're well aware, we're far from normal these days).
When: Monday-Wednesday (usually) at 11 a.m. PT/2 p.m. ET
Where: Mike Birbiglia's Instagram
UnCabaret, Zoom edition
UnCabaret passed its quarter-century mark last year as a time-honored vanguard of the alternative-comedy scene in Los Angeles. In its tenure, it has maintained its magical life-giving mystique of mixing beautiful, hilarious storytelling with new material from seasoned comedians and truly special musical guests. Host Beth Lapides has somehow captured that very same energy that has made one of the more name-checked comedy shows in L.A. comedy history in the Zoom editions of UnCabaret. In their last edition, Alex Edelman not only pulled off doing crowd work in the gallery view of Zoom but did so while magically describing the niche aura of audience members' canned goods that they held up to their screens. For a moment, Edelman and everyone watching was so connected in this bit, there was a flash of feeling like we were at the actual live show at their normal, brick-and-mortar venue, Rockwell Table & Stage.
When: Second and fourth Sundays of the month at 7:30 p.m. PT/10:30 p.m. ET
Where: Zoom (meeting links available on UnCabaret's Instagram)
More Livestream Shows Worth Checking Out
Afternoon Delight with Zach Noe Towers and Debra DiGiovanni
A daily check-in show with Zach and Debra.
When: Daily at 4 p.m. PT/7 p.m. ET
Where: @debradg and @zachnoetowers on Instagram Live
Butterboy
The New York City staple weekly stand-up show with Aparna Nancherla, Jo Firestone, and Maeve Higgins, donating proceeds to charity and comics.
When: Mondays at 4 p.m. PT/7 p.m. ET
Where: YouTube (buy tickets, get info and show link @butterboy on Instagram)
Comedy Quarantine
A nightly stand-up livestream benefiting comedians and charities, hosted by Barbara Gray and Teresa Lee.
When: Weeknights, Monday-Friday at 7 p.m. PT/10 p.m. ET
Where: @comedyquarantine on Instagram Live
Couples Therapy Quarantine Party with Naomi Ekperigin and Andy Beckerman
A Twitch livestream that's an extension of Naomi and Andy's lovely Couples Therapy podcast/live show.
When: Wednesdays at 2 p.m. PT/5 p.m. ET
Where: Couples Therapy's Twitch channel
Dynasty Typewriter's Go Day!
A weekly variety, comedy, inspiration, and wellness livestream that's hosted and curated by Dynasty Typewriter proprietors Jamie Flam and Vanessa Ragland.
When: Sundays at 2 p.m. PT/5 p.m. ET
Where: YouTube (get links and lineups from @jointhedynasty on Twitter)
Faded Quaran-Stream
A weekly check-in/talk show with popular L.A. stand-up show Faded with David Gborie, Mike Mulloy, Sean Jordan, Zak Toscani, and Bri Pruett.
When: Fridays at 7 p.m. PT/10 p.m. ET
Where: Faded's Twitch channel
From the Neck Up with Michelle Collins and Adam Rippon
A weekly pop-culture rundown/check-in show with Michelle and Adam.
When: Sundays at 5 p.m. PT/8 p.m. ET
Where: @michcoll and @adaripp on Instagram Live
Ga'riffs with Gareth Reynolds
Reynolds riffs off viewer-submitted topics by himself while actually standing up with a mic.
When: Thursdays at 6 p.m. PT/9 p.m. ET
Where: @reynoldsgareth on Instagram Live
Good God
A weekly stand-up show sourcing comics from around the country and hosted by Shane Torres, Tom Thakkar, Phoebe Bottoms, and Caitlin Cook.
When: Tuesdays at 6 p.m. PT/9 p.m. ET
Where: Holdthephone's Twitch channel
Hey Girl with Matt Braunger and Kyle Kinane
A weekly check-in show featuring Matt and Kyle with guests.
When: Fridays at 5 p.m. PT/8 p.m. ET
Where: Holdthephone's Twitch channel
How to Be Alone with Lane Moore
A nightly Twitch livestream with Lane Moore featuring guests, tips on coping with isolation, games, songs, etc.
When: Weeknights at 5 p.m. PT/8 p.m. ET
Where: How to Be Alone's Twitch Channel
The Last Stream on the Left
One of the most established comedy livestreams, which features Last Podcast on the Left's Marcus Parks, Ben Kissel, and Henry Zebrowski finding the most weird, insane videos on the internet and taking live calls.
When: Tuesdays at 5 p.m. PT/8 p.m. ET
Where: AdultSwim.com/streams
Live From the Bunker
A daily live rant and interviews with Eddie Pepitone.
When: Weekdays at 4 p.m. PT/7 p.m. ET
Where: @eddiepep on Instagram Live
Lyric Public Access
A wide, wild variety of nightly livestreams from the Lyric Hyperion's favorite performers in support of keeping their doors open and their staff afloat.
When: Nightly, various times (check @lyrichyperion on Instagram for details)
Where: @lyrichyperion on Instagram Live
Old Rope with Tiff Stevenson
U.K.'s Tiff Stevenson hosts her weekly stand-up show that was at London's The Phoenix.
When: Mondays 1 p.m. PT/4 p.m. ET/9 p.m. BST (British Summer Time)
Where: @tiffstevensoncomic on Instagram Live
Risk! with Kevin Allison
The renowned storytelling series from Kevin Allison continues with storytellers from around the globe.
When: Monthly, sometimes biweekly (check @riskshow on Instagram for updates)
Where: Zoom (after you purchase a ticket, you'll get a link)
Second City's House Improv Party
Chicago's legendary improv theater and institution, The Second City, puts on multiple improv shows featuring their top improvisers.
When: Tuesdays and Saturdays at 5 p.m. PT/8 p.m. ET
Where: Zoom (get details and lineups @thesecondcity on Instagram)
Thrilling Adventure Hour
The adored old-timey radio-show podcast with the famed WorkJuice Players (including Paul F. Tompkins, Paget Brewster, Marc Evan Jackson, and more) does a live read and raises money for worthy charities.
When: Biweekly, usually on weekends
Where: Zoom and for purchase after livestream (check @thrillingadv on Twitter for details)
Throwing Shade Live
Bryan Safi and Erin Gibson's long-running, popular political comedy podcast does a top-of-the-week livestream.
When: Mondays at 11 a.m. PT/2 p.m. ET
Where: @earwolf and @throwingshade on Instagram Live
Young Storytellers
Continuing their mission to empower the creative writing talents of young people, original stories written by Young Storytellers students get read aloud by adults who happen to be hysterical comedians and actors.
When: Thursdays at 5 p.m. PT/8 p.m. ET
Where: YouTube (check @youngstory on Twitter on day of for show link)