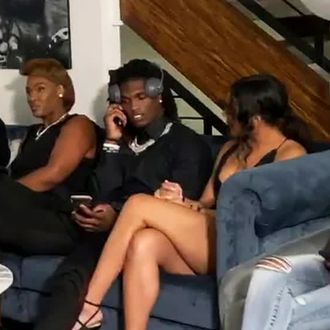 Looking at these draft day memes like …
Photo: Handout/NFL via Getty Images
These past few weeks have given us a new form of entertainment: seeing inside, and scrutinizing, celebrity houses on their endless livestreams. So as expected, a remote NFL draft was a comedic treasure trove. Even if none of the players took this chance to try out a new Zoom background, the night still gave us plenty of laughs thanks to proud parents, girlfriends wanting to share the limelight, and coaches being the dads they truly are. With two days of action ahead, catch up on the best first-round memes here — and Ivan Reitman, if you're reading this, maybe start taking some notes for a Draft Day sequel? We have a set in mind for Kliff Kingsbury's house.
So, who was Twitter's first-round meme pick?
Well, let's look at the tape.
Although Cee Dee's calling a challenge.
Regardless, she wasn't the only girlfriend in trouble.
And sources are now saying Wilson's mom could be a strong choice in the second round.
Clearly, the girlfriends owned the night.
But that wasn't it. Bathrobes were worn …
… and dads rolled.
Speaking of dads, let's check on the coaches' digs.
Wait, can we get a replay on Kingsbury's house?
Scratch the Draft Day sequel, let's get this movie into production.
Or honestly, just something about this cast of characters.
And for one last laugh, there's always the Jaguars.