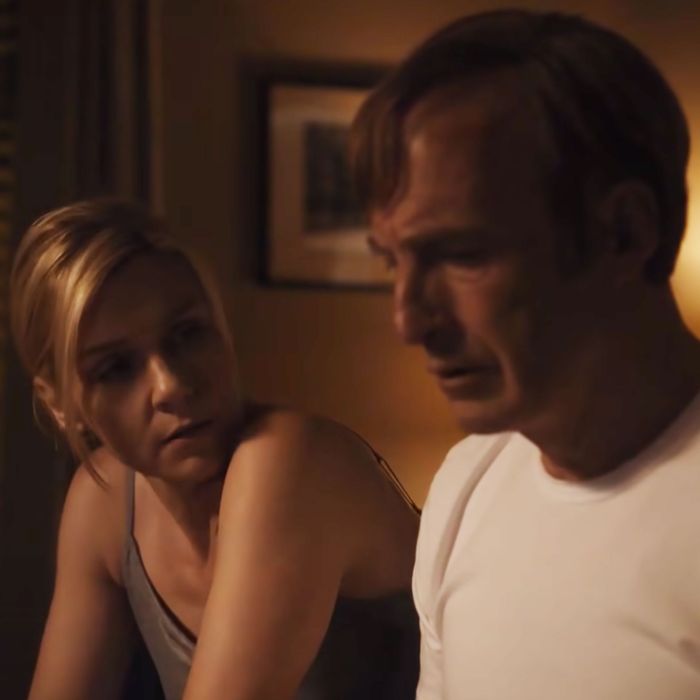 "I can safely say that there's big trouble ahead for Jimmy McGill and Kim Wexler."
Photo: Courtesy of AMC/YouTube
The fifth season of Better Call Saul ends with a fork in the road for Jimmy McGill and Kim Wexler, after he survived his desert encounter with the cartel and she beat menacing Lalo Salamanca at his own game in their living room. As a shaken-up Jimmy (Bob Odenkirk) is left to wonder if he's bad for the love of his life and he should let her go, Kim (Rhea Seehorn) cooks up a new scheme to take down their former law firm and make them both rich. But do either one of them mean anything they're saying?
"I think he does mean one thing that he says: 'Am I bad for you?' I don't think he would have ever said that at any other time on the show," showrunner Peter Gould told Vulture. "To lose Kim at this point would be just a terrible blow to him, but he's willing to. Maybe he's grown just a little bit. It doesn't mean it's a change that is gonna stick, but he managed to say something that I think he's afraid is true. But Kim does not see it that way at all."
All season, Kim has been moving closer and closer to breaking bad herself. Early on, she refused to take Jimmy's advice to scam her own client only to turn around and do exactly what Jimmy suggested. Later, it's her idea that they get married so she doesn't have to testify against Jimmy, if it ever came to that. In her last moment in the finale, she points her finger guns at him the same cocky way he did at the end of the fourth season.
"Kim seems to have made some changes," Gould said. "In some ways, she's seeing things more clearly, and she pulls that big switch on Jimmy towards the end of the episode. I think that if you watch it carefully, you see that she's got a lot of reasons for doing what she does and saying what she does. She does not want to break up with Jimmy. She does not want their relationship to be ending tonight."
Viewers, like Jimmy, are left wondering what Kim means by her finger-gun gesture. But for now, Gould is staying characteristically mum: "It's hard to read her. What that means exactly is hard to know."
It's now the job of the Saul writers to figure out what Kim's apparent switch will mean for her future with Jimmy. "It's a funny thing: The writers' room for season six is open, and we were making some comparisons today about Kim. I really wasn't expecting one of the things that came up. Somebody said, 'In some ways, isn't Kim the Walter White of this show?' Just in the sense that she's so expert at justifying. I think there's something to that, although I obviously don't think she's like Walter White, because Walter White was a despicable person and I don't think Kim is despicable at all. But on the other hand, there is an element where she is getting better and better at talking herself into things, and it makes you wonder where that's going."
Production on the sixth and final season of Saul is scheduled to begin in November. Fans of the show have been increasingly worried about Kim's fate, since she did not appear on Breaking Bad and because producers have referred to her as a tragic figure.
"'Tragedy' is a big word, and sometimes it can be big things like death, but there are other things that tragedy can mean," Gould said. "There are smaller compromises that by themselves may seem tiny that turn out to be kind of huge. I can safely say that there's big trouble ahead for Jimmy McGill and Kim Wexler."