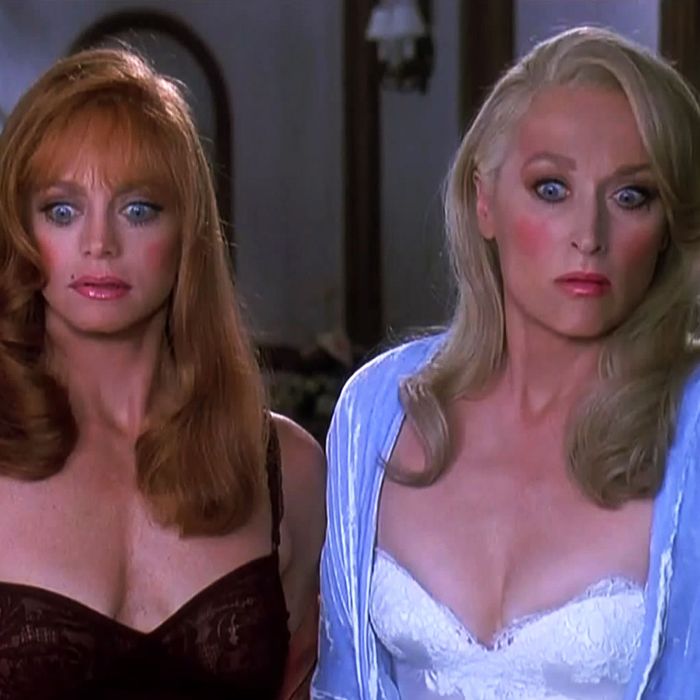 An ode to a movie about becoming less hot.
Photo: Universal Pictures
Every week for the foreseeable future, Vulture will be selecting one film to watch as part of our new Friday Night Movie Club. This week's selection comes from our staff writer Hunter Harris, who will begin her screening of Death Becomes Her on April 17 at 7 p.m. ET. Head to Vulture's Twitter to catch her live commentary, and look ahead at next week's movie here.
One of my favorite late-career Nora Ephron essays is about the trap that is personal grooming. Maintenance, she called it, or "what you have to do just so you can walk out the door knowing that if you go to the market and bump into a guy who once rejected you, you won't have to hide behind a stack of canned food." Maintenance is having your split ends trimmed, it's rubbing some overpriced Tatcha goop into your face, it's the simple satisfaction of having nails that are all neatly one length and one color. It's the way I go "yeoww!" when I feel my facialist attack every single clogged pore on my face. Pampering is pedicures and saunas and massages; maintenance is what I have to do to look like myself and not Eric Andre.
Death Becomes Her is a movie about that very idea of preserving yourself, maintaining yourself, feeling at home in your own body. Two women — a divine pair of sparring partners — are trying to look and feel their best. Shallow goddesses, let me hear you make some noise! Meryl Streep and Goldie Hawn are a pair of lifelong frenemies: Madeline Ashton (Streep) is a Broadway star who has outlived her ingénue status; Helen Sharp (Hawn) is a drab would-be writer, permanently dressed in muted sweater sets. They have the kind of friendship where they want to impress one another as much as they want to impale each other (think Roxie and Velma in Chicago). An arms race ensues. Madeline steals Helen's boyfriend, a boozed-up plastic surgeon (Bruce Willis); Helen writes a best seller about how she became superhot after a mysterious absence. Enter Isabella Rossellini and a pink potion. The juice promises the glow of perma-youth, and Madeline downs it like a shot. Death Becomes Her won an Oscar for the ensuing special effects, which are still pretty impressive: Meryl's butt is lifted, her boobs grow two cup sizes, her hair is shinier, her skin more taut. "I'm a girl!" she gasps. But beauty is pain, and pain is having to fucking live forever. I mean can you imagine?
I return to this Robert Zemeckis movie again and again. It's one of Meryl Streep's funniest, loudest performances — the way she snarls out a one-liner when I expect her to squeak, or drops her bends and snaps to punctuate a joke. Goldie Hawn simmers with satisfying disdain, more obsessed with a foe than she is in love with a loser. (Sorry, Bruce!) I love movies about women who express their love by sniping, express their adoration through competition. The man is an afterthought in their rivalry; they are vain and want that vanity to be recognized.
The best scene goes to Meryl: When she reclaims the drop-dead looks of her youth, she tells her man to get lost. "You're nothing. You are nothing! You're a tragic, boozy, flaccid clown!" she says to Bruce Willis. She sticks out her tongue and shakes it, and those two syllables turn into 20: "FlaaAA-aAaAaaAAAaaAa-AaA-hhhhhh-sid!"
And you know what? She's got a point. She's an icon. She's a legend. And she is the moment. Now come on now!
Something that didn't make it into my interview with the comedian Jaboukie Young-White from a week ago was whether he feels quarantine will expose what people really look like. I was curious: How will quarantine change his appearance? "I've decided I really have to be strategic about what body type I'm going to leave quarantine with," he told me. "I'm going to have to transition from twink and sort of pivot to the scrawny guy on a rugby team. It's sort of a new look that I'm going to be going for: the guy who used to play high-school sports." I'm watching Death Becomes Her this Friday night because my split ends and cracked calluses are sucking the life from my body. I miss getting dressed up and going out with my friends, putting on too-tight pants for impromptu photo shoots with my girls. I miss my old life, and all its vanities. I invite you to join me.
Look back at New York Magazine's withering 1992 review of Death Becomes Her here.
Death Becomes Her is available to stream with a Hulu subscription. Don't have Hulu yet? You can sign up here. (If you subscribe to a service through our links, Vulture may earn an affiliate commission.)