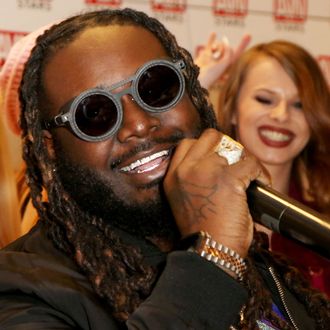 Photo: WireImage/Gabe Ginsberg
T-Pain and Lil Jon went head to head on Instagram Live last night — in the latest battle in an ongoing series organized by Swizz Beatz, in which two artists face off with their 20 biggest hits — and it was less of a vicious battle than it was a beautiful jam session between two mutually respectful contemporaries. T-Pain started by admitting that Lil Jon remains a huge inspiration for him. "Look, you're a formidable challenger, sir," he said. "I got a lot of my shit from you. I have no problem if I take this L." Lil Jon kicked things off with "Get Low," which T-Pain sensibly countered with "Low," and an accompanying dance move of walking down invisible stairs. Check out other highlights from the battle below, and the full list of songs here.
T-Pain not only brought out "Kiss Kiss," but also performed the intro live. Lil Jon, however, was unimpressed: "That's a Chris Brown record, right?"
Lil Jon surprise-debuted a snippet of a unreleased new record with Usher and Ludacris, written by Jermaine Dupri, and offered us a peak into the creative process behind the song: "You don't know how hard it was to get Usher to be like, 'alright you can play this shit,'" he said, before playing a gorgeous piano flourish.
T-Pain's performance of his hit "Can't Believe It" (listen to those riffs!) proved once and for all that he never needed Autotune, and in fact has always had a beautiful voice, in case you missed his tenure on The Masked Singer.
Lil Jon followed up with the Trillville record "Some Cut," with Chance the Rapper commenting, "I had this on my first ever mp3. Not iPod. Mp3."
T-Pain delivered what Tyrese noted was a death blow with "Buy U a Drank," which he imbued with much more soul than anyone could have ever expected.
But Lil Jon came out swinging with, arguably, the most nostalgic track of the night, a remix of 2004's undying "Gasolina." It was enough to distract the audience from the weirder aspects of the livestream — which included an anti-vaccination tangent and an R. Kelly song. Watch a full video of the livestream here, and of course, listen to the "Gasolina" remix on eternal repeat below.