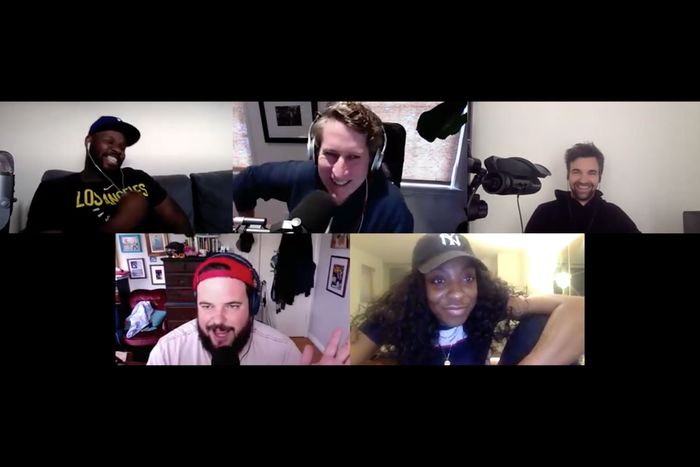 An episode of
Comedy Bang! Bang!
over Zoom with Carl Tart, Scott Aukerman, Drew Tarver, Jon Gabrus, and Ego Nwodim.
Photo: Stitcher/Earwolf
Podcasting may seem like a medium primed for a pandemic. Generally capable of quick changes and remote flexibility, it is indeed better poised for this climate than say, network television, which won't be returning anytime soon.
Comedy podcasts, however, face a unique set of challenges, since many of them require in-person sessions or large groups of people for live improv. Without the ability to meet face-to-face, the dynamics change, which can affect the style, approach, and kinds of jokes that result. Still, the show must go on, and many leading comedy podcasts are adjusting on the go. Vulture recently caught up with several comedy-podcast hosts and producers to see how they're handling the changes.
Tackling Technical Difficulties
The biggest issue when recording remotely is sound quality. While the technical difficulties that phone calls can cause, which are most often issues with syncing audio, have resulted in some podcasts initially dismissing guests altogether, podcasters are figuring it out.
Chemda Khalili and Keith Malley, co-hosts of the long-running comedy podcast Keith and the Girl, were quick to react to the pandemic. They forewent attempts to squeeze in a few more studio sessions in part because Khalili has myasthenia gravis, which compromises her immune system and meant remote recording was instantly necessary. Additionally, the show's entire back catalogue was released completely free of charge for an entire month to give people something to do. Khalili says she and Malley initially decided to cancel guest appearances "because a third person on a remote mic makes it even harder to play audio double-dutch." After experimenting with their new setup and rhythm for six episodes, the duo has resumed having guests on the show.
Paul Scheer, co-host of How Did This Get Made? and Unspooled, both from Earwolf, began self-quarantining when Earwolf first announced social distancing strategies at the beginning of March, asking their employees to "work from home and make plans to record shows on a case-by-case basis." But things have developed swiftly. "Now that the studios are closed for the foreseeable future, we will all be coordinating over Zoom or Skype and recording from home," Scheer says. He has faith that listeners will take it easy on podcasters as they work out the kinks. "We are trying to step it up," he says, "but also understand and know that our audiences will give us a pass on sound quality if we are able to get the actual episodes released."
Earwolf's studio closure also means the network's flagship title Comedy Bang! Bang! has had to adapt its practices, too. Recording remotely, host Scott Aukerman and company are relying on multiple audio recordings that are later edited together to continue conducting their audio improv show. "Every one of the guests is recording their own audio themselves," he explains. "Meanwhile, we're connecting with each other on Zoom and recording the Zoom audio as a backup in case anyone's recording doesn't come out right, and then engineers stitch it all together from our individual recordings."
Using video to compensate can have mixed results, which is why Nichole Perkins and Bim Adewunmi, co-hosts of Slate's celebrity-thirst podcast Thirst Aid Kit, connect via Zoom but use audio only. "We've found that recording with no video helps remove any delay or sound hiccups," says Perkins. But in doing this, the hosts have lost some of that studio spark. "The main change recording from our respective homes is not having that in-person chemistry," she explains. "Sometimes Bim and I could exchange a look and know when to pivot to the next segment, or know we'd made a fumble and needed to correct ourselves."
Khalili offers a helpful tip for those who are recording without video: "To gel better together, we see each other's faces on FaceTime through our phones on mute."
Producers Step Up
Podcast producers have been vital in helping hosts continue to release content despite the challenges. Colin Anderson, an executive producer at Earwolf, is acutely attuned to the current state of affairs. "All our hosts and production staff are doing what they can to keep the shows going out," he says, adding, "We're aware that we might be the best company our listeners have access to right now, and that we're in a position to provide support and comfort during an unprecedented time."
Perkins and Adewunmi are able to continue providing content in part because of the support that comes from their producer Cher Vincent, who has been able to coach and produce the duo as they navigate the absence of each other's physical presence, which can lead to longer sessions and create more work for Vincent. "We end up interrupting each other more, which can be frustrating and extend our recording time," says Perkins. "Like any remote work, there's always a bit of a learning curve," adds Vincent.
Improvising on Your Own
While Perkins and Adewunmi work on getting their rhythm down in this new environment, improvisers like Aukerman and his Comedy Bang! Bang! guests are learning how to improv alone, together. "It's very frustrating to improv when everyone is out of sync, but with this, it's actually not too bad," Aukerman says, adding that performers have to be mindful of talking over one another, given that Zoom often favors louder voices. Aukerman's workaround: "I was raising my hand when I was about to interject, just physically so people knew something was coming, because otherwise, it can be a little like you're rambling on and on and thinking no one is talking with you."
It seems to have worked: Comedy Bang! Bang!'s first remote recording retained the sort of top-notch timing and sound quality listeners have come to expect from the seasoned production. In fact, Aukerman says it's "not quite as awkward as the few times I've had people call into the show."
Contending With Reality
Even if a podcast manages to seamlessly interact without meeting face-to-face, there are other challenges lurking outside the podcasters' control. Jamel Johnson, Peter Moses, and Mike Benner's Air Buds faces the very specific challenge of podcasting about the NBA, which has been suspended since players started testing positive for the coronavirus a month ago. But Benner hasn't let that stop him: "So long as LeBron is getting hammered off pinot noir and going live on Instagram," the show will continue, he says, in part to continue engaging with the community that's sprouted up around the show. "We've accidentally fostered this strange community of basketball fans, and now I feel like we have to put out new episodes or else they'll stop paying us $5 a month," he jokes.
Similarly, Amir Blumenfeld, HeadGum co-founder and host of the network's basketball podcast Buckets, vows to march on. "The season may be over, but the discussion never stops," he says. "We may not have new games to dissect, but my friends and I can discuss what the coolest names are in NBA history."
The Show Must Go On
"I did The Best Show after 9/11. I did The Best Show after Hurricanes Irene and Sandy. We figure it out, one way or another," says host Tom Scharpling.
Right now, Scharpling says figuring it out means taking a 25-foot microphone cable to the homes of guests. "I toss the sanitized cable out the window and the guest plugs their own mic into it while keeping a safe distance. I never get out of the car, and once we're done I spool the cord up and wipe it down and drive away." This has resulted in episodes that still feature the Best Show's signature blend of music and comedy, filing the absence of call-ins with in-person interviews with guests like Marc Maron and Jake Fogelnest via that extra-long microphone cable.
Other comedians are choosing to stay inside and record with those immediately available to them. For many of the shows at the Earios and Maximum Fun networks, this means broadcasting on Instagram Live, a platform that allows guests to join. For others, it means starting a brand-new podcast with your significant other. Take Kumail Nanjiani and Emily V. Gordon, whose new podcast, Staying In, offers tips on "how to make the best of living in quarantine" — a topic they have previous experience with, as Gordon's health sometimes requires them to remain home for long stretches of time. Meanwhile, Paul F. Tompkins and Janie Haddad Tompkins are inviting listeners to "join them from afar as they discuss their pandemical partnership" on their new podcast Stay F. Homekins.
In a way, this immediate human element harkens to podcasting's beginnings. "It's kind of the reason podcasts have taken off in the first place," says Scheer. "Podcasts are the most adept at being able to address this new world which we are living in."
And with no clear timeline regarding this new world, the space will have to continue to adapt, confronting new challenges as they arise. "I think it would be really difficult to [record remotely] with more than five people," says Aukerman. "So an anniversary episode, for instance, might be almost impossible. But the longer this goes on, I may have to investigate that, because our anniversary is on May 1."