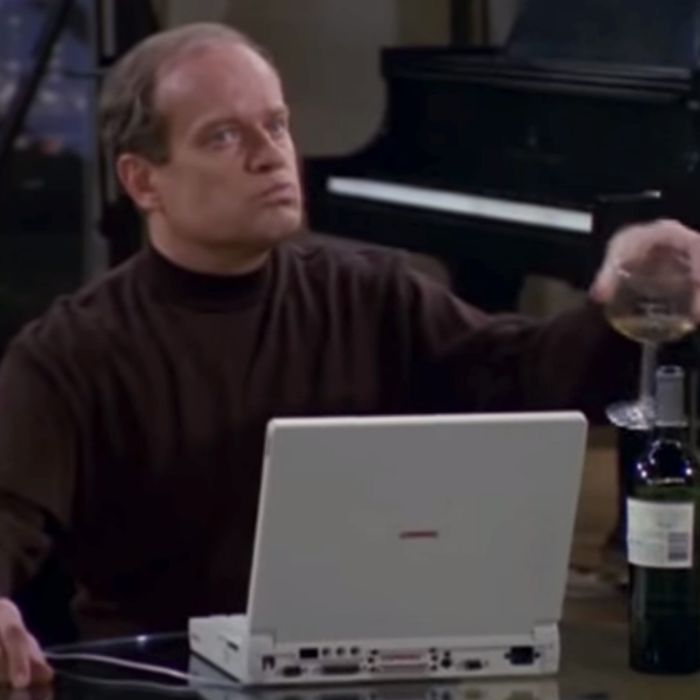 How would TV's most beloved characters navigate social distancing? We asked dozens of showrunners and writers to answer that question. Below, Frasier executive producer Christopher Lloyd imagines a scene between Frasier and Niles as they're stuck indoors because of the coronavirus.
FRASIER SITS AT A TABLE WITH A CAPPUCCINO.
FRASIER
Good morning, Niles.
NILES SITS AT A SEPARATE TABLE WITH CAPPUCCINO.
NILES
And to you, Frasier.
NILES, IN RUBBER GLOVES, WIPES HIS CHAIR WITH HIS HANDKERCHIEF, THEN MOVES ON TO WIPE HIS OPEN LAPTOP. WE NOW SEE THEY ARE IN DIFFERENT HOUSES AND SPEAK VIA SKYPE. NILES WIPES HIS CAMERA LENS.
FRASIER
Not that I don't delight to the squealing of your rubber glove across the camera lens, but Dr. Freud might wonder if an excess cleansing of one's physical space didn't bespeak the distinctly unclean state of one's own mind.
NILES
I have had impure thoughts during this confinement. Last night at virtual wine club, I assayed a ripe Bordeaux held more promise than the loose laces on a beer-hall barmaid's peasant blouse.
FRASIER
You apologized, of course.
NILES
I resigned.
FRASIER
You're worried about Maris, I'm sure. There are hard times for the slight. I recall seeing a single sneeze send her rocketing backward through your Japanese dressing screen.
NILES
She does have a place in the house that's sneeze-safe.
FRASIER
Ah, yes, the padded room. We knew it would come in handy one day.
NILES
So, should we be concerned about Dad?
FRASIER
I've given that some thought. Here's where I come out. Imagine the most pernicious bacteria in the dark corners of Madame Curie's lab, black spores so malevolent other spores are afraid to be around them. Even these are no match for what teems in that plaid petri dish of a chair he's spent the last 30 years in. The man is battle-tested.
NILES
Well, you've allayed my concerns. And you, Frasier, you're bearing up?
FRASIER
I am. I've even reconnected with some old friends. A Haydn sonata I first learned in prep school, a volume of bawdy Rimbaud poems I used to recite to Lilith to stoke the fires.
NILES
Stoke the —
FRASIER
Fine, scrape the frost. It got the chopstick out of her bun. Shall I recite one?
NILES
Coming, Daphne! She needs my help.
FRASIER
I heard no cry of distress.
NILES
You would have if you'd started to recite a poem.
FRASIER
Very well. And you're surviving, Niles?
NILES
I am. Better now … contact is everything, isn't it? Thank you, Dr. Crane.
HE CLINKS HIS CAPPUCCINO TO HIS LENS.
FRASIER
Thank you, Dr. Crane.
HE TOO CLINKS.
NILES
Even a short conversation like that does wonders. I've found myself getting quite neurotic … wound up … tight like—
FRASIER
Oh, for God's sake, Niles, just do it. It will kill you if you don't.
NILES
Bless you, Frasier.
NILES FURIOUSLY SCRUBS THE LENS WHERE HIS COFFEE CUP TOUCHED IT, AND WE FADE OUT.