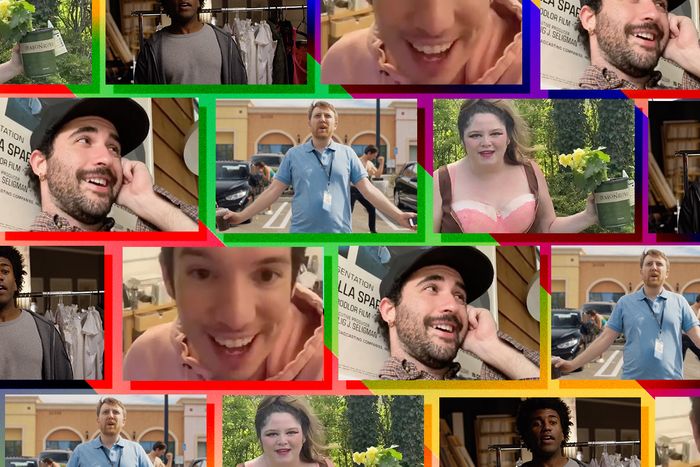 Photo-Illustration: Vulture, Atlas Brave/Vimeo, Steven Castillo/Twitter, Meg Staller/Twitter, Patrick Muhlberger/Vimeo and Jordan Firstman/Instagram
Each month, many funny videos are posted to every corner of the internet — from Twitter to Instagram, Vimeo, and sometimes other weird places we'll have trouble embedding. Because you're busy living your life, you might miss some of these funny videos and feel left out when others bring them up in conversation. Well, worry not! We're here to make sure you're not listening in on conversations but leading them … as long as those conversations are about funny internet videos. Here are our favorite comedy shorts of the month.
CoronaLola: A Coronavirus Kinks Parody, by Hugh Fink, Teddy Leigh, and Michael Geier
You've never heard the Kinks' "Lola" performed quite like this. From SNL vet Hugh Fink, along with Teddy Leigh and vocalist Michael Geier, comes a (fairly up-to-date) complete history of the COVID-19 crisis, its mishandling at the federal level, and the blight it's brought upon so many of us. Hugh sent this over when it had 100 views … about a week ago. Now it has over 650,000.
Crazy Angela's Zamboni-Style Chicken Throats, by Michael Hartney
Brands certainly have put a lot of energy into reinventing themselves as the calm and reassuring voices of reason, haven't they? Such is the case with Crazy Angela's, a company invented by Michael Hartney that wants to reassure you that this too shall pass and you will one day get to enjoy the, uh, stuff they make once more.
The Dream, by Trevor Fernando and Ron Najor
Another casualty of the 2020 SXSW film festival that never was, The Dream follows Darryl (Micah Bijon) during his first day on set of what looks to be a truly terrible music video. Director, producer, and co-writer Ron Najor takes what could've been a well-worn story of Hollywood ridiculousness and turns it into a solidly sentimental and all-too-realistic look at the unglamorous life on the bottom and middle rungs of showbiz. It's good reminder about how all the content we're bingeing right now really gets made.
Got to FaceTime With One of My Really Good Friends Today, by Steven Castillo
It's really heartwarming to see friends making time to connect during quarantine, which is why we love this light, chill, non-stitched-together conversation between Steven Castillo and probably one of his best friends in the world, judging how comfortable they are together. We won't tell you who that friend is, but it's a bit of a name-drop, if we're being honest.
Happy Earth Day, by Meg Stalter
Meg Stalter is one of the Twitter video champions, and this Earth Day special delivers everything that we find so fun about her work: the way she stumbles through inarticulateness and half sentences before arriving at a devastating punch line and the powerful, somewhat nonsensical convictions she delivers — i.e., "Life's hard. Get a helmet."
Hot Dog, by Patrick Muhlberger, Sarah Haber, Vivian Johnson, and John Veleta
It's the Birdman of shorts and the 1917 of parking-lot filmmaking — a true quarantine must-see. Written by Patrick Muhlberger, produced by Sarah Haber and Vivian Johnson, and impressively shot by John Veleta comes the story of four co-workers who are on their way back from lunch when they happen upon a cute little dog all alone in a steaming-hot car. What ensues is eight minutes that very literally oscillates between frenzied attempts at heroism and patented millennial obliviousness. A work of art!
Jordan Firstman's Quarantine Instagram Impressions
We love Jordan Firstman; no secret there. What may be a bit lesser-known to all but Mr. Firstman's 60,000 or so followers is how fucking brilliant he is at the smallest, most nuanced impressions of people like a "Shy Healthcare Worker Walking Home From Work" or a yoga teacher who is sick of no one answering when he asks "How're you all doing today?" or "An Actress Trying to Justify Her Role in a Children's Animated Film." Please feel free to dive even deeper by watching them all on Instagram here.
My Favorite Ballplayer, by Will Feinstein
We simply adore Will Feinstein's French New Wave–inspired comedy short featuring a dedicated fan running into the "Wizard of Whack," a star baseball player who has, quite literally, lost his grip. Wonderful, childlike earnestness and incredible fake baseball-player names follow.
New Game!, by Amy Zimmer
Life stuck at home is hard for everyone, but it's even more high stakes in this game from Amy Zimmer (featuring the voices of Patti Harrison, Ana Fabrega, and Lorelei Ramirez). Zimmer gets further than most but still ruins it like an absolute n00b by going near the scallions. Never go near the scallions.
New Skills to Learn in Quarantine, by Jordan Mendoza and Gwynn Ballard
Jordan Mendoza and Gwynn Ballard generously offer up some fun, productive skills you can learn while stuck inside in this video — everything from brushing up on nonverbal flirting to making yourself impervious to tickling. You know, so that "all your co-workers who tickle you won't have power over you anymore." Normal stuff like that.
Quarantined Guy, by Bardia Salimi
Bardia Salimi throws his hat into the choppily edited, front-facing comedy-video ring with this character who satirizes and even, dare I say, lampoons some of the wacky predicaments we find ourselves in these days, with each segment lingering at least a half-second too long. "Man," Salimi observes, "I miss the way things were before this."
Rich White Lady Flees New York, by Hallie Haas
Hallie Haas's excellent character sure seems like one of those people who wrote op-eds this month about how heartbroken they were to have to escape New York City for some luxury estate on Long Island. This woman may have been the only one to have to do this while dealing with an improperly delivered giant industrial freezer.
The Worst Idea of All Time, by Guy Montgomery and Tim Batt
A world quickly running out of TV shows to watch was given a delayed present in the form of this pilot from Guy Montgomery and Tim Batt, originally developed for YouTube Red back when it still existed. We're shocked that the show — featuring the first, only, and most dedicated "Method film critics" — wasn't picked up, but grateful for the taste of it that we get.
Like what you saw? Want to be on this monthly roundup? Show us your stuff! 
Luke Kelly-Clyne is president at Big Breakfast and a watcher of many web videos. Send him yours at @LKellyClyne.
Graham Techler performs at the Upright Citizens Brigade Theatre and contributes writing to the New Yorker. Send him your videos at @gr8h8m_t3chl3r.