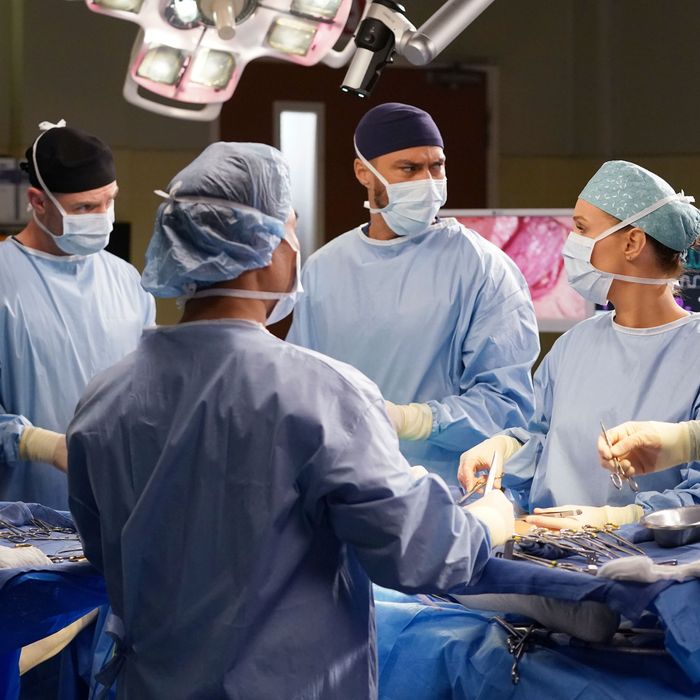 For not actually being the planned season finale, "Put On A Happy Face" sure had some Grey's Anatomy season finale staples: One of our doctors in peril, a doctor going into labor, a callback to an old Grey's moment that brought us to tears, a voicemail of someone having sex with someone who is not their fiance that plays on speakerphone during a surgery, etcetera, etcetera. Oh fine, that last one is not a finale staple, but it should be because it is delightful. Obviously, someone being betrayed and humiliated in a public setting isn't something to cheer under normal circumstances, but come on guys, what happened to Owen Hunt was true soap opera craziness and that always warms my soul. Although I am curious as to what the plans for the actual big finish to this extremely hit-or-miss season were going to be, as luck would have it, this new stopping point for season 16 gave us some things to chew on until Grey's Anatomy returns.
Mercifully, we're not going into hiatus still wondering what the hell is going on with our first and forever chief, Richard Webber. The team has been combing over Richard's symptoms and possible causes for weeks but to no avail. Eventually, given all the information they have, Amelia and Tom decide it must be Alzheimer's. With that awful news, Catherine has decided to take Richard home. Neither DeLuca nor Meredith are happy about it because they still disagree with that diagnosis. DeLuca makes his opinion known by screaming at The Catherine Fox about how she's killing Richard, as is his way at the moment. Meredith is much more adult about it and uses her inside voice. Meredith telling DeLuca to take a walk is the mood I'll be carrying with me for the rest of 2020.
Alzheimer's felt too easy, didn't it, guys? Of course Meredith's hunch that this is something else is right. As they are getting Richard ready to leave the hospital, he starts complaining about his fingers and toes being tingly and numb. That is not a symptom of Alzheimer's. Meredith begs them to do more tests. Whatever is happening to Richard isn't just destroying his mind — it's destroying his body, too.  You know, just in case you were like, hey what is the worst-case scenario for this beloved character or something.
Meredith and Bailey take Richard in for a biopsy when who should run into the sterilized O.R. but our off-the-rails Italian, Andrew DeLuca. This! Man! Needs! Help! He runs in because he's figured out what's wrong with Richard, but instead of using his words, he dumps all of the surgical instruments on the floor to get Bailey and Meredith to listen to him. SIR. It is outrageous that he's still allowed inside this hospital, and I say that as a person who really enjoys DeLuca. Anyway, DeLuca starts going on about how Richard's hip replacement three years ago was made out of cobalt. (In true season 16 fashion this is new backstory made up for this storyline, as if Richard Webber wouldn't have Callie Torres do his hip replacement, I mean, get real.) They've run heavy metal toxicity tests already, but not for cobalt — if that's leaching into Richard's body, it would explain everything.
And once the blood test comes back, they learn that DeLuca is right: Richard has cobalt poisoning. They need to remove the hip replacement and put in a new one immediately. They need Link. Of course, Link is a little preoccupied because Amelia has gone into labor. For real this time. We're having this baby! Amelia gives her blessing for Link to go save Richard's life and Bailey steps in to hold her hand through delivery. Bless Amelia's dear little heart, finally she realizes that forcing Bailey to be her birthing partner might be a little insensitive considering her recent miscarriage, but Bailey shuts her up. They're the pregnancy club, remember? And Bailey is a goddess, remember? All of this just means that there is a moment when Bailey comforts Amelia by telling her that she, too, had to give birth to her son without his father there. (Tuck was having emergency brain surgery, duh!!) And then Bailey hops up into Amelia's bed and sits behind her so she can lean on her as she pushes… just like George did for Bailey. Pardon me, but I need to go weep in my bathroom with the lights off for a second. George, you guys! Anyway, Amelia and Link have a healthy baby boy, to be named at a later date. (Do we think Derek will sneak in there?)
Richard, too, comes out of his surgery perfectly fine. He has a new hip and as soon as he wakes up, he's himself again. He remembers Maggie and Jackson and, oh my yes, he definitely remembers Catherine. She tries to come in and give her husband a hug and a kiss because she has been by his side through this whole thing and loves him and is beyond relieved. But friends, Richard is back and he remembers what she did to him and he has not forgiven her. He tells her to get out of his hospital room. In the immortal words of Salt-n-Pepa: "Whatta man, whatta man, whatta mighty good man." Of course Richard should still be mad at Catherine! I cannot say it enough: She bought a hospital to humiliate him! They have things to hash out. Get yours, Richard!
Speaking of troubled romantic pairings, let's talk about Teddy and Owen. These two kids are supposed to be getting married that evening. Owen tells Tom that a small, quick wedding is what Teddy wants. Clearly, Tom can tell this is just Teddy trying to convince herself that she wants to be with Owen. The several times they run into each other over the course of the day, Tom is sure to remind her that he loves her and she loves him and she shouldn't ruin her life by marrying Owen like this. Tom is right about Teddy's feelings, obviously, because Teddy, like the ding-dong she is, keeps going to see him. Teddy's hormones must be raging or something because she cannot keep her dang hands off Tom even though every time she opens her mouth she's like "we can't do this!" Sure, I'm mad at Teddy for being a terrible person, but mostly I'm mad at her for making me feel bad for Owen Hunt. Honestly, how dare she.
It gets worse! Teddy goes to Tom's office mere hours before her wedding and the two end up having sex on the couch. By some technological mystery/miracle, she has mistakenly dialed Owen and leaves behind a voicemail recording of the entire encounter. Owen's in the O.R. with Maggie, who is getting updates on her phone about Richard (also, please note with excitement that she's still getting texts from Winston who should definitely move to Seattle). Once Owen hears his phone go off, he asks Schmitt to play the voicemail from Teddy, assuming it's about the wedding. Instead, everyone gets to hear Teddy being, um, very satisfied. Owen tries to play it off, but eventually he has to go hide in a supply closet and listen to the whole thing, which includes Teddy clearly telling Tom that she can't run away with him. She is going to marry Owen and that "this was good-bye." Owen Hunt slides down a wall while crying, which as you know is one of my favorite go-to TV drama moves. Suffice it to say, my emotions are all over the place here.
Teddy goes back to their house and gets all dolled up for her wedding… only to learn from Owen's mom that Owen cancelled it because he had a last-minute surgery pop up. Immediately, Teddy knows that Owen knows. Alas, we'll have to wait until Season 17 to see how that plays out.
The other storyline one would assume would've come to a head if the season had been able to play out as planned is what's going on with DeLuca. He has a huge win with this Webber thing. While in surgery, Link can't believe how much the cobalt replacement destroyed Webber and points out that this could be happening to a lot of people. DeLuca's discovery could be a "game-changer." This could define DeLuca's career. But after everything, as Meredith is finally leaving the hospital — after Hayes works up the courage to ask Meredith out for drinks, which she accepts, but at a later date — she finds DeLuca sitting on the floor, crying. "I don't know what's going on," he tells her, visibly shaken up. It seems as if his recent manic phase has passed. Meredith helps him to his feet and takes him home. If you recall, season 15 ended with DeLuca going to jail to help Meredith. Maybe now, at the end of season 16, it's time for Mer to repay the favor.