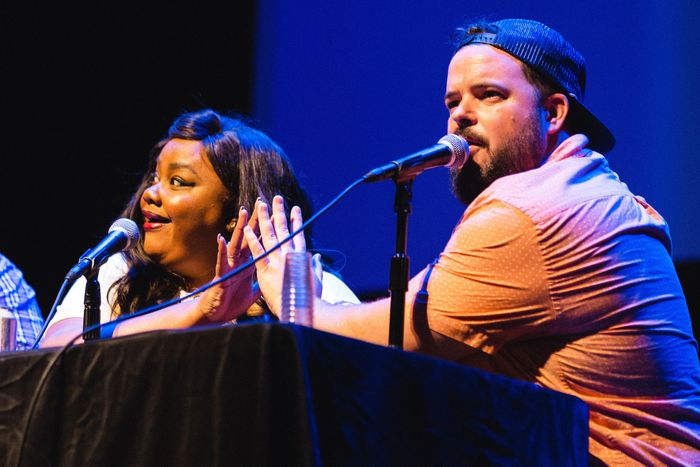 Nicole Byer and Jon Gabrus at
HeadGum Live in Chicago,
2019.
Photo: Steven Nunez
Are you new to comedy podcasts, overwhelmed by the array of options, and wondering where to begin? Then welcome to Start Here, a recurring guide to the best comedy podcasts available — and our recommendations for which episodes are the best entry points to your next auditory obsession.
Some podcasts are about getting stoned. Others, like High and Mighty, are about what happens if you stay stoned … forever.
Jon Gabrus, the host of High and Mighty, was already podcast-famous when it launched on HeadGum in July 2015. It was Gabrus's first solo podcast after a run of acclaimed appearances on shows like improv4humans and Comedy Bang! Bang! that began in 2013. Though also moderately well-known as a UCB player and co-star of MTV's Guy Code and Wild 'n Out, it was his role as Scott Aukerman's perilously thin intern Gino Lomardo on Comedy Bang! Bang! that turned him from a hustling improviser into a comedy podcast favorite.
In High and Mighty's first episode with HeadGum co-founders Jake Hurwitz and Amir Blumenfeld, Gabrus made clear that his trial-by-fire on those shows prepared him to strike it alone. A self-described narcissistic Frankensteinian nerd-meathead-manchild, he explained that the show would be about the minutiae of his life: smoking weed, action movies, rugby, and other aimless white guy nonsense. As if to prove that point, he and the guests spent 20 minutes of the premiere simply going through nixed email suggestions for the podcast's title. But he also explained that he intended to tackle more personal, private subjects on the show, like the beauty of Long Island summers (Gabrus grew up there), 9/11 conspiracy theories, and most relevantly, the host's own compromised health.
From his stonerism to eating habits, Gabrus expressed both concern about his many vices and a desire to use his newly elevated platform to find people who could help him evade them. He predicted that only those comfortable with his shamelessly debauched pothead shtick would stick with his progress. The title Gabrus, Blumenfeld, and Hurwitz therefore agreed on was perfect, because it was ironic: Gabrus would likely always be high, but at his rate, never mighty.
The dichotomy set up in the premiere — between the sober-minded and the stoned, the vulnerable and the vulgar — has since become the podcast's defining quality. While some episodes remain frivolous bro-outs about, say, Jean-Claude Van Damme or hunting for survival, Gabrus has perfected the ability to raise super-serious issues like mental health or social elitism with his guests, only to constantly interrupt them with side jokes and diversions. His interviews tend to be hyper-engaged yet vaguely aggressive, like Marc Maron cross-faded on dexedrine and CBD.
It's a big, obnoxious style, and Gabrus is nothing if not self-aware; he even devotes a segment of every episode to reading abusive iTunes reviews of High and Mighty. But his complete himself-ness also, alchemically, creates an environment for his guests to express their self-ness, and that was never more palpable than in High and Mighty's funniest episode, "Being Fat (w/ Nicole Byer)," from 2016.
As the title suggests, the episode is a simple fuck-the-haters celebration of Gabrus and Byer's bodies. It opens with Sammy Rubin's psychedelic theme song, followed by Gabrus joyously welcoming back his army of "shithead" fans. "We're gonna talk about something that is near and dear to our hearts," our "No. 1 Fuccboi" yells. "Our enlarged, plaque-ridden hearts."
That something is their shared fatness. Byer and Gabrus both say they are proud to be fat people, regardless of the scummy social-media trolls who assault them for it. "I don't know why people need to just be like, 'You're fat!'" Byer laughs. "I have a mirror. Also, I live in this fucking body. Also, if you don't like it, take a nap!" In fact, she continues, she and Jon are better off than the scrawny or slim: "Fat people live fucking forever. There's tons of pills to keep us alive."
Before they start the interview, Gabrus reads a set of particularly (but appropriately) nasty listener reviews. One complains that "Joan Grabass'" respiratory failure makes the show impossible to hear. Another bemoans that "Jeb Guntist" is always whining about his dead dad (Gabrus's father passed away in 2013). "We all need to stop enabling him!" urges a third. (Naturally, all three reviewers give him five stars.) Byer isn't horrified by any of this. In fact, she says that she's accustomed to being criticized for her body and personality as a woman of color. But, she adds, in her case, "It's also racism."
Over the next 15 minutes, the two discuss recent hate campaigns directed at Leslie Jones (who was starring in Ghostbusters at the time), Colin Kaepernick (who was sitting during the national anthem), and Hillary Clinton (who was running for president) as evidence. In a prescient bit of explanation, Byer laments, "What happened is people were like, 'I hate blacks, but I won't say it.' Then Trump's like 'You don't have to be PC!' It's like, 'So I can say that I hate the blacks?!'"
Gabrus speculates that perhaps they are subjected to both the hateful macro-aggressions of full-blown bigots and the accidental micro-aggressions of everyday life in image-obsessed Hollywood because, in addition to Byer being a "fat black female comedian," both she and Gabrus have found a certain kind of fame for being "sexual animals" and confident loudmouths. Byer agrees and savors the compliment: "I'm fine bein' fuckin' fat. I actually prefer it. I like the way I look bigger." Gabrus tells her he "likes the way you look bigger too, girl. Surprising no one, Uncle Gabrus has what he calls a 'sickness for the thickness.'"
An hour into the episode, Gabrus brings up the reason Byer dropped by in the first place: her then-new MTV show Loosely Exactly Nicole. Byer says that she created it around her body as an act of political defiance against comedy shows that indulge the stereotype of a sad, fat woman. "I was surprised they let me say 'chocolate pussy pie,'" she jokes.
Gabrus cackles, but his response is elated: "This is fucking great that something like this is gonna be on TV!" He tells Byer that as a "sloppy" man "in Hollywood, where everyone's good-looking," he spent his life making fun of himself before anyone else (including his "jacked" family) could. It's therefore a beautiful shock to his system, he says, to see someone with Byer's body exude both self-confidence and success on camera. Gabrus ends the episode on that note, then eagerly invites her to return after her show's TV premiere.
Sadly, Byer's series was canceled not long after this episode (twice, but she's doing fine). Thankfully, this was only the first of her bawdy appearances on High and Mighty, where she's since become one of the show's most reliable regulars. She has returned every year for the show's "Power Hours," yearly Bacchanalia in which Gabrus's guests are forced to drink 60 shots of beer in 60 minutes, and the two appeared together on the Doughboys' beloved ""Nugget Power Hour" episode in 2017.
The influence of Byer's unabashed self-love on Gabrus continues to be felt on the podcast even when she does not appear. A conversation from February 2020, for example, plays like a mirror to her first episode, with Gabrus and fellow improviser/self-professed large person Jacob Wysocki bonding with delight over their shared love of drugs. And in a similar episode from last year, the host spontaneously ran off to Vegas with Adam Pally in an unapologetic ode to hedonism. High and Mighty's first episode may have been about Gabrus's fear of self-destruction, but thanks to Byer, episode 67 and beyond became about his growing relationship with self-love. On today of all days, that's worth celebrating.