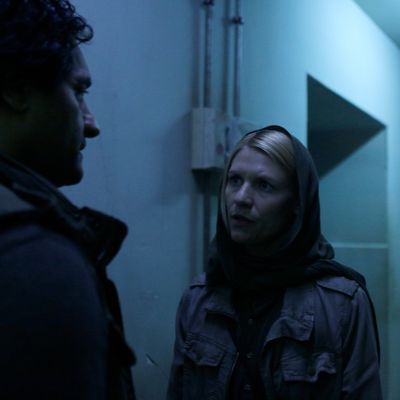 Photo: Courtesy of Showtime/2019 SHOWTIME NETWORKS INC. All rights reserved.
Carrie Mathison finally catches up with the flight recorder that proves that mechanical error and not the Taliban resulted in the death of President Warner, but she once again places too much trust in the wrong man. She's been underestimating people around her for years, and her emotional connection this season makes her fall into that trap again. After all, international chaos and even world wars are good for people like Yevgeny Gromov. Why on Earth would the Russians want people to know that there is no one to blame except a poorly allocated military budget that allows helicopters carrying world leaders to crash? And so he drugs Carrie in the final scene, fleeing with both her and the recorder, just as it appears Pakistan could be on the verge of using a nuclear weapon to respond to U.S. aggression. With only four episodes to go in the entire arc of Homeland, how can Saul and Carrie save the world again?
Leading up the momentous ending, "In Full Flight" is a relatively slow episode, working on rising tension with people on the edge of world-changing crisis, but it's strong scene by scene. Tasneem Qureshi learns the hard way that Jalal Haqqani has already risen in power in a way that she and her country of Pakistan will not be able to control. President Hayes continues to speak in sound bites about vengeance and power, ignoring the advice of people who know more than he does and certainly know more than his buddy John Zabel. Again, the writers of Homeland couldn't have known what would be happening to the world in April 2020, but an image of a president leading a country down the wrong path while defying experts who know more than he does feels like looking in a terrifying funhouse mirror of our reality. When Saul meets with the president of the United States, and suggests that he vets information before delivering it to the American people, it's not hard to imagine those exact words coming out of the mouth of Dr. Anthony Fauci.
Speaking of Saul Berenson, he's back in D.C., seeing firsthand how messed up things are in the White House since the death of Warner. There's a strong parallel this week between Saul and his buddy Tasneem, given both are realizing that their countries are in dire circumstances beyond their control and moving quickly toward violence. Even as Saul points out that Zabel has never been to Pakistan, Hayes seems more interested in the rhetoric than the intelligence. And David Wellington just looks like a shell of a man, someone who knows bad days are ahead and all the smart people in the White House can do is hold on to the ride and hope they don't fall off.
Meanwhile, Carrie and Yevgeny are heading into the mountains after the recorder. One of the key scenes this week comes when Carrie calls Jenna and tricks her into giving up the safe house location so that American operatives can be arrested. Carrie is selling out her own people, but she tells herself it's for the right cause. Something to consider: What if she hadn't? What if the exfil team was right outside the door when she bought the recorder and busted in in time to save her and get it? She actually cleared the path for Yevgeny and his people by making that call to Jenna.
While Carrie and Saul are trying to stop chaos, Tasneem finally tracks down Jalal and learns a hard truth: the dumb kid she pulled out of a ditch a few weeks ago is now one of the most powerful people in the region. It's an interesting commentary on how quickly power can shift, especially when it involves a disenfranchised people who have been trained to expect and require violence. And the man who's really to blame for this shift is Hayes. If he hadn't turned Jalal into a President Killer on international television, Tasneem probably could have gotten him under control, but he's now arguably even more powerful than his father. After all, dad didn't kill the president.
Most of "In Full Flight" consists of this push and pull between Carrie/Yevgeny and the rest of the world, one in which Carrie is blinded to the real issue at play. She thinks she's seeking a recorder to stop World War III, but she has always been too trusting of Yevgeny Gromov. Even in the final scenes, as she makes out with him and promises more action in Islamabad, she seems to be either too trusting or playing too long a game. She never suspects that Yevgeny will drug her right there and bring in accomplices to take the recorder. Yevgeny doesn't kill her, taking her back to a safe place, but she may wake up and wish he had.
Final Notes
• Most couples on shows like Homeland have a cute hybrid nickname. I wonder if Yevgeny and Carrie have one on message boards? Cargeny? Yevarrie?
• Yevarrie is in trouble unless Yevgeny has one more move that we're not expecting. Is it possible that he could still be turned or is he now 100 percent a villain? He doesn't kill Carrie or leave her there. He still either has use for her or cares for her. Either way could leave a door open for Carrie to stop World War III.
• The best line this week had to be Yevgeny saying, "I'm more of a planner." Not only was it excellent foreshadowing given the plan he puts in place in the final scene, but it reminded us all that there's every chance that Yevgeny has been playing Carrie this entire season. She asks him about appearing outside G'ulom's office and wonders if that was planned, but what if all of it was a plan? Yevgeny realized that turmoil in the region and the ascendance of the Taliban was better for his people than the peace Haqqani and Saul were negotiating, and he used Carrie to make sure both those things would happen.
• Speaking of Yevgeny, Costa Ronin is great here, just as he was great on The Americans. Let's hope he uses this as a springboard to another great role in a series or film.
• Same for Nimrat Kaur, who's been excellent as Tasneem Qureshi. I hope to see her in another series soon.
• Four episodes left! Unless the show ends in WWIII, Carrie and Saul are going to save the day. But how? And do you think we could see any more carnage before the end? Could either Carrie or Saul die in the finale? A final sacrifice to save the world? Or would that be a disappointment? We'll know in about a month.
• Stay safe and stay healthy. And thanks for reading.